We are super super excited that it's the love season with Valentine's Day happening this weekend.
Do you have plans for your loved ones – friends, family and spouse?
If not check out a couple of places you can visit this weekend!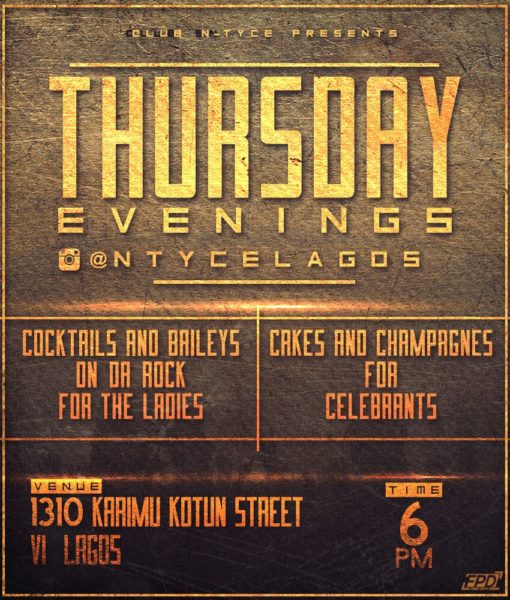 Thursday Evenings at N-tyce Lagos
Your Evenings on the Island will never be the same again as Club N-tyce Presents a Cocktail Evening every Thursday.
Date: Thursday, 12 February, 2015
Time: 6 PM
Venue: 1310 Karimu Kotun Victoria Island, Lagos
---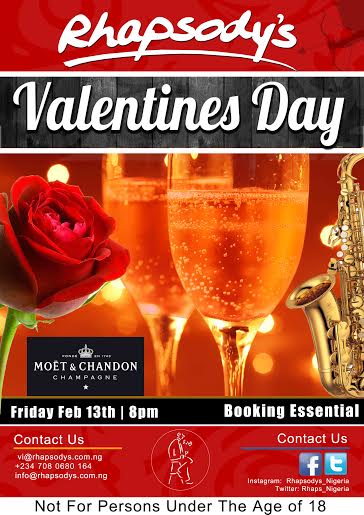 Rhapsody's Valentine's Day Evening
Get ready to have a night of romance, love and fun at Rhapsody's Valentine's Day Evening. You and your special someone can wine, dine and enjoy each other's company in style. Music will be provided by K SAX and guest DJ at Ikeja City Mall.
Date: Friday, 13 February, 2015
Time: 8 PM
Venue: Rhapsody's Victoria Island, 10 Agoro Odiyan Streer  | Rhapsody's Ikeja City Mall, Lagos
Contact: info@rhapsodys.com.ng | 07080680164
---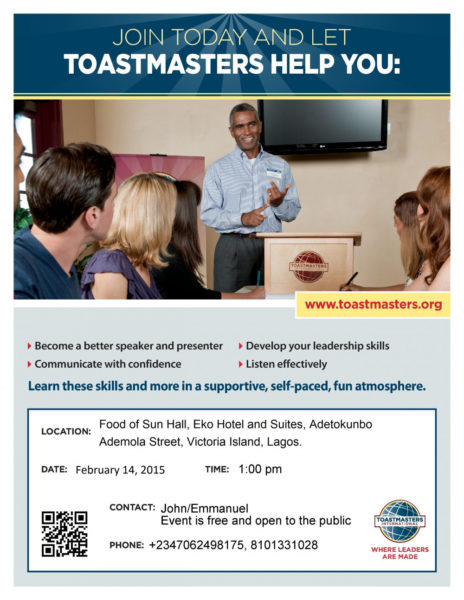 Seaside Toastmasters International Meeting
Looking to develop speaking and leadership skills? Ace a job interview? Ignite your career? Then attend the Seaside Toastmasters International meeting, which takes place every 1st and 2nd Saturday of each month. Toastmasters International is a world leader in communication and leadership development.
Date: Saturday, 14 February, 2014
Time: 1 PM
Venue: Food of the Sun Hall, Eko Hotel & Suites, Adetokunbo Ademola, Victoria Island
Contact: 07062498175 | 08101331028
---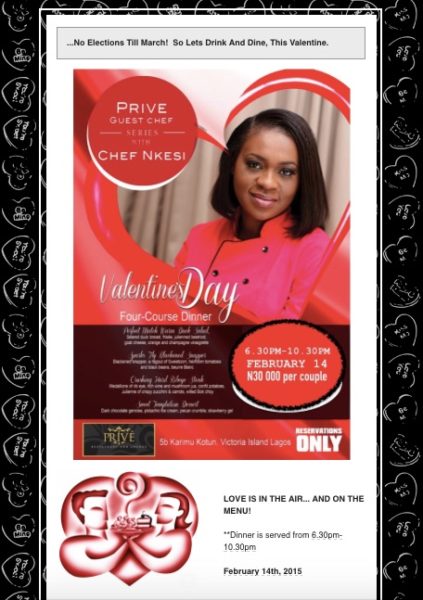 Valentine's Day Dinner with Chef Nkesi
It's Valentine's Day and Chef Nkesi has got you covered with a four course meal dinner and a flower arrangement available on request.
Date: Saturday, 14 February, 2015
Time: 6 PM
Venue: 5B Karimu Kotun Street, Off Akin Adesola Street,Victoria Island, Lagos
Ticket: N30,000 Per Couple
---

The Vanilla Valentine
The special day to show your loved one how much you care is around the corner. And Vanilla Restaurant has arranged a special event to make this evening even more memorable.
The talented Saxophonist, Abi will serenade you during your Churrascao dinner, creating a fantastic romantic atmosphere.
Date: Saturday, 14 February, 2015
Time: 6 PM
Venue: Vanilla Restaurant Abuja, 11 Usuma CLOSE, off Usuma Street, Maitama, Abuja
Ticket: Meat Option – N10,000 | Seafood Option – N13,000
Contact: 08104545070
---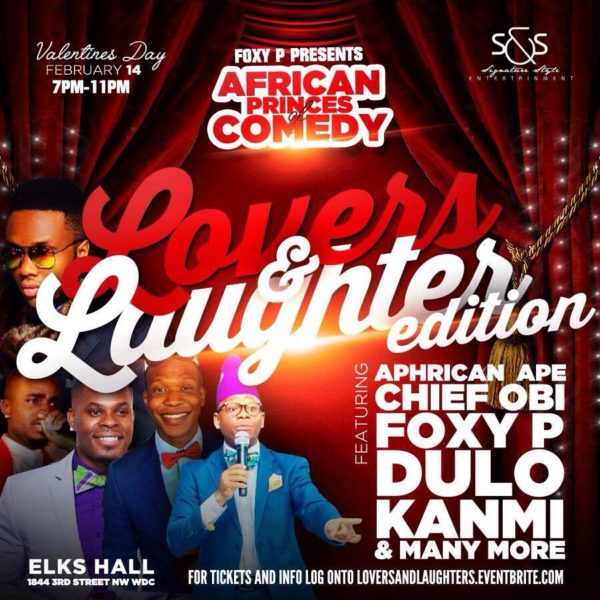 African Princess of Comedy Christmas Show
A Valentine night filled with laughter, entertainment and fun. Live on stage Africa's youngest top comedians (Aphrican Ape, Chief Obi, Foxy P, Dulo, Kanmi and many more) will hit the stage to bring you a Valentine's Day filled with laughter, entertainment and fun. This is a family event, so bring your friends, family, and significant other.
Date: Saturday, 14 February, 2015
Time: 7 PM
Venue: Elks Hall DC, 1844 3rd Street NW, Washington, DC
Ticket: Regular – $30 | VIP – $50
Contact: 443-962-8352 | 716-812-7823
---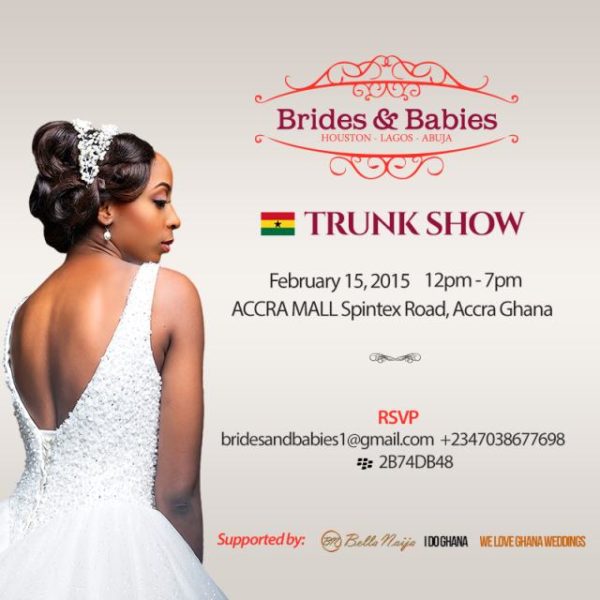 Brides & Babies Trunk Show
Are you a bride-to-be? Then be a part of an extensive trunk show in Ghana this weekend.
Date: Sunday, 15 February, 2015
Time: 12 PM
Venue: Accra Mall, Spintex Road, Accra Ghana
Contact: bridesandbabies1@gmail.com | +2347038677698 | 2B74DB48
---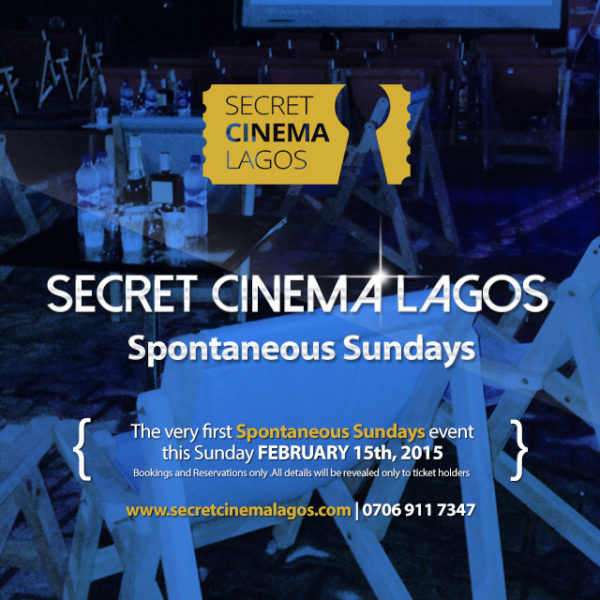 Secret Cinema Lagos Launches Spontaneous Sundays
Secret Cinema Lagos launches Spontaneous Sundays…the open air cinema over the festive period offers Lagos a touch of something different, which is the foundation of our theme. The idea is to create a cinema environment with a comfortable, classy, safe and approachable home feeling but in the outdoor terrain.
Date: Sunday, 15 February, 2015
Time: 3 PM
Venue: Banana Island, Ikoyi
Contact: secretcinemalagos@gmail.com
---
This Present House: In the Day of His Power
This Present House is now in London and will be kicking things off with 'In the Day of His Power' this weekend.
Date: Sunday, 15 February, 2015
Time: 4 PM
Venue: One Mayfair, 13A North Audley Street, London, W1K 6ZA
Contact: 0203 784 2941| info@tphlondon.org
——————————————————————————
BellaNaija.com is not responsible for the organization or further promotion of these events, neither do we have a stake in their sales or popularity. Inclusion in "Events This Weekend" is Free. Contact – adsales (at) bellanaija.com on or before Wednesday every week if you will like your event to be included. Note that BN reserves the right to choose which events are featured. "Pay to attend" parties attract a fee.