"Always mix luxury and cheap & get dressed listening to Iris by The Goo Goo Dolls" – Stephanie Okafor
It's time for another fabulous edition of My Style – our monthly BN Style feature that aims to celebrate the unique style of our amazing BN readers.
The My Style page is all about showing how diverse and universal style can be. Style is individual, unique and fun and is a personal representation of how each person expresses their take on fashion; so BN Style watchers let's appreciate her unique style. 🙂 Enjoy!
***
Style blogger and stylist Stephanie Okafor owns and runs the style site Metrogypsie.org, where she shares her unique style with all her fab readers. With a B.Sc. in Economics and an MSC in International Business, Stephanie is an avid Catholic, a total city girl and a Management Consultant who works in London, UK.
Stephanie's style is quite eccentric – mixing a number of trends and staples. Her love for style emanated from her parents who always looked put together – her mum had loads of lovely earrings and a huge bag collection which inspires her to embrace fashion in all its forms today.
Keep reading as we enter the fashionable world of the Metro Gypsie and discover her style ethics, what she loves to wear and her advice for you in the big world of fashion & style.
My Style Is…
…another chance at a personality, at the same time another chance at your physicality. I'm totally obsessed with Work Styles; that probably started with something my dad told me in primary school. He said that whenever I start working I shouldn't wear skirts that went past my knee; they would make me look sloppy.
Where Style Meets Personality
I always get in touch with past incidences whenever I make decisions, most especially when in doubt. The same happens when I shop or am getting dressed.
Where I Shop Till I Drop
I enjoy shopping at vintage & thrift stores. If you come to think about it, it's a way to be ethical and environmentally friendly. I usually shop at the Bang Bang Clothing Exchange, Retromenia, TK Maxx, Hobbs, Topshop & Zara.
I never try clothes on, I tend to know what fits. I also love window-shopping when I do it alone (at TK Maxx especially). It's feels like I'm with a really close friend walking through the aisles, talking to myself and all.
My Tresses & Makeup Look
For hair, I usually rock my good ol' natural hair. And other times I rock braids and weaves.
Sincerely, my makeup game is so low; I don't care so much about it I suppose. I generally apply my powders, eyeliner, eyebrow liner, blush and lipstick – no eyeshadow or concealer.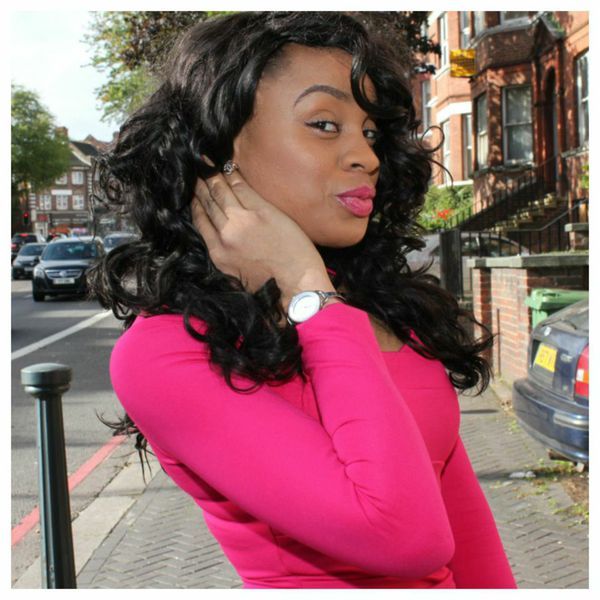 How I Accessorize
My favourite accessories include a large silk scarf, manly watches, flat brogues, red lipsticks, classy/vintage looking sunglasses and lady heels.
I Own the Night
On a Regular Day
Shoes & Feet
Getting My "Working Class Girl" On
Double Take
I Think Every Girl Should Have
My wardrobe staples are pencil skirts, tank tops, shift dress, a blazer and a body-con dress. I think a tank top, pencil skirt, lady heels/pointed flats and a lip color that suits you are quite important.
My Advice for Other Stylistas
First of all, manage your finances. Once you budget for fashion items, split that and keep half of it for impulse buying. Keep the other half for items you know would be useful for a long time.
Secondly, discover new brands/designers; especially the creative and affordable ones. Be sure to mix up your pieces and also change up your style from time to time; obviously ALWAYS to your level of comfort.
Decipher trends you seem to love and make it work with your style. Think properly before jumping to buy things 'in vogue' and have fun! Express yourself! Be confident!
Vintage Appeal
If I Could Steal a Celebrity's Wardrobe
That would definitely be Blake Lively's. She consistently slays and is so classy.
Nkiru Anumudu is another person, because I'd be certain my future closet is sorted! She has an eye for timeless pieces…her hat collection is 'mental'.
Which Nigerian Celebrity Stole My Look
Yvonne Nwosu of VonneCouture.
Strike a Pose
My Style Philosophy
Always mix luxury and cheap & get dressed listening to Iris by The Goo Goo Dolls
Thank you to Stephanie for sharing her amazing style with us. To find out more on her, follow her on Twitter: @Metrogypsie | Visit her blog: www.metrogypsie.org | Follow her on Twitter: @Jaunelion
_____________________________________________________________________________
If you are interested in appearing in the My Style feature, simply send two pictures of yourself or that of a friend depicting a typical day and night look with a short summary of your style to style(at)bellanaija(dot)com. When your entry is approved, you will be required to send in more pictures and personal commentaries on your style or that of your friend as the case may be!