Hey BellaNaijarians! My name is Stephanie Okafor and I'm a blogger at www.metrogypsie.org and I had the amazing opportunity to represent BellaNaija at the London premiere of MTV SHUGA last week. Here's my experience post and a video too, hope you enjoy!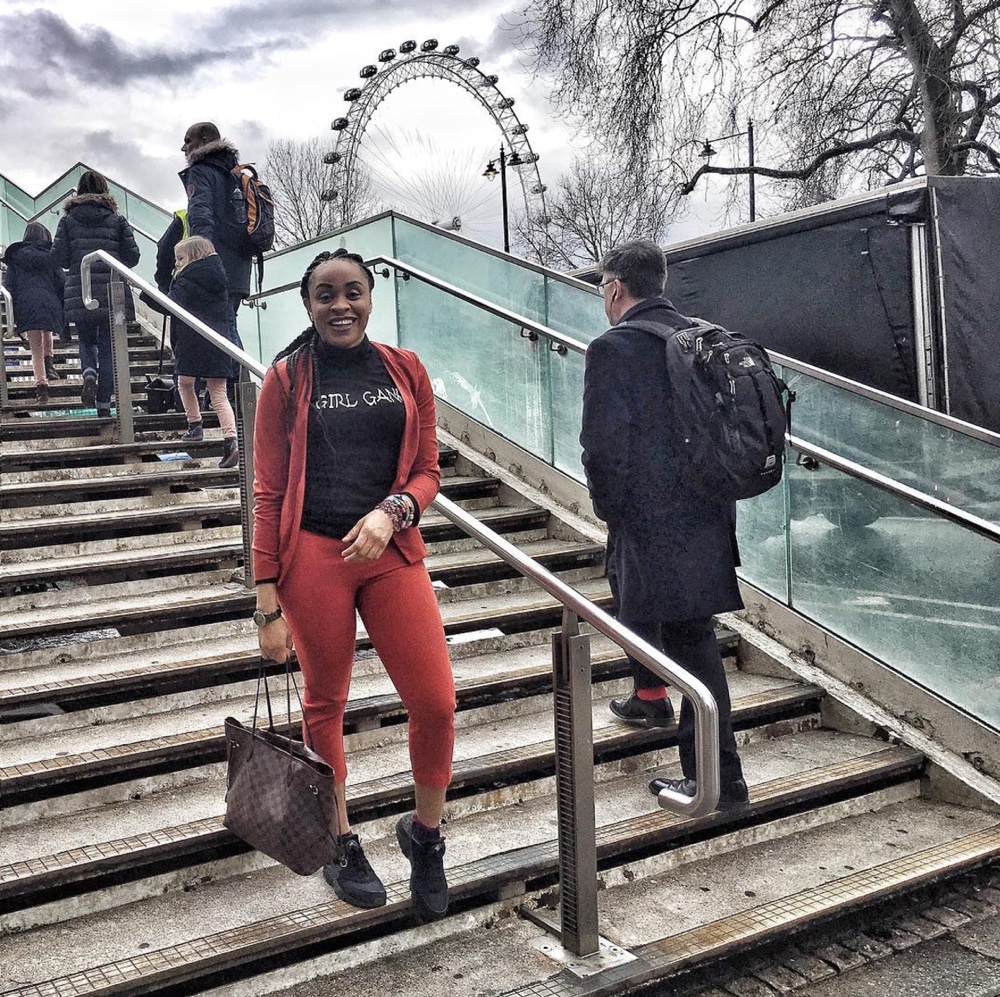 While getting set for my day job on Friday, March 3rd, I was also checking up on my social media pages when I saw a direct message from my friend Elizabeth. I checked Twitter, saw the ad and saved it.
I applied on my way to work and checked back a couple days later to be sure the comment had passed through moderation. Looking through the other comments, I realized I hadn't mentioned anything about the show itself (which I loved).
Basically, I consoled myself with the fact that as a contractor taking a day off meant losing my day's wage so yeah. The next day after work that evening I noticed this gorgeous email in my inbox which had come in the afternoon.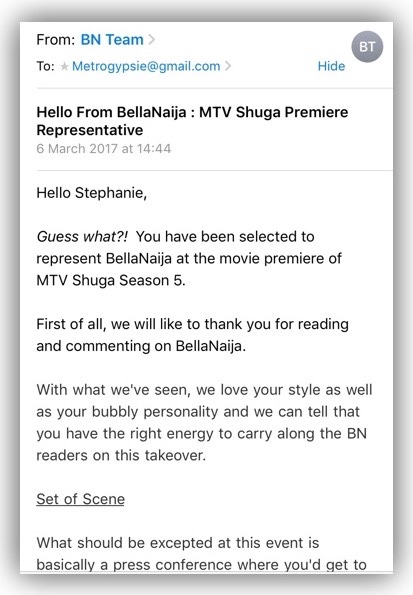 I replied BN in my excitement and went straight to the MTV Shuga website to familiarize myself with photos of the new cast members (they always introduce a couple new faces every season). I'd watched the first 3 seasons (Kenyans and one Nigerian set one, S03) so I watched the Season 4 that night, called my saloon and made an appointment for the next day before work.
For my hairstyle, I stuck to an easy one, cornrows – all back; so that if it wasn't nice, I'd just don a wig on. Took the next day off work.
On the 8th, I got the BN account password with the information that my Instagram takeover was for the whole day and not just the drinks and film screening at 6pm. I made a final decision on my outfit and quickly rushed out for the breakfast meet.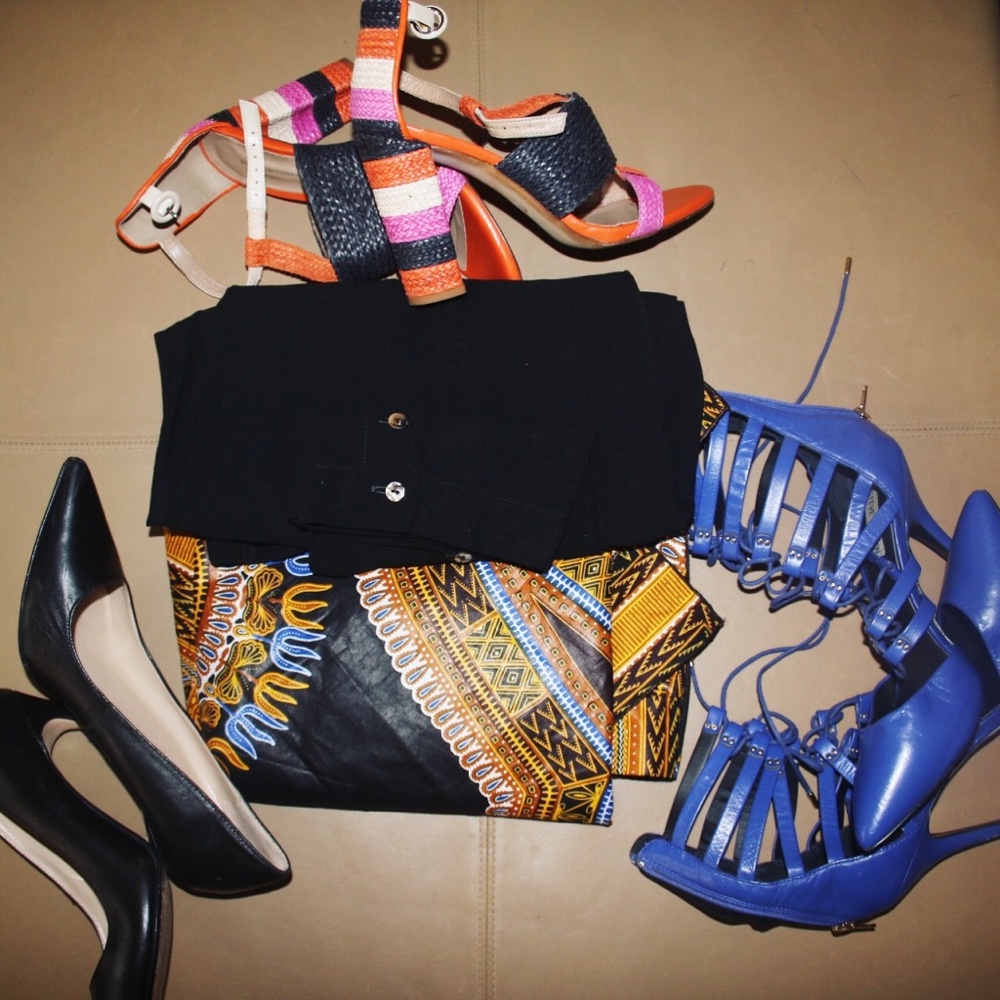 Initially I was proper confused about my shoes so I grabbed 3 pairs and took my dilemma to Instagram.
While I rushed out to get a client's order, I got myself a new power bank at Selfridges. I then took a walk down oxford street capturing new season stuff on the BN Instastory account.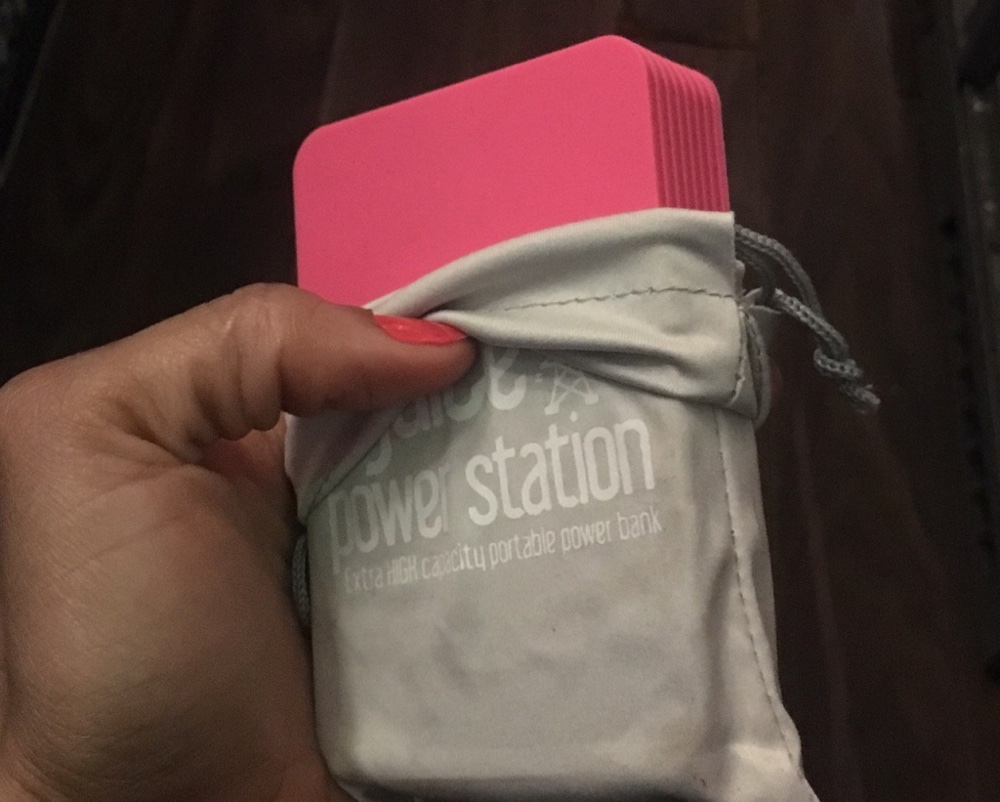 Later I had lunch at this Jamaican place, Jerk World, in Chancery Lane with my mate Lanre, @Lanre_Aluko.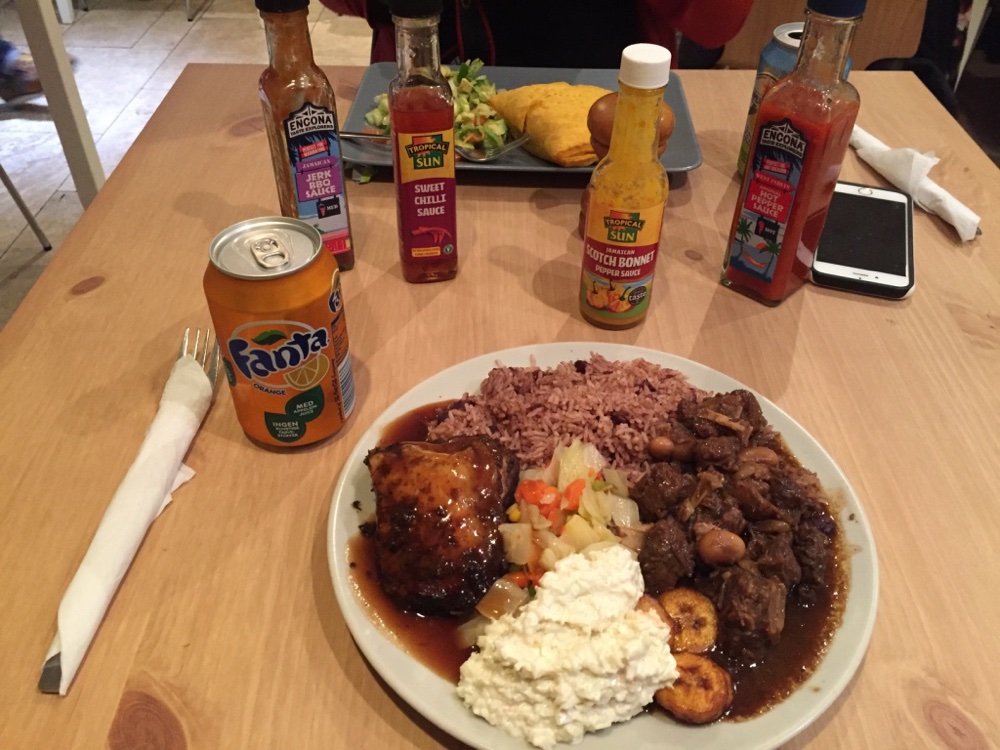 He helped me with some motion street style shots afterwards.
It was already 2:30pm at this time so I decided to head home to get dressed. The majority of the commenters on my dilemma post suggested the blue strappy sandals, so I wore that.
At 5pm, I got to Brunswick (a mall-type place in Russell Square) where the cinema for the screening, The Curzon Bloomsbury was located, an hour before the pre-cocktail event. I met actors Nick Mutuma and Stephanie Sandows and Founder/Executive Director of the Staying Alive Foundation – Georgia Arnold.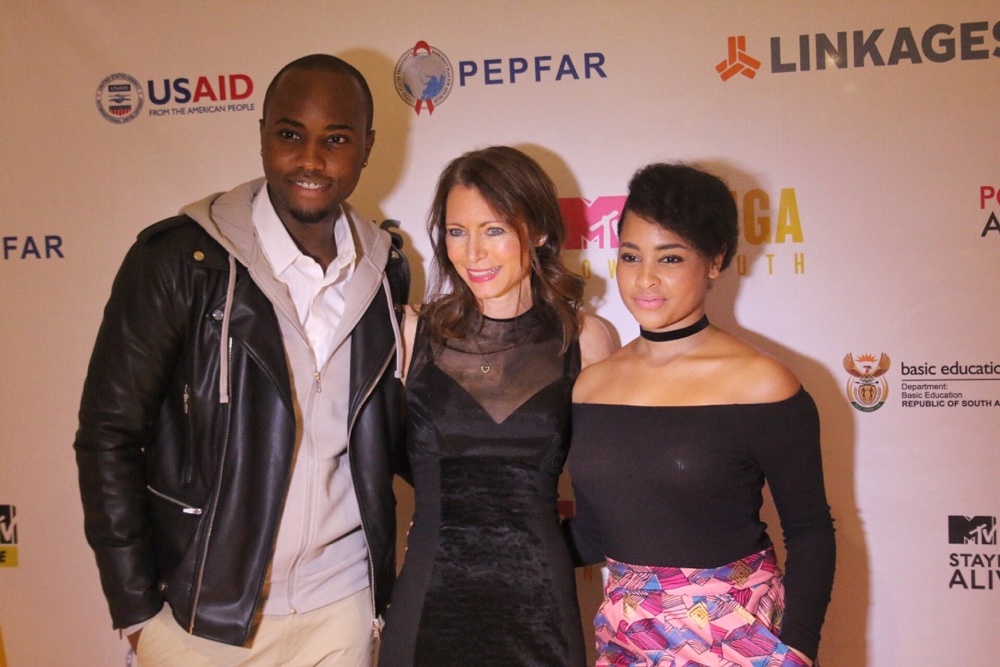 I introduced myself and we got along so well. Nick although a bit under he weather (thanks to the London weather) mentioned to Stephanie, his cast mate that BellaNaija was a really huge brand in Nigeria. They were actually both really lovely.
They mentioned being in London till the weekend. We made Snapchat and Instagram videos, took photos and generally had a wonderful time talking about various things.
Various sponsors, stakeholders and guests started trooping into the lounge and all wanted to have a word with them.
Before the screening, Georgia thanked the sponsors and all who made this event possible.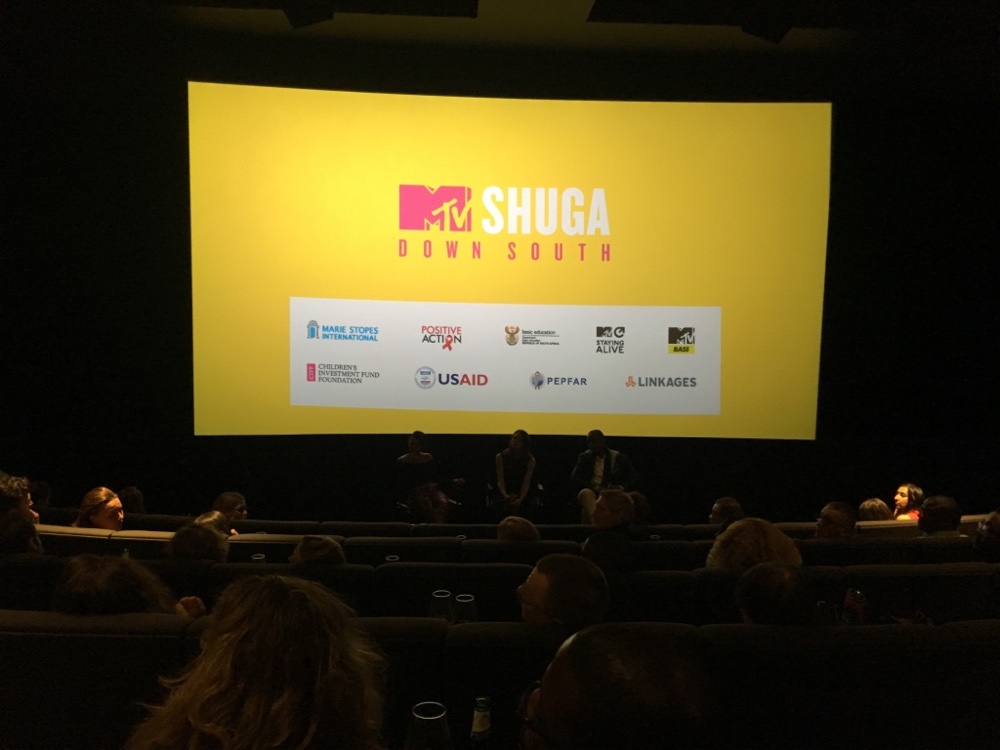 We were shown 3 episodes of season 5. The Season 5 termed #MTVSHUGADS (DS – Down South) was filmed in South Africa.
After the screening Nick and Stephanie entertained questions from us. During this session we were made to understand that filming in South Africa enabled them to touch on homosexuality hence creating a gay character (Reggie). This hadn't been possible when they filmed the previous seasons in Kenya and Nigeria.
While watching the film, I fell in love with the new character, Zamo played by Lerato Wazala.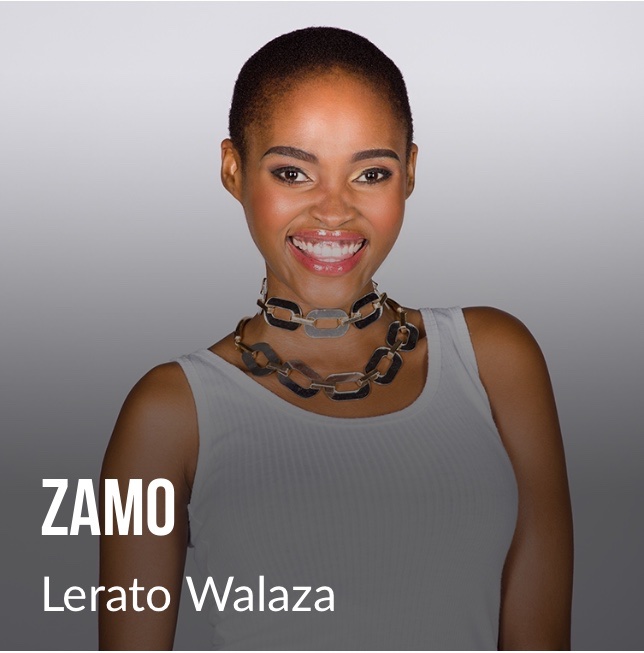 All in all, I had a very great time last Wednesday and I'm so grateful to BN for making this possible.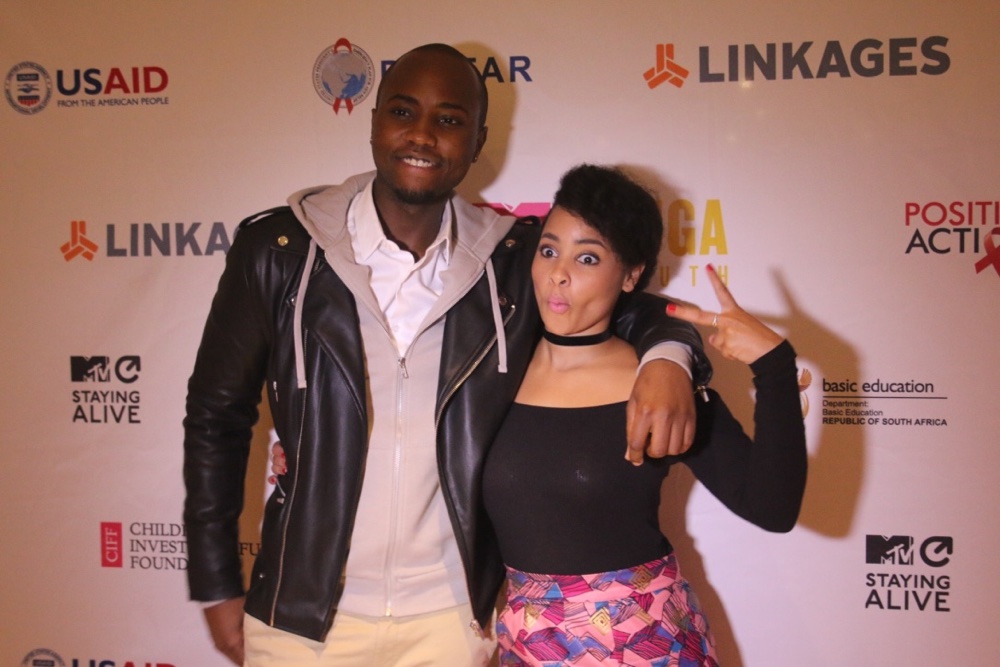 Watch my Vlog!
Thank you BellaNaijarians for coming with me on this journey! See other photos on Instagram with the hashtag #MGBNTakeover.