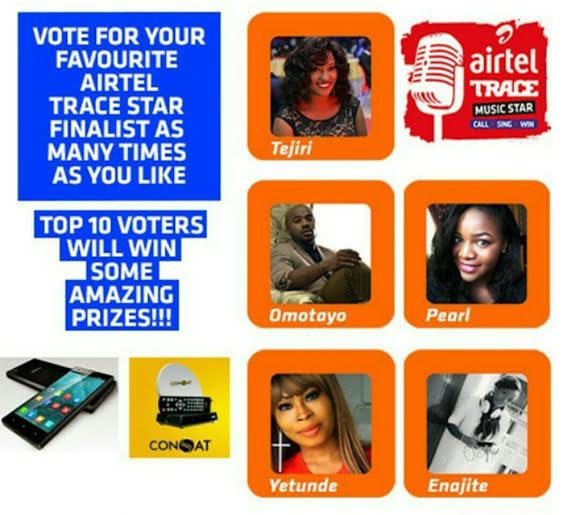 The Airtel TRCAE Star is about to crown a winner!
With the finale holding Saturday 28th February 2015 at the OceanView Restaurant, Lagos, the top prize of N4 million plus a shot at a recording record deal with Universal Records, is getting closer for 5 lucky Nigerians. These contestants are battling it out for the Airtel TRACE Music Star National Championship.
The competition, which was on for a number of weeks, saw numerous entries dial the special short-code 5678 from their Airtel phones for a shot at becoming the next African music superstar, and also a chance at being mentored by an A-List American Musician.
Veteran broadcaster and entertainment industry expert Olisa Adibua, ace producer and songwriter Cobhams Asuquo, and multi award winning artiste Lara George oversaw the process of selecting the finalists for the National Championship.
Concerning the choice of judges for the selection of the five finalists, Sam Onyemelukwe (Managing Director, TRACE Nigeria) had this to say "We knew we were going to get lots of entries, so it was important we picked Judges who had the ear for good music and could pick up quality sound immediately without wasting time. We all know what Olisa has done for the Nigerian Music Industry, He is one of the founding fathers of the New-School we have today, Cobhams Asuquo and Lara George have the longevity and records that do not need buttressing. So we were sure they were going to pick the best. I assure you these finalists are the pick of the pack."
The finalists; Okotete Enajite (JITEY), Tejiri Odjighoro (TEJIRI), Omotayo Otitiju (OMOTAYO), Pearl Awa-Agwu (PEARL), Yetunde Adeyanju (YETUNDE) still need public votes to become the nation champion and represent Nigeria at the Pan-African grande finale where he/she will get to compete against representatives from 13 other African countries in Kenya in March, 2015.
The National Finale holds on Saturday 28th February 2015 at the OceanView Restaurant, Victoria Island Lagos.
Short Codes for Voting
1. Send " JIT" to 5678 – For Enajite
2. Send " CHO" to 5678 – For Yetunde
3. Send " OMO" to 5678 – For Omotayo
4. Send " TANY" to 5678 – For Tejiri
5. Send "PEARL" to 5678 – For Pearl
_______________________________________________________________________________________
Advertorial – Sponsored Content