My goodness!! "@Twickta: @SalllyGold robbery. Fcmb admiralty way. Robbers escaped by speedboat. Robbers in camo pic.twitter.com/s5vIUJWrCx"

— Sally Gold (@SalllyGold) March 12, 2015
Update: More details are emerging on the armed robbery attack which took place in Lekki Phase 1 and transitioned to the Lekki-Ikoyi bridge today. The robbers reportedly attacked the FCMB Bank in Lekki Phase 1. The robbers are said to have arrived via speedboat and carried out a well orchestrated operation.
Right now, 4 causalities are being reported – 3 Policemen and a Fish Seller who were in the area as the robbers were coordinating their escape. However, we are awaiting official confirmation from the Police. Reports also confirm a gun battle between Police and the robbers on Admiralty Way and the Lekki-Ikoyi Bridge.
UPDATED: 4 die as robbers invade FCMB, Lekki http://t.co/VWLVgC6iTl via @thecableng pic.twitter.com/KnoN96sv5s — TheCable (@thecableng) March 12, 2015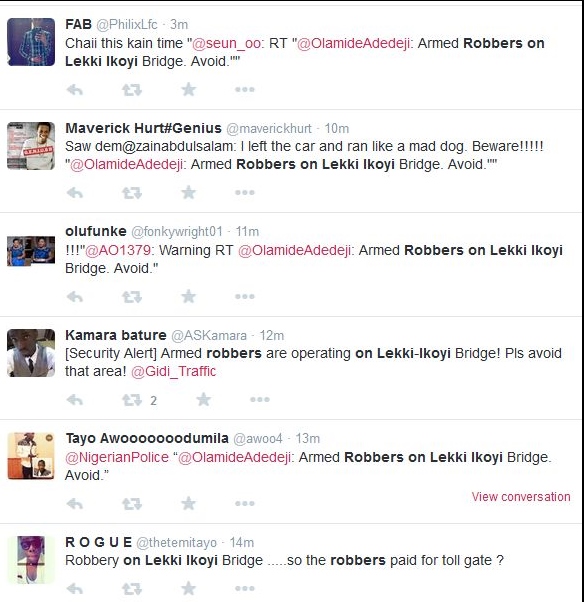 ***
Are you around the area? Tell us what is going on.