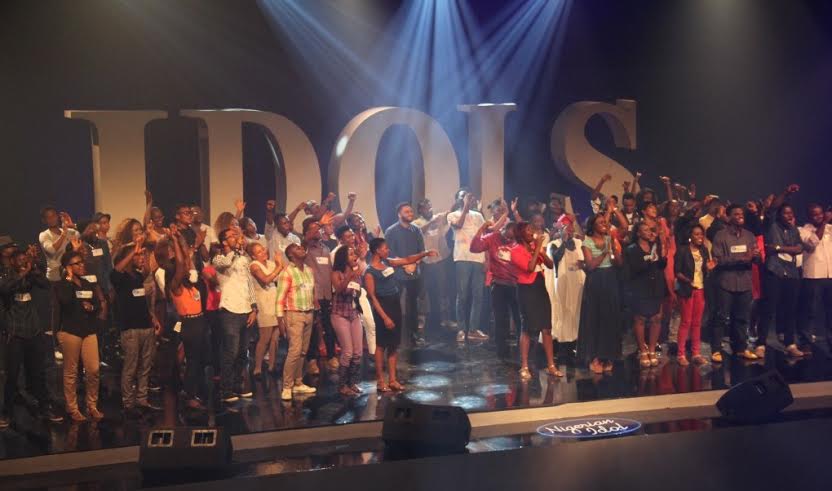 It's been 3 weeks of drama, hilarious performances and vocal discovery as the Etisalat Sponsored Nigerian Idol commenced on Sunday 1st March 2015 on nationwide stations with regional auditions.
Now the games are over, it's time for serious business as the judging trio of Yinka Davies, Dede Mabiaku and Darey Art-Alade are set to prune the selected 100 contestants to the Top 30 in a brutal vocal battle this weekend.
According to Modupe Thani (Head, Events & Sponsorships, Etisalat) – "The Etisalat Sponsored Nigerian Idol is aimed at discovering and promoting musical talent from across Nigeria, in line with Etisalat's commitment to consistently encourage and empower Nigerian youths to achieve their dreams through various identified passion point."
It was gathered that to secure their place in the Top 30, the lucky 100 were placed into groups and required to sing their way through the proverbial clutter in order to shine above the rest. Each having a part to sing in the selected song for each group, which would see some contestants blossom naturally while others will fade into the background of the Nigerian Idol stage.
This weekend promises to be packed with a lot of twists, turns, and fun moments as the judges are looking for more than bravery this season. Those adjudged with enough quality to make it to the Top 30 will fight it out for a chance to be part of the top 12, and ultimately, one of them will become Nigeria's next Idol.
The only thing left to say is…"Let the games begin!"
________________________________________________________________________________________________
Advertorial – Sponsored Content