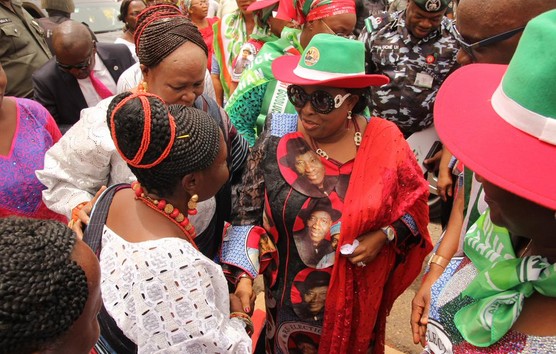 First Lady Dame Patience Jonathan has been in the headlines a lot lately for her controversial comments.
Due to some of those comments, the International Criminal Court (ICC) is set to probe her.
However Mama Peace, as she is fondly called, is not letting that deter her from campaigning passionately for her husband and speaking her mind.
Her latest controversial outburst occurred on Monday in Ekiti State during the rally of the women's wing of the People's Democratic Party (PDP), when she stated that she is not ready to feed her husband in prison.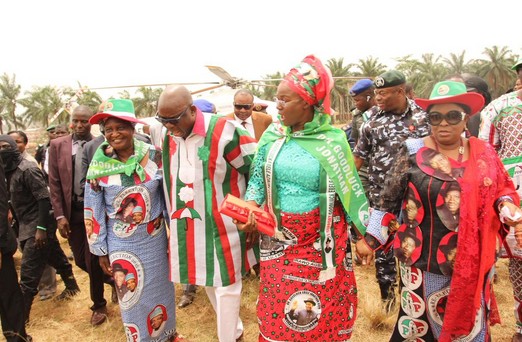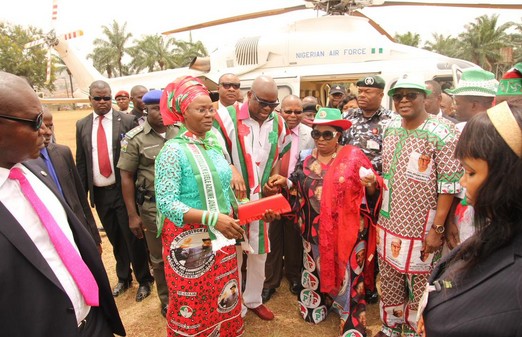 Here are excerpts from her speech, as reported by Punch:
1. What did they forget in Aso Rock? If you vote the PDP and Jonathan, it would be better for you. If you vote the APC, you will go to prison. How can you jail somebody for 300 years? I'm not ready to carry food to my husband inside prison oh!
2. If you drink APC, you will die
3. Since my father was born, they have been around changing from one name to another. Very soon they would answer Ebola. The name can't change you; it is only performance that can change you. If you like change it 100 times
4. Nigerian women shine your eyes, don't go for analogue, go for digital. PDP is digital, APC is analogue
5. PDP is not a party that tells lies. Whatever we promise to do, we do. We are not a propagandist party. Ekiti women, your mother is here and I will not tell you lies, but the truth
6. Nigerian women shine your eyes o! Vote with what you have seen, who you already know and who has performed. If anyone is telling you change, they are deceiving you
7. These were people that when they were there before Goodluck Jonathan, they did not count you women as anything. But today, PDP has wiped away our tears. Jonathan has wiped off our tears. He has fulfilled his promise of giving women 35 per cent participation. He gave 16 seats to women out of 42 slots in his cabinet. He is a performer
Ekiti State governor, Ayo Fayose, and his wife Feyisetan were also present during the rally.
Reports further state that during her speech, the women present were struggling over leftover rice distributed by Fayose. Sources say the women were also fighting over buckets presented by Senator Gbemi Saraki in commemoration of the October 16 inauguration of Fayose.
The struggle reportedly almost turned into a stampede, with many women said to have been injured.
"Shoes, headgears, wigs and bags littered the floor while a woman was heard complaining to a friend that she lost her bangle. Security men had a hectic time controlling the surging women who engaged in a brawl," the report stated.
Photo Credit: Twitter