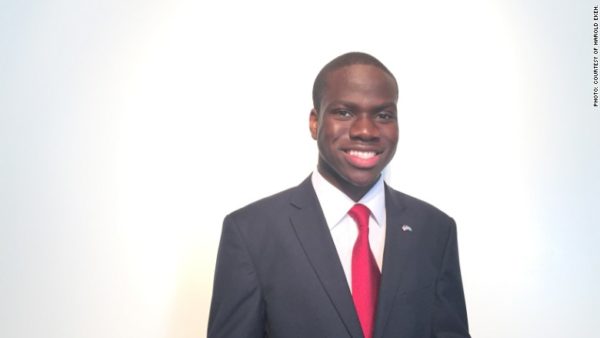 Earlier today, CNNMoney turned its spotlight on an achieving young Nigerian – Harold Ekeh. The 17 year old student of Elmont Memorial High School in Long Island, New York got accepted into 13 schools which he applied to. 8 of those schools are Ivy League schools, while the rest include MIT and Johns Hopkins.
Harvard usually rejects 95% of its applicants, and Harold Ekeh got accepted. This is a big deal, guys!
Born in Nigeria, Ekeh moved to the United States when he was 8.
Below is an excerpt from the report:
"I am leaning toward Yale," he told CNNMoney. "I competed at Yale for Model UN, and I like the passion people at Yale had."
"We had a fairly comfortable life in Nigeria, but they told me we moved to America for the opportunities like the educational opportunities," he recalled.
The salutatorian is quick to credit his parents, school and community for his success.
"I am very humbled by this," Ekeh said. "It's not just for me, but for my school and community. We can accomplish great things here."
A passion for science: He wants to major in neurobiology or chemistry in college and later become doctor and, ultimately, a neurosurgeon. He was named a 2015 Intel Science Talent Search semifinalist earlier this year for his research on how the acid DHA can slow Alzheimer's.
For Ekeh, the cause is personal. His grandmother was diagnosed with Alzheimer's when he was 11. One of his proudest moments was running home to tell his mother and aunts about the breakthroughs he was finding with DHA.
"When other kids would say, 'I want to be a superhero or police officer,' I would say, 'I want to know what is on the inside of us,'" he said.
His advice to other high school students is simple: "Like my parents always told us, the secret to success is unbridled resolve."
Read the rest of the report here on CNNMoney
BellaNaija congratulates Harold Ekeh! We can't wait to find out what school he chooses the great exploits he has ahead of him!