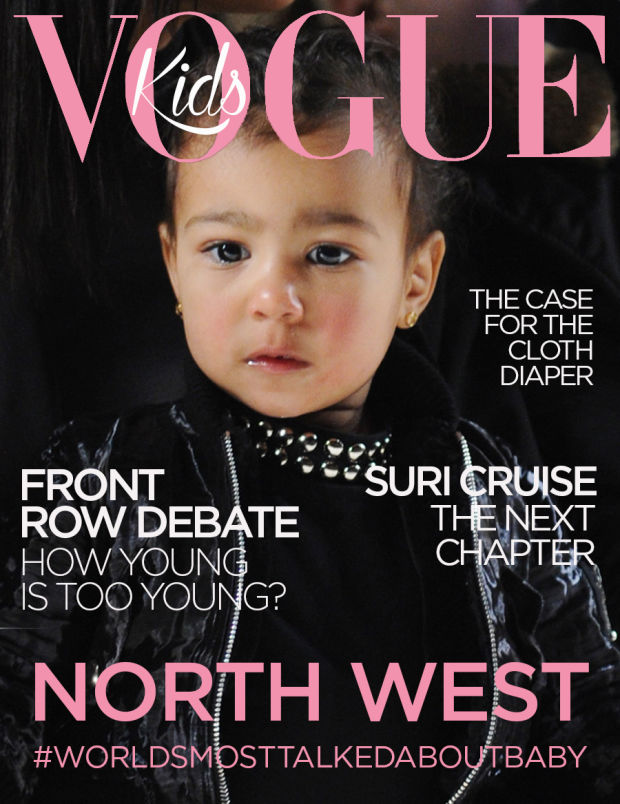 What better way to further introduce North West as a baby to watch than on the cover of Vogue – well at least its supplement publication, Vogue Kids.
In the popular mag's first edition of its kids magazine, they decided to use #TheWorldsMostTalkedAboutBaby and the little girl who belongs to Kim Kardashian and Kanye West.
Wearing custom Alexander Wang, Baby Nori channels her inner kid on the cover with her hair tussled, gold stud earrings, and her attention clearly off the cameras. Her cover and editorial were shot by Craig Barritt on location in Paris with Kim and Kanye present to give their daughter some expert direction during the fashion shows in March. She even has an interview in the glossy with Hamish Bowles.  Ah, the life of a celeb baby.
The interest in kids with A-List celebrity blood flowing in their veins has definitely increased with designers paying more attention to kidswear. The first issue of Vogue Kids will have 720 pages with 50 of them dedicated to heralding Nori's star potential.
We can't wait to see the entire shoot and can't help but wonder if her mum and dad will make a cameo.
***April Fools!***
This was a joke by Fashionista.com