A photo of Imo State Governor Rochas Okorocha dressed in secondary school uniform has hit the Internet: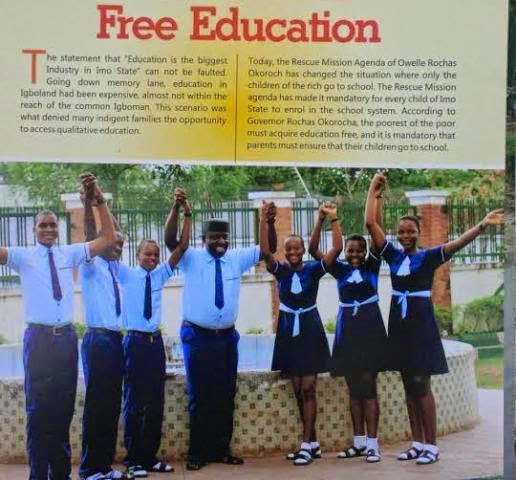 The photo is contained in an unidentified magazine, however; judging from the text in the magazine, it appears that it is pertaining to alleged reforms made in the education sector in Imo State.
Here's  the text as shown in the screenshot above:
The statement that education is the biggest industry in Imo State cannot be faulted. Going down memory lane, education in Igboland has been expensive, almost not within the reach of the common Igboman. This scenario was what denied many indigent families the opportunity to access qualitative education.

Today, the Rescue Mission Agenda of Owelle Rochas Okorocha has changed the situation where only the children of the rich go to school. The Rescue Mission Agenda has made it mandatory for every child of Imo state to enroll in the school system. According to Governor Rochas Okorocha, the poorest of the poor must acquire education free, and it is mandatory that parents must ensure that their children go to school.