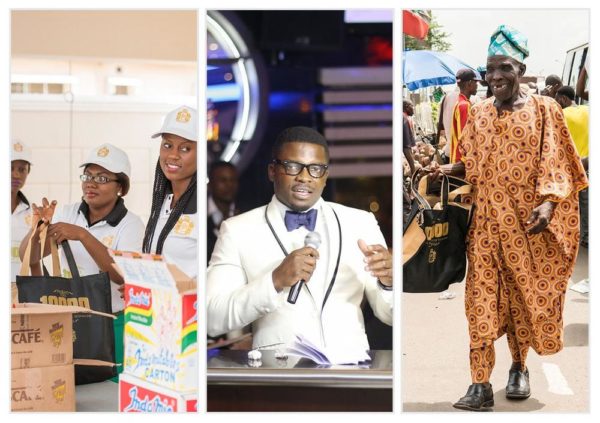 The '10000 Giving Back with Sujimoto' idea was borne out of the need to reach out to the needy in society, focusing 80% on our physically challenged women, single mothers, widows and other under privileged citizens of this nation. It is a major call to action on the Poverty Emancipation Programme (PEP) programme.
At Sujimoto, generosity is the pillar of our organization and we took full advantage of this preconception engaging in a hands-on "give back" initiative in our society precisely on our CEO's birthday.
The 'Packaging' Day
The whole hall bore a pleasant ambience, on the 7th of April 2015, with a multitude of happy faces full of  love and excitement; packing the items for distribution – in the spirit of giving back to our society. We were also joined by Abba Atiku, who not only attend the dinner event, but helped us in packaging these items, and also joined us on the road show.
About 15-20 items/provisions consisting of rice, gala, noodles, oil, Maggi, golden morn, water, toothpaste, Dangote sugar, salt, soap, t-shirts, and loads of nourishment courtesy of Nestle Nig Plc, were carefully packed in customized 'Sujimoto10000' bags, as we were all set to hit the road on the 8th of April 2015.
Charity Dinner
Rhapsody's has seen many events but few of them would meet the personification of class and glamour of 'Sujimoto10000′ where the lights and camera flashes made it look like the premiere of a Hollywood movie as all was set for the evening. Adeola Odeku down to Agoro Odiyan was on a complete lock-down as everyone kept wondering; "What event is this?" Nigerians proved themselves to be committed to giving back as top shots in society, captains of industry, top politicians and individuals from all walks of life joined us in an evening filled with fun, luxury and giving. This event won't be forgotten in a hurry, as Rhapsody's did not falter in its service and hospitality.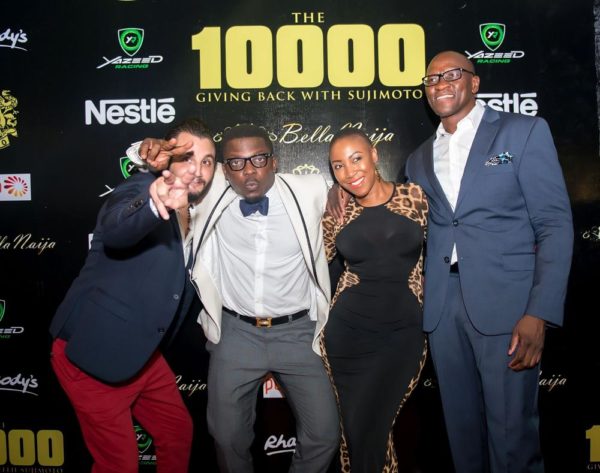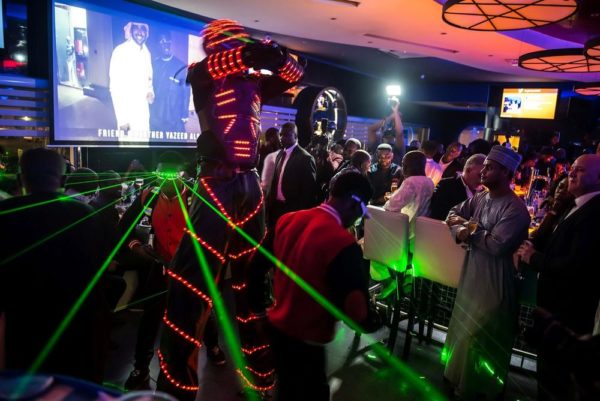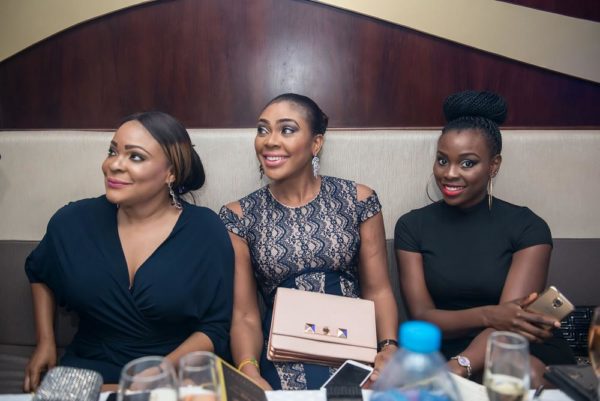 Falz The Bahd Guy delivered in his humorous manner which left the crowd in stitches and the beautiful Pearl was there to assist him. Niyola did not disappoint as she serenaded in her amazing voice remarkably engaging her audience and notable performances from Dammy Krane and The Robot Dancers left guests in awe.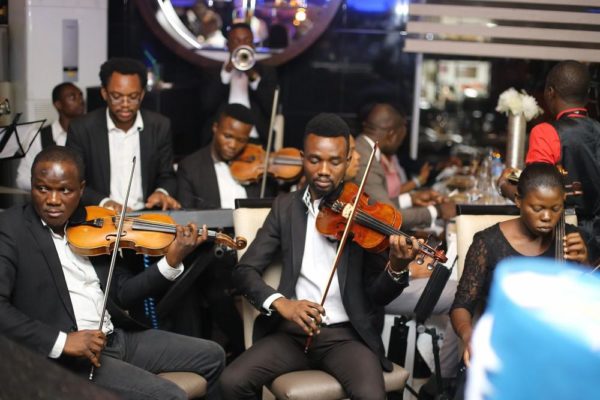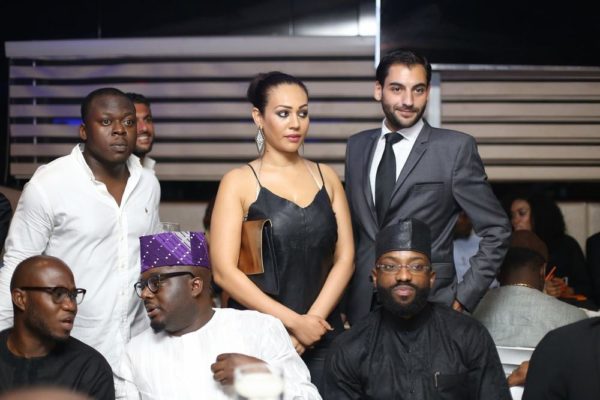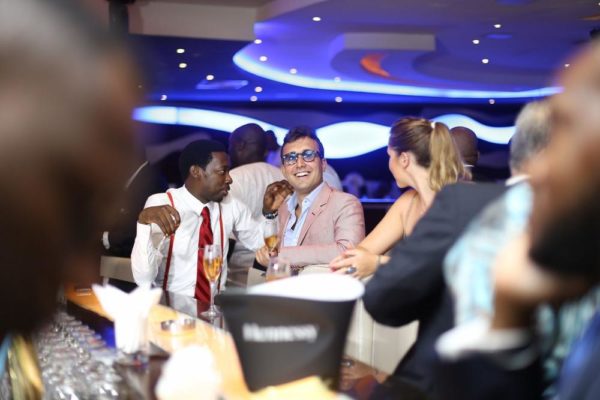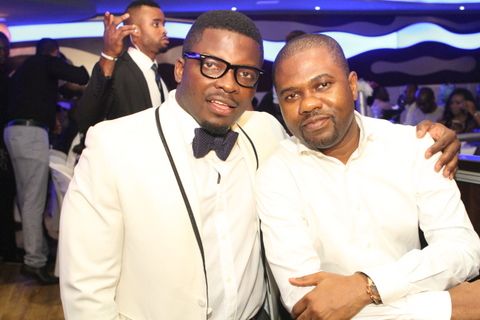 The celebrant's vote of thanks was an unscripted emotion laden speech, one filled with appreciation and extolling the virtues of his supportive mother who against all odds and without any formal education rose above all adversity to become who she is today.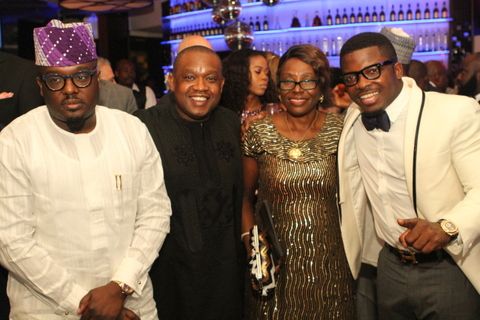 Road Show & Charity Donations
"On Wednesday, what looked like a political rally was a campaign towards giving back to society. The 8th of April 2015 would never be forgotten. At the end of the day, we were filled a sense of fulfillment, knowing that we had made a difference in our society – by giving back. A convoy of about 10 cars and buses set out to give out our packaged bags and other items to charity organizations, needy on the streets and the general public. My friends, colleagues and many other people volunteered and joined us as we toured within Lagos to give to back. With about 70 stops in different areas from Ojuelegba, Orile, Iyana Ipaja, Makoko, Oshodi, and areas we never knew existed.
We had music, friends, and volunteers as recipients were extremely pleased as they received a surprise bag. The excitement, happiness and love was truly an unbeatable feeling for us. One lady with tears in her eyes said: 'I didn't know what to feed my kids with today, but your surprise has blessed my day, only God would bless you all'"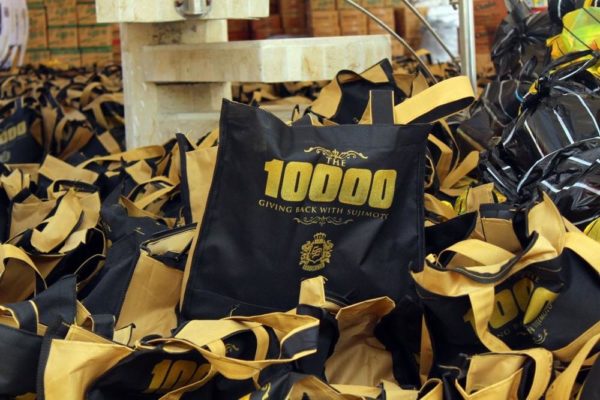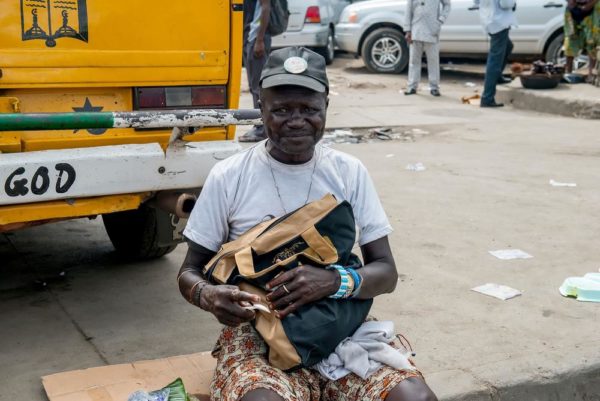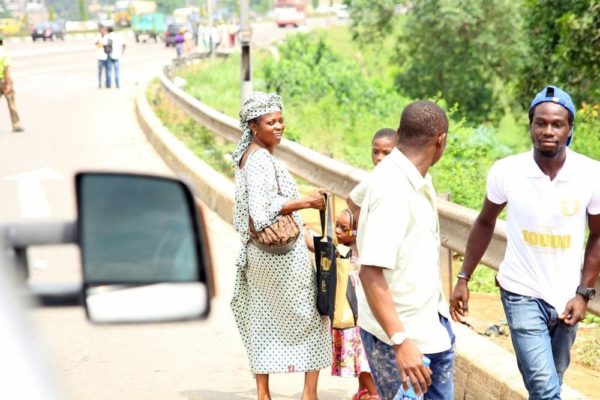 We also encountered a set of one-year old twins – who were born on the same day as our CEO. These twins are at the Red Cross Home in Yaba which was one of the homes we visited.
He instantly fell in love with them and went further to take responsibility for them until they finish their university.
Our  friends, colleagues and many other people volunteered and joined us as we toured within Lagos to give to back.
It is our belief that poverty is not just the absence of finances, but in reality, a poor mind is a weak mind.
So it might not be the capacity to give financially but the moral support, the time spent and selfless commitment to change someone's life positively…that to me is the biggest asset invested in you by God.
We might not be able to help everyone but everyone can help one person. So let's eradicate poverty as we all join together and touch one life after the other."
We sincerely thank "Team Sujimoto;" Without you guys, this wouldn't have happened, especially Oyinda who was instrumental in management, delegating and execution.
"If your neighbour is hungry, your chicken is not safe"- Sijibomi Ogundele
For more pictures of The 10000 – Giving Back with Sujimoto event, visit: www.flickr.com
________________________________________________________________________________________________________
Sponsored Content