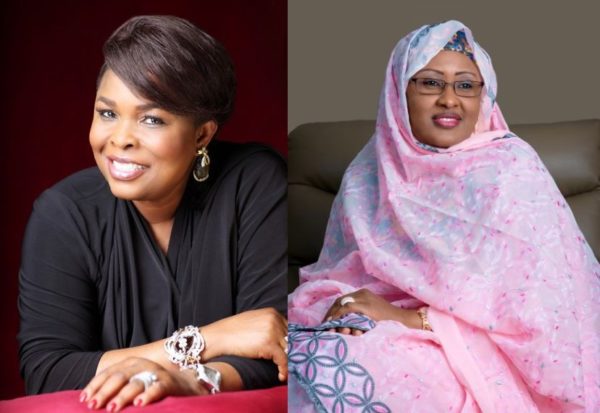 In April, BN brought you the news that First Lady Patience Jonathan was preparing to step down as president of African First Ladies Peace Mission.
You will recall that she sent an invitation to mission members for an emergency meeting to elect her successor.
Shortly afterwards, rumours began to circulate that Mama Peace was plotting to prevent wife of the President-elect, Aisha Buhari from replacing her as President.
A statement issued by the Office of the First Lady has refuted the rumours:
Our attention has been drawn to various newspapers and social media reports alleging that Nigeria hosting of 8th Summit of the African First Ladies Peace Mission Summit on May 15, 2015 is a grand design by the First Lady, Dame (Dr) Patience Faka Jonathan to either "rig out" or "deny" the in-coming First Lady, Hajia Aisha Buhari the opportunity to assume the Presidency and host the said summit in the absence of the incumbent.

We would have ignored this barrage of uncharitable fallacies, but for the fact that the mischief makers have not relented in their efforts to deceive the unsuspecting members of the public with lies and half truth, hence this clarification to set the record straight.

It would be recalled that Nigeria's Hajia Turai Yar'Adua was elected President of the African First Ladies Peace Mission during the 6th Summit in February 2008 in Congo Brazzaville for a term of two years.

Her tenure ought to have come to an end in 2010 when she should have organized a Summit to elect a successor and hand over accordingly. The unfortunate incident that led to her sudden exit from office is well known and need not be mentioned here.

This inability of the former President to officially hand over created a leadership vacuum in the African First Ladies Peace Mission for some time until Her Excellency, Dame Patience Jonathan was prevailed upon by her colleagues, the African First Ladies to convene the Summit in July 2012 at which she was subsequently  elected President to serve for two years.

For the avoidance of doubt, according to its internal regulation, the tenure of office of President of African First Ladies Peace Mission is for a period of two years only. This therefore implies that the tenure of office of the incumbent President ought to have ended in 2014, when a fresh election should have held for a new Executive.

However, at the 3rd Executive Bureau meeting of the AFLPM in Pretoria, South Africa in 2014, Her Excellency, Dame Patience Jonathan drew the attention of members to the then forthcoming election in Nigeria, which preparation would not enable her host the summit to facilitate the election of new Executives and a handover.

She therefore proposed that the 8th Summit holds after the Nigeria general elections and it was accordingly agreed that the Summit would hold in July in Abuja with the understanding that if her husband did not succeed in his re-election bid, she would convene the summit in May 2015, to enable the election of a new President and ensure a smooth handover since her tenure has ended.

The emergency Summit is to forestall a misunderstanding that Nigeria intentionally plans to remain in office as President, a position it has held for the past 7 years instead of two year tenure.

Arising from the above, it is therefore clear that this is not a personal matter nor a specifically a Nigeria sole affair but a continental platform governed by its own rules and protocols just as similar International Organizations.

It would therefore be out of place for anyone to insinuate that it is intended to shut out the in-coming First Lady. This cannot be father from the truth. We state therefore without any iota of equivocation that it is mischievous for anyone to scheme to cause disaffection between the out-going and in-coming First Ladies, Dame Patience Jonathan and Hajia Aisha Buhari.

Let us therefore come together in our tradition of hospitality to heartily welcome our guests, the African First Ladies as they arrive Abuja for the 8th Summit of the Mission. Let us always remember that the personal ambition of anybody is not worth destroying the image of the nation. It is about Nigeria not about Dame Patience Jonathan.