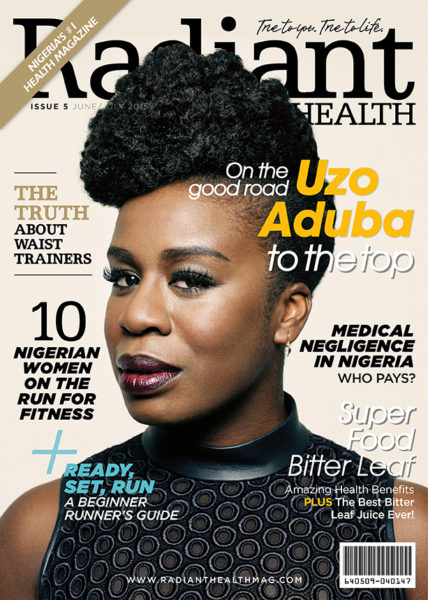 Hollywood actress Uzo Aduba is the cover girl of the June 2015 issue of Nigeria's Radiant Health Magazine.
The Emmy and SAG award winner shares stories of her journey on the Good Road to the Top.  Uzo opens up about her family and her path from life as an athlete to one of Hollywood's leading actress. Aduba also goes deep into her Nigerian roots, how she found her calling in the Arts, and what it takes for her to stay active and healthy.
Read excerpts below:
On growing up in Boston: There's actually a fairly sizeable population of Nigerians in Boston. I imagine it has to do with the academic institutions throughout the area. There are so many schools in and around Boston: MIT, Harvard, BU, Emmanuel College, Wellesley College and so on. I'm guessing a lot of people went to school and ended up settling there. My mother started off in the Connecticut area, having been married before to a man who was at Yale but unfortunately passed away. My father was in the New York/New Jersey area and my parents met there. Our family settled in the Boston area when my father got a job there.
On being Nigerian: I haven't been to Nigeria now in four years, but I'm desperate to go back. I love Nigeria. I love its people. I love my family there. A lot of my family go back and forth between Nigeria and America, so we're very connected to the country. My mother is from Anambra State. My father is from Enugu State. Even though I grew up in Massachusetts, again, we are very connected to Nigeria. I and my four other siblings were raised to think of ourselves as Nigerian, not because there was any specific way my parents felt about being American, but because they always wanted us to know where we are from. My mother in particular was adamant about Igbo being spoken in our home, not just for understanding but for fluency. We can all cook a traditional Nigerian dish, even the boys. My little brother can make himself rice and stew. I think it's easy for culture to get lost in a generation. My parents wanted to make sure we kept that part of ourselves alive, and I'm very thankful that it has been preserved in me.
On sports in her family: My parents were both very athletic people. My mom was a tennis player in college in Nigeria and she encouraged me to find an activity. She was like, "You need to find something to do. You can't be coming home after school every day and not doing anything except homework." After I stopped figure skating, I started running in my freshman year of high school. I ran track throughout high school and college as well. My mother, Nonyem Aduba née Anyaoku, did [play tennis] and she was very good! She won the West African Singles Tennis Championship, which is an equivalent of America's NCAA. She came to America and was a tennis pro as well for a long time. She believed in sports and believed in sports for girls as an extracurricular activity.My brother Obi, who just retired this past September, was a minor league hockey player and went to a college with one of the best hockey programs in the country on scholarship. Obi is an exceptional athlete in general, and he'd been playing and making his living for the last seven years as a hockey player. Also, my sister Chioma is a track and field All-American and Olympic trials athlete.
On benefits of exercising: It's an inside out sort of thing. Exercise of any kind is good for your body from a health perspective as well as a spiritual and emotional perspective. I find that there's something meditative about it that I love. It's very cleansing of the mind, body and spirit. There's something about the endurance required that can be applied to life, whether that's career, love, friendship or whatever. That endurance lends itself to stamina which enables the ability to survive and come through anything. On a mental level, I love that. Physically, it strengthens the body because it gives the whole body an aerobic workout. I love strong-bodied, strong-minded women and girls who are committed to owning their power. Every woman should seek strength in life.
For more Uzo Aduba visit RadiantHealthmag.com
Photo Credit: Radiant Health Mag