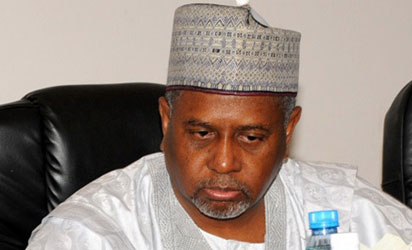 Former National Security Adviser, Sambo Dasuki is finally speaking out on the invasion of his home by Department of State Security Service (DSS) operatives.
He reportedly spoke exclusively with The Nation, and stated the following:
"The SSS operatives came in two trucks with a search warrant from a Magistrate Court. The warrant gave them the power to search for 'illegal weapons and any incriminating item.' You can imagine what that is supposed to mean.

I left office on Tuesday and they got the warrant on Wednesday and executed it by 6pm on Thursday.

From 6pm on Thursday, throughout the night till about 6am this morning (Friday), they were searching my house looking for incriminating items.

They restricted my movement. I cannot go out and no one can visit me. All those who attempted to see me were stopped from doing so.

In fact, my son was blocked from entering my residence. My two cooks, who used to come from their homes to prepare my meals, were also disallowed from leaving my house.

The only person allowed was the man who feeds my dogs. And he only related with the dogs.

By Friday morning, they packed away all the nine cars in my residence. I could not go out to perform the Eid-el-Fitr prayer because of the restriction.

Even when I sought permission to go to Eid Praying Ground, they promised to provide a vehicle but they never did…

This is just a witch-hunt; they are desperately looking for something to implicate me.

They went to my father's house including breaking into the ceiling to look for incriminating documents. They broke a safe in my father's house.

Also, my sister kept a 20-year old box in my father's house, they also forced it open. What has my father got to do with this?

And the old man is in hospital in London. He was shocked to hear that they broke into his house. The good thing is that they did not find anything.