BellaNaija presents "Celebrating You! Class of 2015" We called for submissions of graduating students who had excelled in their course of study. We acknowledge the fact that everyone who has graduated this year is a winner. We, therefore, want to celebrate people who have gone over and above the norm. People who have gotten meritorious distinctions and awards from their institution of study. We hope that you are inspired and we look forward to receiving more entries.
Chiamaka Ndukauba graduated from School of Oriental and African Studies, University of London with a distinction in her Masters in Development Economics. Pause. Let that sink in for a bit before you read on.
You see, this is why we continue to celebrate academic excellence. A lover of arts and music, Chiamaka blossomed in a home environment with unconditional love from her family and particular discipline from her mother. She is a firm believer in the fact that she can achieve anything she set her mind to. She described her story like this: "It indeed has been an exciting journey for me fraught with uncertainties and the attendant highs and lows". In all, she scaled the bar! We enjoyed her story and found it really inspiring. We hope you do, too.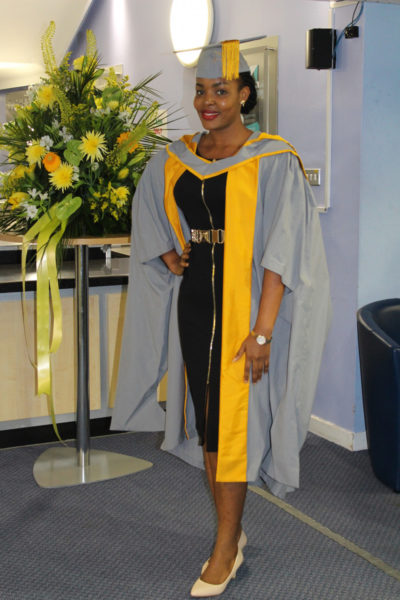 Genius in The Making… But First, Right Course
Towards the beginning of the WASSCE I decided I really wanted to be an economist after following updates on world economies and promptly switched from pure sciences (following my brother's footsteps I initially wanted to be a doctor) to the commercial department. This was a huge leap but with my parents support and insistence on a private tutor, I quickly gained ground in all courses and aced my WASSCE. Next was my first degree where I attained part scholarship from Nigerian Breweries 2008-2012. Upon completion of my first degree at Veritas University, Abuja, in 2012, I bagged 3 awards (2nd Overall Best Graduating Student, Best Graduating Student in the College of Management and Social Sciences, and Best Graduating in the Department of Economics).
Funding For Masters… Hello Scholarship!
The next step was to attain a master's degree in Development Economics where my passion lay. While serving as a Research Assistant (NYSC), I became the "professional applicant" for scholarships in the UK universities. I consistently hounded my referees who all provided immense and continuous help in providing detailed reference and recommendation letters for each of the applications (which was quite a lot!). After my final application scholarship application in March 2013 to SOAS, University of London, I sat back and handed all to God, believing and praying for a miracle and at the same time started actively searching for jobs.
A day I would not forget was 1st July 2013 when I had just finished shopping office clothing for a job I was to begin the next Monday and was playing dress up for my mum and sister, when a mail from the scholarship office of SOAS beeped on my phone. My heart literally squeezed as I thought it was the "We regret to inform you…." only to see the subject line had congratulations. I opened this mail to see a scholarship offer for an MSc in Development Economics in London. I screamed for joy while my mum nearly fainted from fright because she could not understand the expression on my face or reason for my scream ha-ha!
The True Test of Dedication, Doggedness & Determination
From the onset it was tough as there was a Preliminary Math and Statistics course, where failure would nullify course of choice and consequently your scholarship (after family thanksgiving in church..mbanu). After scaling through this with distinction grades, the short nights and days when the library was a second home officially began. Thereafter, final exams were completed and the tedious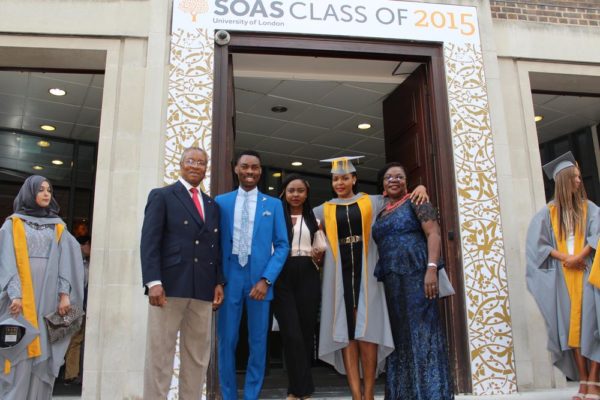 process of dissertation writing began (days of constant 4 minutes frozen pizzas).
Studying Economics at a higher level during this Masters degree really tested my endurance. At the beginning of the course, the requirements mandated at least 2 elective courses upon which I decided to stick with related courses where I already had a solid background. However, a fellow classmate convinced me to try something unrelated but interesting (a course on Capital Markets and Derivatives). It was not a surprise when after I attended the first lecture for this course, I found a remote corner in the library and asked myself if that classmate was sent to torment me haha. However, after I spoke with my brother, who as usual convinced me, I could ace the course, I set out to purchase all the beginner's books I could find and registered for as many online tutorials as I could. As time went by, I began to grasp the rudiments and didn't quite feel out of place during lectures.
Another major moment when I began to doubt I could attain that distinction was during an exam where I was so stressed, I completely blanked out. It took at least 15 minutes to calm my racing heart and another 10 to pray, before I just stared at my sheet and answered in a completely different structure from what I had planned.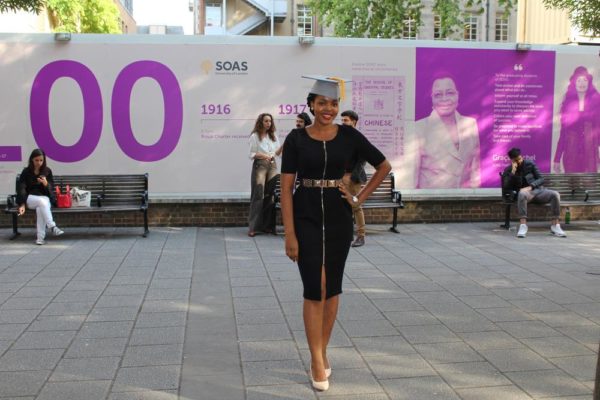 Finish Strong
My joy came when exam results were released and I attained distinctions in 6 courses save two. My supervisor was totally surprised at the number of distinctions and immensely proud of me, and then promptly threw more curve balls as we discussed my 2nd dissertation draft. After I turned in my dissertation, the official fasting and prayer began – as school policy maintained a distinction must be attained in the dissertation in addition to the course requirement before an overall distinction could be awarded.
When I found out I made a distinction the first feeling that came over me was just gratitude. This was so because for a very long time during my studies I continuously doubted my abilities, but for the several voices of encouragement that continuously put these doubts to rest.
Upon receipt of my certificate with a Distinction in MSc Development Economics, my mum sang praise and worship for hours, while my dad as usual said his solemn "Well-done, well-done, I knew you could do it" (2nd thanksgiving on the way…).
Looking Ahead… To Sub-Saharan Africa
I am looking forward to a career in International Development and Finance. My long term goal is to contribute to curbing abject poverty in Sub-Saharan Africa beginning with Nigeria.
Despite all odds, I set my mind to a goal and put in work not withstanding setbacks, as I knew there was a light at the end of the tunnel. I simply always handed all to God from the get go and He has NEVER EVER failed me. So to others students out there, ALWAYS PERSEVERE and NEVER LET YOUR FEARS/DOUBTS OVERSHADOW YOUR STRENGTH.
_______________________________________________________________________________
If you want to be part of this inspiring and amazing feature or if you know someone who is part of the Class of 2015 who should be featured here, please send an email to features(at)bellanaija(dot)com. We look forward to reading from you and sharing your academic excellence.