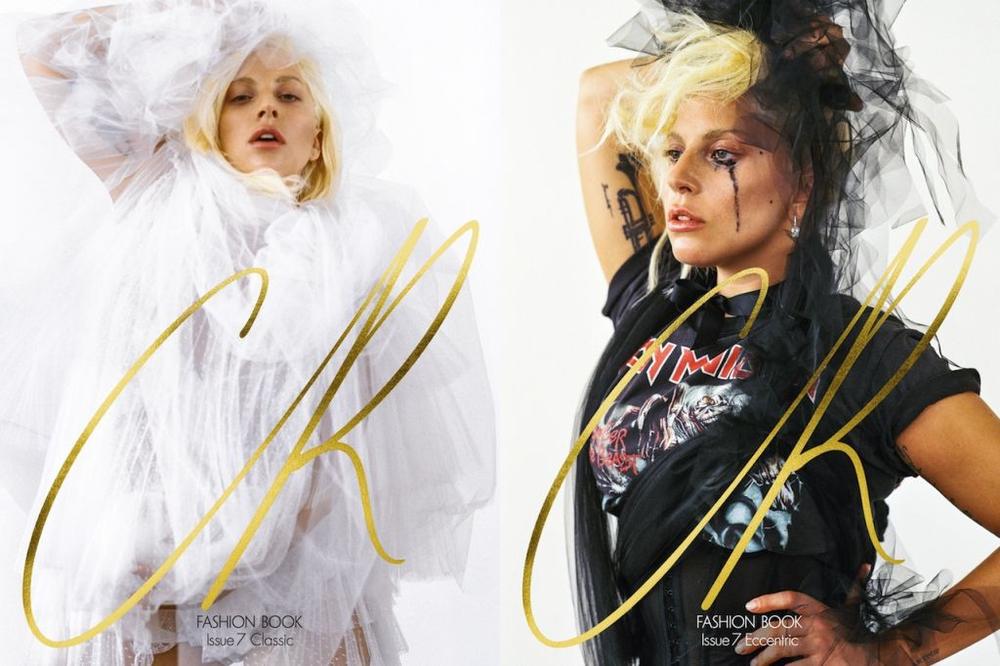 'Mother Monster', Lady Gaga is the latest star to be featured in CR Fashion Book's pages, and even though we haven't seen in her in a while except with soon-to-be hubby Taylor Kinney, Gaga is still the same.
Appearing in the double cover issue of the Mag's Issue 7, it shows the 'Bad Romance' singer in unretouched photos in grunge outfits striking several poses for the cameras. According to CR creator, Carine Roitfeld – "Lady Gaga perfectly represents what I mean by the classic eccentric to me. She is completely Gaga, but she is also a lady. In her music and art, she is so creative, always pushing the envelope…And yet she is classically trained, as well. As we saw with the jazz music, she can be both the modern pop star and still play the classic songs, giving them a modern twist. That is always what I love."
Gaga also appears as a bride on the covers with ruffled veils draped round her body. Speaking on the reason behind the bridal-inspired look, Carine said – "I decided to style her in that way for two reasons: The obvious one, of course, is that she is getting married soon, but also it represents how in this new era in her career, how she has come to marry these different sides of herself—how she has become free…"
Speaking on being liberated musically by her 'Cheek to Cheek' Jazz album collaboration with Tony Bennett, Gaga said – "Some people think about music and they think pop, rock, rap, and hip-hop, and they just list them off like categories, but music deserves the same freedom that a fine artist would have with paint—no rules, a blank canvas. That's jazz. It was totally what I needed at a moment in my career when I felt like a caged animal. And I knew I could do so much more outside of that cage than inside."
Be sure to watch out for her in the new season of American Horror Story alongside Angela Basset and more.
See more images below;
Read more on Lady Gaga's cover on CRFashion Book.