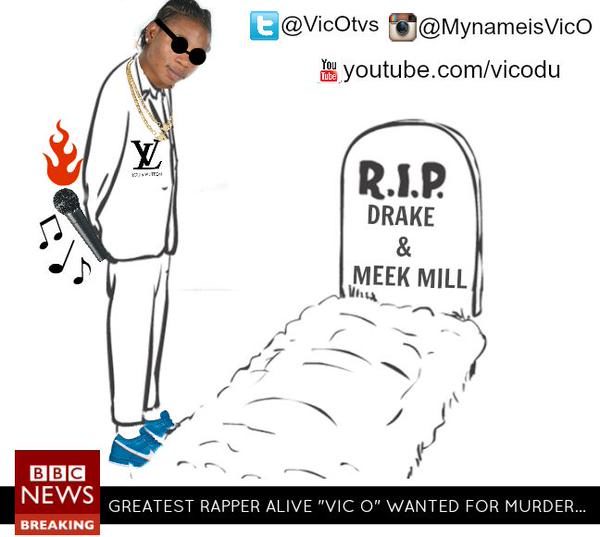 Does he need a lesson from the 6 god?
"After Party" crooner – Vic O promised to drop a diss track for Drake and Meek Mill that will crown him the 'King of Hip-Hop'.
ONCE THIS TWEET GETS 5000 RE-TWEETS, I WILL DROP MY DISS TRACK TO DRAKE & MEEK WHICH WILL CROWN ME KING OF HIP HOP! pic.twitter.com/HsaB2gyFWD

— VIC.O (@VICOTVS) August 3, 2015
5000 retweets later, he premieres the "Diss Song" and Nigerian Twitter is buzzing about it!
Listen to the diss track and read some of the tweets below!
[audio: https://www.bellanaija.com/wp-content/uploads/2015/08/VIC.-O-Drake-Meek-diss-song-BellaNaija-August-2015.mp3]
Hooked up with my man @VICOTVS he had this to say about the drake and meek mill beef. It's fire ??? pic.twitter.com/Jjgch2bIIJ

— Cinderella Man (@Osi_Suave) August 4, 2015
Just listened to the greatest diss track ever! @VICOTVS killed @Drake & @MeekMill. Their careers can't survive this!!

— 0kumagba 0nakome (@komestical) August 4, 2015
When @VICOTVS said " I'm music,I kill the beat and give the fans to eat" pic.twitter.com/esIH7UoCbq

— 234 god (@Ayomatic) August 4, 2015
This VicO's diss track is the best thing to happen to Hiphop since 2pac and Biggie

— abdul (@deco_duzzit) August 4, 2015
@VICOTVS VYou just dropped the greatest diss track ever. You're among the greatest black mehn alive. After Mandela na you ????

— THE HUMAN OF ABUJA (@raphaelesu) August 4, 2015
Vic.o never disappoints ?? diss track on repeat ???? he killed it???. Drek & mek wohooo Izzalova!

— Iysha (@aishahkolo) August 4, 2015
#Barz "@Punthief: I could take a digital camera to Yaba left and snap every patient there and still mi o le ya werey to padi Vic O yi."

— NYX (@Morenikeeee_) August 4, 2015
No Nigerian Celebrity has gotten 5,000 retweets on Twitter except Vic. O.

— Isima Odeh (@IsimaOdeh) August 4, 2015
Vic O for President

— AYOKUNLE Odekunle (@Oddy4real) August 4, 2015
Drake tweeted this and deleted it immediately. Vic O! pic.twitter.com/2CZYCmkEhQ

— James Ndubuisi (@JamesNdu) August 4, 2015
: When Vic o said I killed the beat and give it to my friends to eat pic.twitter.com/rL7CAvtlE3" @Mfon_I

— Itoro-OBONG (@thatawesomeG) August 4, 2015
Vic O is the real Battousai! Slayed

— Oghogho (@lilcraemiss) August 4, 2015
That's how Vic O slaughtered Drake and Meek in 2 mins. 7 god. ???

— The Cub of Judah (@shofarr) August 4, 2015
I won't even listen to VicO's diss track, I know it will bang. My ears aren't even worthy to listen to his great music.??

— ColorMeAvocado (@avocado_me) August 4, 2015
Let me introduce myself first, I'm VicO, the one and only. I'm from Nigeria Cross River State boy, Calabar Capital city iii e'er. ????

— Olaseni Oladejo (@OlaseniOladejo) August 4, 2015
Vic O is really the baddest He writes his songs He produces his songs He is the hypeman of his songs No one man should have all that power!

— ⠀⠀⠀⠀⠀⠀⠀⠀⠀⠀⠀ ⠀⠀⠀ (@chuzzus) August 4, 2015