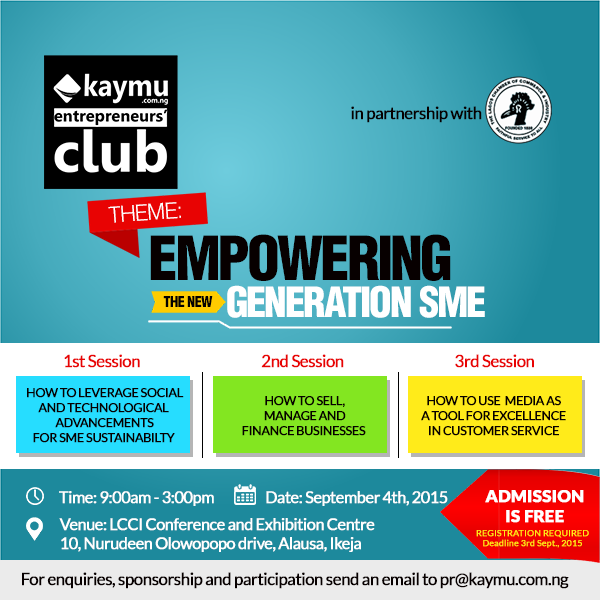 Are you a start-up owner? An entrepreneur? A tech enthusiast?
Kaymu has partnered with Lagos State Chamber of Commerce and Industry to bring to you the Entrepreneurs' Club holding with the theme 'Empowering The New Generation SME'.

The quarterly event will feature hands-on practical sessions with business, technology and financial experts to understand how small and medium scale enterprises can harness their efforts and leverage technological advancements to enhance productivity.
Participating individuals and business will have the opportunity to equip themselves with key sales, management, financial and technological tools to grow their business.
Speakers at the Event Include Dele Alimi, Director, Membership & Trade Promotion, Lagos Chamber of Commerce & Industry, Sefik Bagdadioglu, Managing Director Kaymu Nigeria, Muyiwa Afolabi, Business Management Coach, Ibikunle Bolorunduro, Fidelity Bank SME business advisor, amongst others.
Expected guests at the event include entrepreneurs, SMEs, manufacturers, tech experts and enthusiasts, financial institutions and business savvy individuals.
Date: Friday, September 4th 2015
Time: 9 AM – 3 PM
Venue: LCCI Event and Exhibition Centre, Alausa
Attendance is free however registration is required, which closes on the 3rd of September 2015.
What are you waiting for…click register to save a seat at the event.
________________________________________________________________________________________________
Sponsored Content