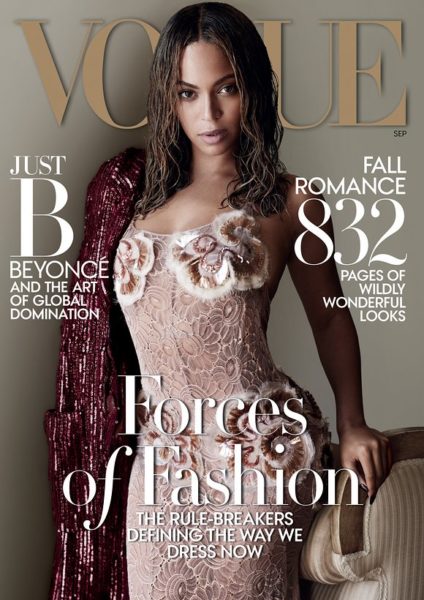 Give it up for Queen Bey!
The Pop queen is the cover star of the September 2015 issue of Vogue magazine and the magazine's intro for her is everything.
She was photographed by Mario Testino.
Vogue says:
'There's only one September issue, and there's only one Beyoncé. It used to be that the great pop stars with fashion and style gave us small variations on one grand theme. Tina Turner: minidresses and honey tresses. Janis Joplin: boas, bangles, and bell-bottoms. Cher: spangled striptease getups with mythic Third World touches. Nowadays fashion isn't about the grand theme, it's about juxtaposition, and it's filled with allusions to movie and art history; to music and dance styles; to iconographies of race and ethnicity, religion and gender. Madonna opened the door to this collage approach. Today we see it in the wigs, masks, and sculpted costumes of Lady Gaga and Nicki Minaj, the restless dazzle of Rihanna's couture choices. And, of course, in the music, dance, decor, and looks of the ultimate streamed collage: Beyoncé.'
See more photos from her spread below.
Photo Credit: Vogue.cm/bey