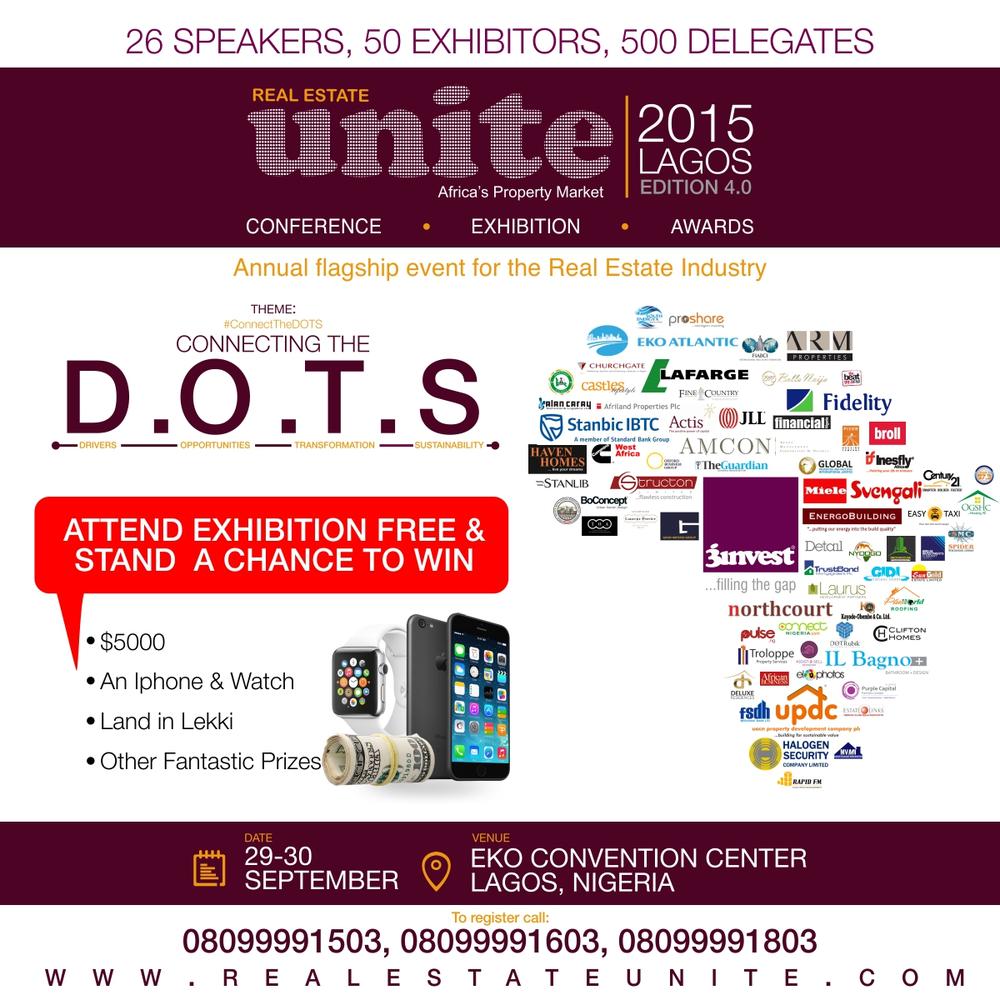 3INVEST is delighted to invite you to participate at Africa's flagship Annual Summit for the Real Estate sector, Real Estate Unite. Now in its fourth year, the theme for Real Estate Unite 2015 is, "Connecting the DOTS in Africa's Real Estate," and it will be a 3-tiered event hosting a conference, exhibition and awards with exclusive roundtable sessions.
Real Estate Unite – the Industry Annual Flagship Summit provides an important platform for global real estate leaders to discuss most pertinent opportunities and issues in Africa's Real Estate sector yearly. This year, we are reverting to the two-day format, which features sessions such as:
Day One
"Leaders Meeting" which is a closed-door meeting between industry stakeholders, government officials, investors and 3Invest  with an emphasis on interacting and building relationships,
"African Women in Real Estate Meeting" (A.W.i.R.E) is a Networking platform that fosters growth and economic prosperity for women in real estate
Exhibitions: This year's exhibitions will run on both days of the convention and we are privileged to have exhibitors  who are at the top echelon of the industry.
Day Two
"The D.O.T.S Conversations": These are engaging conversations by experts on Drivers, Opportunities, Transformation, and Sustainability (D.O.T.S) which we believe are the FOUR building blocks that contribute to the long-term viability of the sector. Drivers are harnessed to create Opportunities, resulting in Transformation that must be hinged on the principles of Sustainability for it to be effective.
Exhibitions: This year's exhibitions will run on both days of the convention and we are privileged to have exhibitors  who are at the top echelon of the industry.
Awards Dinner: And finally to cap the event, the annual  12 Categories Awards Dinner will be hosted by Bovi
Maintaining the high standards and milestones achieved as a result of the success of Real Estate Unite last year where the keynote address was delivered by the immediate past Governor of Lagos State, this  year's conference will be opened by Ogun State Govenor, Ibikunle Amosun, with other speakers such as Hakeem Ogunniran, the Managing Director,  UPDC; Mark Bradford,  JLL, Niyi Adeleye, Stanbic IBTC; Ronald Chaugoury, South Energy; Nnema Byrd,  Stanlib, Uzo Oshogwe,  Afriland Properties; MKO Balogun,  GlobalPFI; Bolaji Edu, Broll; Olumayowa Ogunwemimo, FSDH; Roland Igbinoba, Pison Housing; Jumoke Akinwumni, Ogun State Housing Corporation; Gbenga Olaniyan, Estatelinks; Udo Okonjo, Fine and Country; Funke Okubadejo, ACTIS; Kunle Adeyemi, Nleworks; Chudi Ubosi, Adenike Fasanya-Osilaja and many more.
UNITE 2015 participants include, UPDC, ARM Properties, Stanbic IBTC, Broll, Haven Homes, Gran Imperio Group, Structon, Energobuilding, Ilbagno, Svengali and Northcourt.  Eko Atlantic, Assist-2-Sell Properties, Alan Caray, Troloppe,TrustBond Mortgage Bank, Ogun State Housing Corporation, Fidelity Bank, Purple Capital, Rapid FM, DotRubik, Bo Concept, Cliffton Homes, Plus World Roofing, Inesfly Africa, Sun Gold Estates, Cummins, Church gate, Century 21,Kayode Obembe & Co., Abuja Investment Co. Ltd, Spider Merchandise Co., Brookhouse Construction, Deluxe Residence, Gidi Virtual Tours, Nyoogo and more.
Strategic Partners include are BellaNaija,Guardian, Proshare, Castles, Detail Solicitors, Oxford business Group, Connect Nigeria, Africa Business, New African,Classic FM, Beat FM, TOA Advertising, Pulse Nigeria, Financial Nigeria, Laurent-Perrier and Easy Taxi Nigeria.
Exhibition attendance is free. Attend by

12 noon

and enter a draw for the chance to win a land in Lekki.
Date
: Tuesday September 29 – Wednesday September 30, 2015
Venue
: Eko Convention Center Lagos, Nigeria
Registration:
Contact 0809991503 | 0809991603 – 1803 |
realestateunite.com
______________________________________________________________________________________________
BellaNaija is a Media Partner with Real Estate UNITE 2015