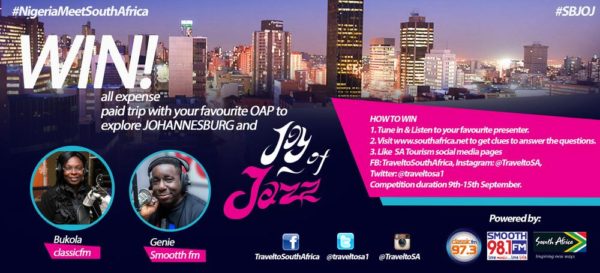 If you love Jazz music, and would love to explore South Africa, then you should take advantage of this great opportunity!
South African Tourism is giving two lucky individuals a chance to win an all-expense paid trip to Johannesburg to explore the city and experience the Standard Bank Joy of Jazz festival happening from September 24-26th, 2015.
Two lucky winners will emerge from Classic FM and Smooth FM Lagos quiz for this ultimate Johannesburg prize which also includes a VIP treat at the Joy of Jazz festival.
The Joy of Jazz will see performances from musicians from the USA, UK, Italy, India, Cuba and Africa.
The Standard Bank Joy of Jazz 2015 promises to be a dynamic mix of new and old ranging from the ever popular Yellowjackets to the new vocal sensation, award-winning Cecile McLorin Savant.
The adventurous line-up includes what looks like an exciting musical experience with a trio of Italian trumpeter Paulo Fresu, who captures the haunting harmon mute sound of Miles Davis, the Indian master of percussion including tablas, and from Cuba, the world renowned pianist Omar Sosa.
For the avant-garde and free jazz enthusiasts there's the brilliant bassist William Parker whose group includes the acclaimed drummer Hamid Drake. Staying with modern music is Dwight Trible from Los Angeles he's sung with Bobby Hutcherson, Pharaoh Sanders and Charles Lloyd and has a vocal style that incorporates gospel and free jazz while trying to bridge the gap between races. From the UK comes trumpeter, arranger, composer Matthew Halsall whose influences include Alice Coltrane and John Coltrane.
Smoothing things out are crossover/fusion/ funky guitarist Larry Carlton, American jazz singer Dee Alexander, sweet soul singer Peabo Bryson, Danish harmonica player Lee Oskar and one of the finest electric bass players on the planet Marcus Miller and his band.
A group that looks very interesting comprises pianist/singer Estelle Kokot with American saxman Chico Freeman and South Africans Herbie Tsoaeli bass and Kevin Gibson drums.
Africa is well represented by trumpeter Prince Langoasa, who is putting together a Big Band of female musicians, The National Youth Jazz Band, Steve Dyer, Vusi Mahlasela, and some amazing and provocative pairings such as Pops Mohamed and Steve Newman with a band that includes Mabi Thobejane: Jimmy Dludlu with musicians from Mozambique and Cape Verde; Jaco Maria from Mozambique and Wanda Baloyi; The superb South African jazz pianist Nduduzo Makhahtini with Danish saxman Karl-Martin Almqvist and Cape Town trumpeter Robin Fassie Kock. As if that is not enough there's also Hugh Masekela with Oliver Mtukudzi featuring the Zim Mbira Orchestra and then there's Ray Phiri with Stimela.
In addition to attending the Jazz Festival, you will have the opportunity to explore Johannesburg.
Whether you are a lover of adventures or shopping; from exquisite dining to family experiences or you are in love with wildlife safari, Joburg has got all and more to offer.
In Joburg, you have the opportunity to fulfil your dream to skydive, shop at the Sandton City, walk with a lion at the Lion's Park, discover Soweto or go to Gold Reef City for a family getaway.
So what are you waiting for? Enter the competition today! Who knows, you just might be one of the lucky winners.