Today BN Bridal Beauty is taking you on a beautiful journey around Nigeria – from Hausa to Yoruba to Igbo brides.
Chioma of TopNotch Makeovers worked with the finest photographers to create these opulent makeup looks to inspire brides-to-be.
***
"In recent times, fashion has been twisted and styled differently for more attraction and opulent outlook, which inspired me to create this colorful and edgy makeup looks to grace the monotonous and ritzy bridal outfits characterized by modern brides. The aim of this shoot is to showcase the rich culture of the three major tribes (Hausa, Igbo and Yoruba) in Nigeria as evidently seen during their matrimonial festivities.
HAUSA
Bodacious

This look depicts the modern Hausa bride who prefers to appear in a magnificent monotone outfit and classy makeup. For this look I chose a bright shade of coral which was achieved using jioney liquid lipstick 'llg 367' on the lips to give it a worthy attraction and NYX jumbo pencil 'milk' on her waterline for that bold, bright and sultry eye which compliments the lips for an overall classy outlook.
Chic

The Hausas, though classy, are also known for their modest looks and attires. Despite the growing and unusual fashion trends, this group has managed to succumb to a change of taste without losing the key ingredient of tradition – modesty. For this look, I used Anastasia liquid lipstick 'pure hollywood', NYX lip gloss 'bronze' on her lips and Urban decay vice3 eyeshadow palette for that smoky effect on her eyes.
Modish

For the fashionista bride who would prefer not to join the bandwagon but create her own style which is rarely seen but widely accepted. One who loves conspicuous colors and graced with lavish styles. This modish look was achieved using a tint of Mac 'heroine' lipstick, NYX jumbo pencil on her lips and a subtle eye makeup to finish the look.
YORUBA
Jazzy
The audacious bride who is not afraid to experiment with colors, she comes out looking all different and daring. For this bright and colorful look I used eyekandy glitters 'citrus twist' to create a fierce spark on the eye, a darker shade of red lipstick for the lip, a red blusher and a flamboyant gele. Call it owambe!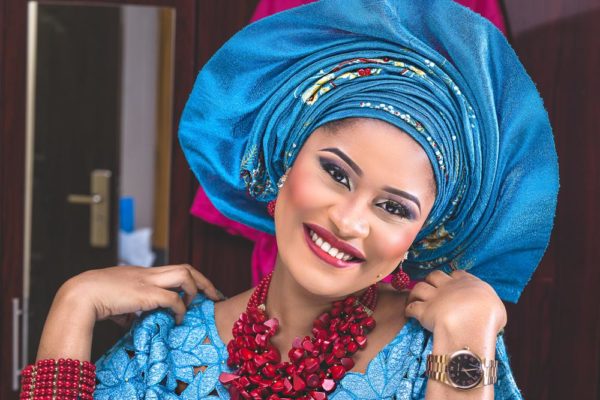 IGBO
Majestic
A simple display of royalty. For this look, I used BM|Pro red liquid lipstick on the lips and gold glitters on the eye.
Plush

The Igbo bride who would prefer a twist to their attire. Instead of the George tube or wrapper, they may opt for a cord lace and a stylish beaded bun hair for a change. For this look I created a winged liner with short strokes using Inglot gel liner No 77, lancome blue pencil for a smash of blue on the waterline and Mac Ruby Woo, dose of colors lipstick love potion, NYX jumbo pencil in milk and lime crime red velvet liquid lipstick for ombre lips."
Makeup: Topnotch Makeovers ( IG: @Topnotchmakeovers)
Hair: Solange (IG: @Solangehairandmakeup)
Photographers
Eyes of Insanity (IG: @EyesofInsanity) – "Bodacious" "Modish" "Majestic" "Plush"
Mofe (IG: @mofebamuyiwa) – "Jazzy"
Dominc Brown (IG: @dominicbrown00) – "Chic"