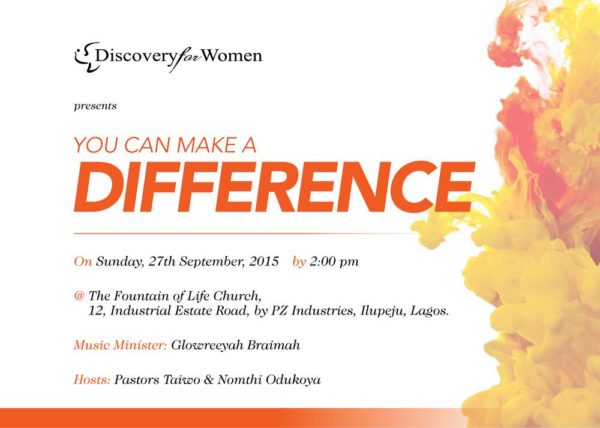 As the year winds to a close, Discovery for Women, a quarterly rally initiated by Pastor Taiwo Odukoya which gathers women in their thousands, will be having its final rally for the year on the 27th of September.
The theme for this year's conference is 'You Can Make a Difference'. As men and women across the world look to leadership for solutions to the myriads of problems confronting humanity, the Discovery for Women rally will amongst other things, be exploring the power of the individual agency to make a difference at the family, corporate and societal level.
Speaking at the rally will be the Senior Pastor of the Fountain of Life Church and convener of Discovery for Women, Pastor Taiwo Odukoya. The conference which attracts thousands of women cuts across social strata and features music, testimonies, and a general atmosphere of fun, camaraderie, serious contemplation and empowerment.
Date: Sunday, September 27th
Time: 2 PM
Venue: Fountain of Life Church, 12 Industrial Estate road, Ilupeju, Lagos
________________________________________________________________________________________________
Sponsored Content