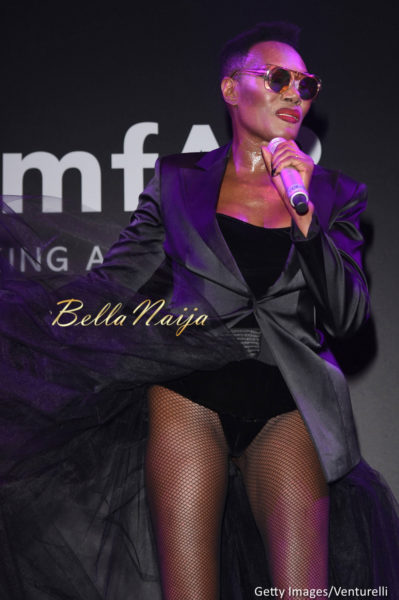 Jamaican singer, songwriter, supermodel, record producer, and actress Grace Jones is set to release an autobiography called 'I'll Never Write My Memoirs' on September 24 and she has released an exclusive excerpt to Timeout.com.
In the excerpt released, the 67-year-old icon criticizes the music of a whole lot of people including Beyoncé, Rihanna, Miley Cyrus, Kanye West, Madonna, Lady Gaga, FKA Twigs and more.
She starts off by saying:
I come from the underground. I am never comfortable in the middle of the stream, flowing in the same direction as everyone else. I think people assume that's where I want to be, famous for being famous, because as part of what I do there is a high level of showing off. But my instinct is always to resist the pull of the obvious. It's not easy.

Trends come along and people say, 'Follow that trend'. There's a lot of that around at the moment: 'Be like Sasha Fierce. Be like Miley Cyrus. Be like Rihanna. Be like Lady Gaga. Be like Rita Ora and Sia. Be like Madonna.' I cannot be like them – except to the extent that they are already being like me.
In her book Grace Jones admits that she did things for the excitement, the dare, the fact that it was new, not for the money.
Known for her eccentricity, Grace has been seen performing on stage in the nude several times while also conquering the style world with artistic poses in magazines.
Read excerpts below.
On Rihanna: Rihanna… she does the body-painting thing I did with Keith Haring, but where he painted directly on my body, she wears a painted bodysuit. That's the difference. Mine is on skin; she puts a barrier between the paint and her skin. I don't even know if she knows that what she's doing comes from me, but I bet you the people styling her know. They know the history.
On Nicki Minaj, Miley Cyrus and another star she has chosen to call 'Doris': The problem with the Dorises and the Nicki Minajes and Mileys is that they reach their goal very quickly. There is no long-term vision, and they forget that once you get into that whirlpool then you have to fight the system that solidifies around you in order to keep being the outsider you claim you represent. There will always be a replacement coming along very soon – a newer version, a crazier version, a louder version. So if you haven't got a long-term plan, then you are merely a passing phase, the latest trend, yesterday's event.
On being called a diva:  I hate that word diva. It's been so abused! Every singer given a makeover or a few weeks on a talent show seems to be called a diva these days! Christ almighty. Where's the exclusivity? It's so commercial now. For me, a diva is like the great opera singer, the great film star – out of reach, in their own world, with a real gift for invention, attention-demanding performance artists with a flamboyant, compelling sense of their own importance, so special and inimitable it verges on the alien. And of course the word is usually used to describe an apparently erratic female whose temperamental qualities, survival instincts, and dedication to perfection are seen as weaknesses, as self-indulgent, not a strength. So, Kate, I am not a diva. I am a Jones!
On having new artists learn from her: Listen to my advice; I have some experience. In a way, it is me being a teacher, which is what I wanted to be. I still feel I could go into teaching. What is teaching but passing on your knowledge to those who are at the beginning? Some people are born with that gift. With me, the teaching side morphed into the performing side. It's in there. And these are my pupils – Gaga, Madonna, Annie Lennox, Katy Perry, Rihanna, Miley, Kanye West, FKA Twigs and… Doris.
You can read more excerpts here.
Photo Credit: Getty Images/Brian Rasic | David M. Benett | Venturelli