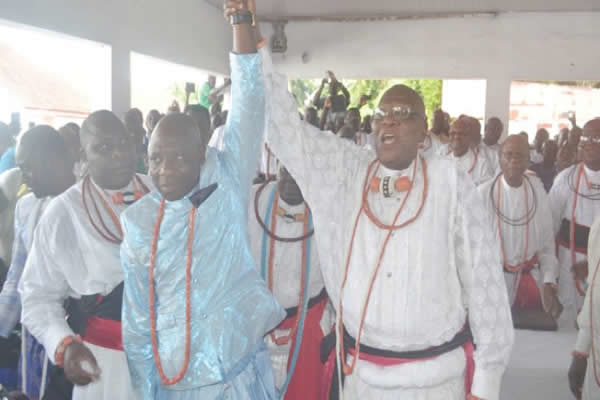 The death of the Olu of Warri, Ogiame Atuwatse II was officially pronounced in Itsekiri kingdom and now an Olu of Warri designate has been chosen. He is Ikenwole Godfrey Emiko, brother of the late king. This is the first time a brother was taking over from a brother in this monarchy as the successor is typically the first son of the reigning Olu, in this case, it would have been Prince Tsola Emiko.
The reason he was not chosen was revealed by the kingmakers to Vanguard Newspaper
The Ojomo of Warri said, "By the tradition, a son who must succeed his father must be born of a mother who must not be outside of Itsekiri or Benin by birth, origin. This is a standing tradition and the son does not fulfill this requirement.

Prof. Jim Omatseye added: "In the event that a son is not qualified to succeed the father, the princes of the kingdom from the three ruling houses, Ginuwa, Erejuwa and Ogiame, will choose among themselves who should take the throne. The lot fell on Prince Ikenwole Emiko and he is generally accepted by the Itsekiri nation.
According to the National Mirror,
"A total of 17 canon rounds were fired to traditionally announce the death of the Olu.

At about 12:16, the Olu designate, also refers to Om' Oba, was presented to the Itsekiri nation by the Chief Priest. The announcement was greeted with great jubilation from the people.

Following the announcement of Olu's death, a 90-day mourning period has been declared.

Addressing journalists after the ceremony, Chief Pessu said the mourning period forbids Itsekiri's sons and daughters worldwide from every form of celebration including burial activities until the burial rites for the demise monarch were completed.

He disclosed that new Itsekiri Monarch would officially be crowned before the end mourning period."
Congrats to the new King.