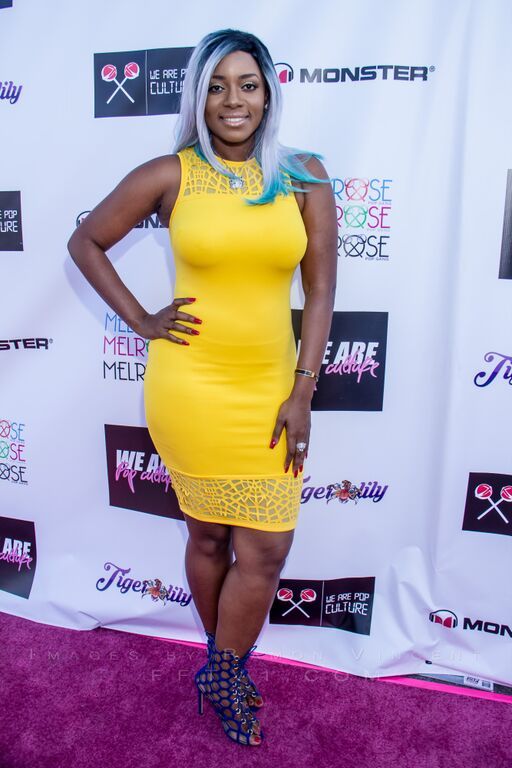 She's the celebrity stylist with a passion for fitness! Founder of Liam Fashion Agency, Lilian Unachukwu has officially launched a gym gear line – 'TigerLily'.
With bright, sexy and comfy pieces, the line is aimed at giving Nigerian women and the world fun & bold workout outfits.
The new line was officially launched a few days ago at actress, singer and reality TV star, Christina Milian's Block Party, which also marked the opening of her "We Are Pop Culture" store at Melrose Place in Los Angeles, California. The event had guests like Amber Rose, Karreuche Tran, Snoop Dog, Lil Wayne and more attend.
Lilian took photos and had a chat with Christina while showing off the models rocking her new pieces.
We had to get the scoop, so BN Style caught up with the entrepreneur to chat on the new line and her love for fitness.
Fitness is a huge business and trend in the world right now, with a lot of individuals and brands expanding  to incorporate the lifestyle. Why did you decide to start your own line of Gym wear?
My desire to start a fitness line resulted from the personal challenges I faced with my weight loss battle. I didn't feel like working out a lot of the time, and so I needed an incentive.

I also realized many women have this same challenge. So the thought came to me that if I had stylish, bright and sexy fitness gear, I may feel more excited to head to the gym and workout. I tried it out and it worked. Now, I am excited to go to the gym for dance classes, cardio and more. I have lost a whole lot of weight since I launched the line and I'm still on the journey now.
Judging from your Instagram page, you are very invested in fitness. What is your daily regime?
I am (invested in fitness). It has been a part of my life for many years. My daily routine now is to eat healthy. I eat lots of fruits and veggies and I cut down my carb intake. So, if I have to eat carbs, I will swap pounded yam flour for oatmeal. When I cook Nigerian soups I stay away from palm oil and I now limit my dinner to salads and protein.
Finally, for my workout sessions, I do lots of cardio and have recently delved into dancing to hip hop music as part of my workout routine. I have a couple of videos on my Instagram. If I am going to be fit I want to have fun doing it from my clothes to my routine.
There are a lot of women who want to start their fitness journey, but either cannot fond the time or the motivation. What advice would you give them?
What I have come to realize is when you find the motivation, you create the time. So, my advice will be to find something that will motivate you to want to live a healthy life and look your best. Once you do this you will find a way to achieve this goal.
***
E! was live at the store opening shooting the next season finale episode of Christina's reality show – Christina Milian Turn Up! So be sure to catch the show and possibly Lilian's cameo.
Check out more images from the Tigerlily Line below:
We are excited for Lilian and her new venture. To find out more about the TigerLily gym gear line, follow them on Instagram: @Tigerlilygymgear.