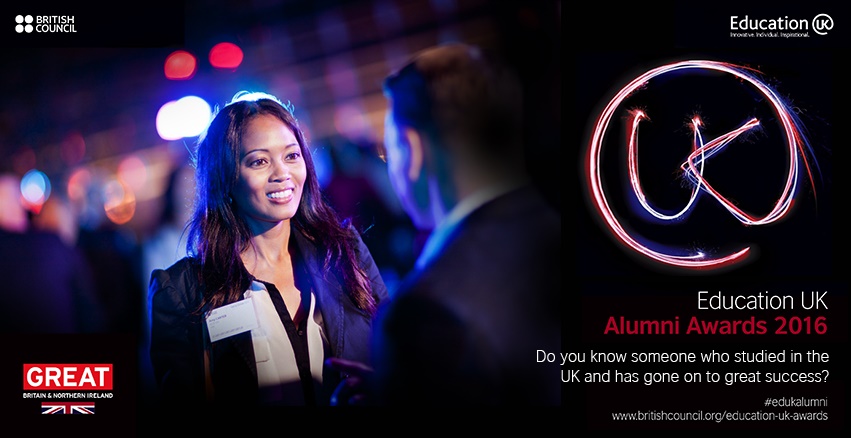 Do you know someone who has studied in the UK and has gone on to achieve great success? Why not nominate them for an Education UK Alumni Award? The award honours the outstanding achievements made by professionals, entrepreneurs and community leaders who can demonstrate how their UK education has had an impact on their subsequent success. The awards are offered in three categories:
Professional Achievement Award: This award recognises alumni who have distinguished themselves through leadership and achievements in their professional industry, and who can demonstrate the highest level of integrity and character in their professional career.
Entrepreneurial Award: Successful applicants in this category will be active in contributing to, or initiating innovative business opportunities with strong growth prospects. This is the award for self-starters, go-getters and risk-takers.
Social Impact Award: This award acknowledges alumni who have made an exceptional contribution and commitment to creating positive social change and improving the lives of others.
The award finalists will be celebrated at the British Council's high-profile award ceremonies and will join a unique network of international alumni.
The awards are open to alumni in African countries who have studied for a minimum of one semester/term at a UK university in 2005 or later. Check the website for details of how to apply or nominate someone. www.britishcouncil.org/education-uk-awards.
Applications are open from now to 31 October 2015. Nominate someone today!!!
__________________________________________________________________________________________________
Advertorial– Sponsored Content