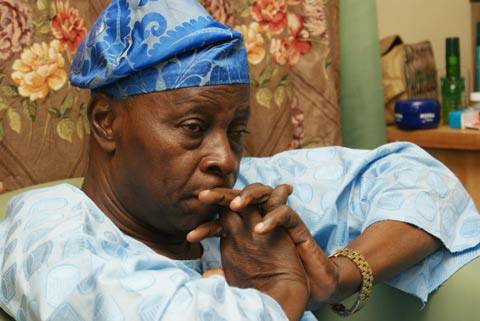 Secretary to the Government of the Federation, Olu Falae's abduction story and news of his release have been hot topics in the news over the past week.
You will recall that Inspector General of Police, Solomon Arase, earlier stated that no ransom was paid for Falae's release. 
But then one of Falae's family members stated that the police did not rescue him, and that money was paid for his release.
And now, Falae is setting the record straight, stating what exactly happened.
Confirming that he was abducted by six Fulani herdsmen, Falae told Premium Times:
"When the hoodlums came and took me away, they slashed me with their cutlasses, they said I was not cooperating. And they dragged me barefooted into the bush.

After dragging me around for about two hours, they stopped somewhere for us to rest and there they asked me to phone my wife and tell her that I have been kidnapped and taken out of Ondo State by car which was a lie.

There were six of them with three or four guns and every half an hour or so they will say, 'Baba we are going to kill you, if you don't give us money we are going to kill you.'

It was about 2.30pm on Monday, We started walking with very few stops until 2am the following morning. I suspect that I must have covered a minimum of 15km. That morning I did not take anything. So all day I had no food, no water and I walked close to 15km. How I survived I cannot really remember. I had no food in my stomach, I had no shoes, my clothes were torn to shreds.

At some point one of them gave me a rubber slippers. We walked until about 2am. At some point they called for an Okada. At about 2.30am the Okada man took me way down I had no clue where we were going. Finally they dumped me somewhere, where I was until I was released on Thursday.

In that place we all slept on the floor on leaves, unfortunately the rain came in the night and I was thoroughly drenched where I was lying down. One of them brought a small umbrella to cover my head, my head was covered, but the rest of my body was not covered.

They offered me bread, but I told them I could not eat it. I demanded for a bottle of coke, which was what I drank every day to have the requisite strength to survive and to continue on the march, because they were permanently moving.

They were changing locations at two to three times a day. I suspect because they did not want the police to succeed in tracing them

On Wednesday, one of them came and said 'look we are going to leave here on Thursday morning. Since we cannot leave you here alone, if we don't get what we want we are going to kill you.

And they said they gave me until 3pm and if at 3pm they don't get the money they would execute me. I thank God that at 21 minutes to 3pm, one of them came and said, 'the money don complete.'

So the following morning they said I should go. One of them took ropes to stitch my buba which was already in tatters, so that it could at least stay on me and I wound not look like a lunatic while leaving that place," he explained.

So when I came out of the bush, I was able to find an Okada, a man riding bike, who gave me a lift to Owo.

The place was about 10km from Owo town. The place was between Owo and Ifon. And I walked most of the distances between my farm to that place and as the farrow flies, that is about 25km that we had to trek.

As I said miraculously I was not tired, I was not hungry and I was not afraid of them at all. Each time they said, 'Baba we will kill you,' I will tell them, 'no, insha Allah, you will not kill me'.

I did not break down, but I want to tell you that when I got back home I became completely exhausted. But I am now 80 per cent fit and I know in the next few days I will be up again.

It is not because of me. As for me, I am a very humble person, but by virtue of what God has made me and the status God has given me, it is an insult to our race that a man like me could be abducted by a bunch of hoodlums.

By the way, one of them told me, he said, 'Baba, if after you leave us you talk nonsense I will come and catch you again'. That is the kind of insult I received.

Asked if the kidnappers were illiterates, he replied: "Only two of them could speak some English. They were between the ages of 25 and 35. They were Fulani, they spoke Hausa."

The cattle rearers have been giving me a hard time for the past two or three years. Because I have a dam on the farm, so they like to bring their cattle there to drink water, then they eat other people's crops.

This time they ate up my maize farm, two hectares. We took pictures, and it was videoed, the police went there. They were asked to pay compensation, they begged and paid half of what we claimed and we accepted it.

That was about two months ago. Whether it was one of them who went to bring his brothers to come and deal 'with this wicked man', I don't know. It is plausible. Absolutely plausible.

My view is that this is my home. I have not gone to farm in any other person's territory. This is my home where I was born. I have every right to farm here and live in peace here. So, this is totally unacceptable.

I once told the Commissioner of Police that if he cannot protect us and protect my farm, that I will protect myself. There will be self-help if government fails to protect its citizens.

It would have been unfortunate if that were to happen. The IG met me and gave me assurances that they will give us protection. I hope that we as a community in Ondo State and in Yoruba land as a whole must go into consultation to ensure that we enhance our protection. We cannot be slaves in our own territory."