Hi BNers,
It's time for your weekly updates on the events to look out for this weekend.
***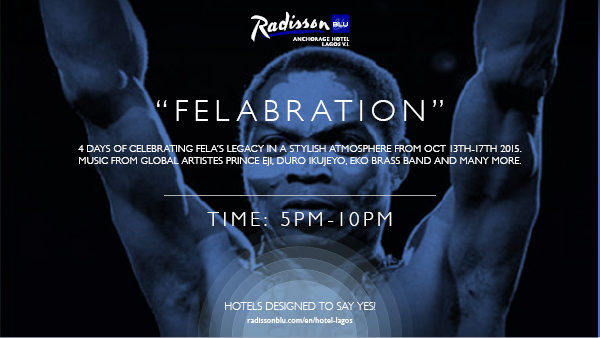 Felaration at the Radisson
Enjoy 4 days of celebrating Fela's legacy.
Date: Tuesday, October 13 – Saturday, October 17, 2015
Time: 4 PM
Venue: Radisson Blu Hotel, Victoria Island, Lagos
---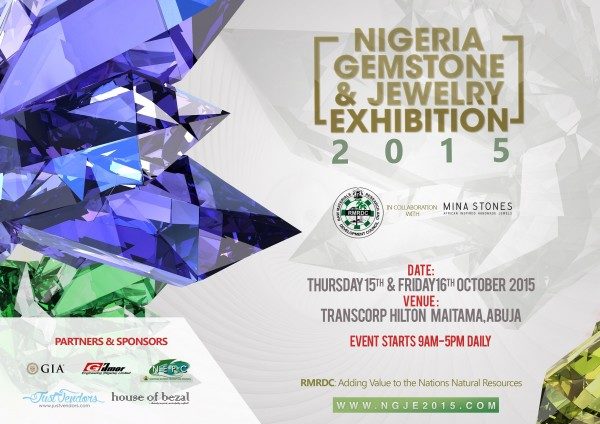 Nigeria Gemstone & Jewelry Exhibition 2015
At NGJE 2015, buyers can expect to source from a large number of quality suppliers from across Nigeria. A wide range of quality gemstones and related products, including diamonds, colored gemstones, fine finished jewelry, equipment & tools will be on sale.
Date: Thursday, October 15 & Friday, October 16, 2015
Time: 9 AM
Venue: Transcorp Hilton, Maitama, Abuja
---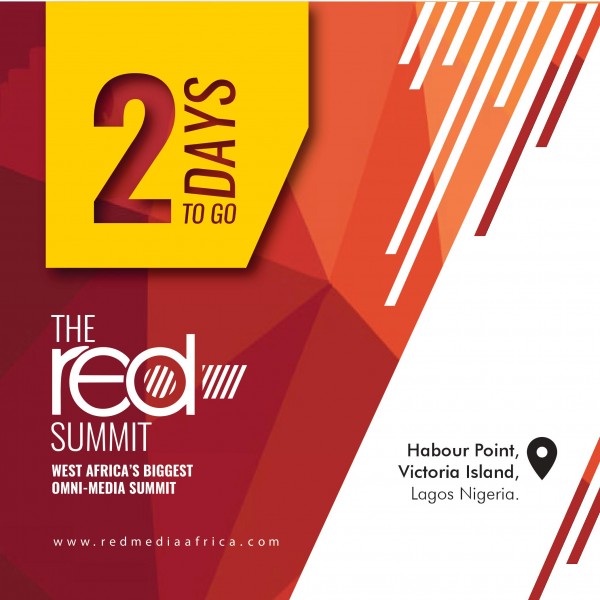 The RED Summit
The RED Summit is regarded as one of West Africa's largest omni-media gatherings. The summit will bring together stakeholders in various segments of the media across the African continent to explore new trends in a rapidly changing landscape.
Date: Thursday, October 15 – Sunday, October 18, 2015
Time: 10 AM
Venue: Harbour Point, Victoria Island, Lagos
---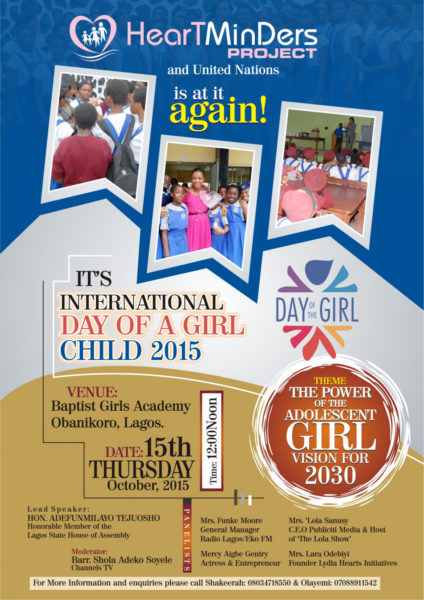 Heart Minders Project: International Day of a Girl Child 2015
The Heartminders Project, under her teenage project, Heartminders Youth Club will be joining the rest of the world to promote girls' rights, highlighting gender inequalities and addressing discrimination and abuse suffered by girls around the globe.
Date: Thursday, October 15, 2015
Time: 11 AM
Venue: Baptist Girls Academy, Obanikoro, Ikorodu Road, Lagos
---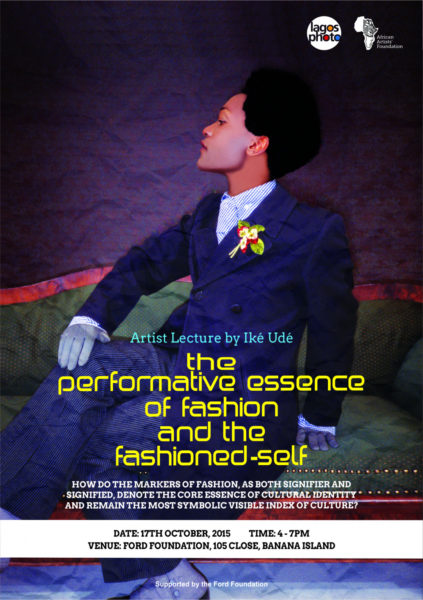 Artist Lecture by Ike Ude
Ike Ude (born 1964) is a Nigerian-American photographer, performance artist, author, publisher, and style icon. He is best known for his conceptual photographic portraits that explore issues of representation and sexual, gender, cultural, and stylistic identity.
Date: Saturday, October 17, 2015
Time: 4 PM
Venue: Ford Foundation, 105 Close, Banana Island, Lagos
---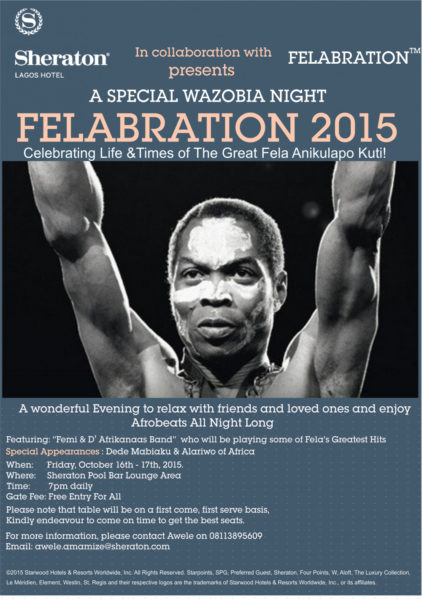 Felabration 2015- Wazobia Night Special
An annual festival of music & arts commemorating the life & times of Nigeria & Africa's foremost musical Afrobeat Legend Late Fela Anikulapo- Kuti.
Date: Friday, October 16 & Saturday, October 17, 2015
Time: 7 PM
Venue: Sheraton Pool Bar Lounge Area, Lagos
Contact: 08113895609
---
Veba Textile Mills Event
Veba Textile Mills, a textile company based in Czech Republic which just came into Nigeria is unveiling their new collection this weekend. This event is expected to attract top fashion designers, A-list celebrities, key influencers in the fashion industry, a wide array of high profile personalities in the media, fashion lovers and so much more.
Date: Sunday, October 18, 2015
Time: 3 PM
Venue: Havillah House of Events, Oniru, Lagos
Contact: 08031314773 | [email protected]
---
Grill at the Pent Port Harcourt
Be part of 'Grill at the Pent's' daytime event this weekend.
Date: Sunday, October 18, 2015
Time: 4 PM
Venue: Spice Route, 11 Azikiwe Road, Portharcourt Mall
---
BellaNaija.com is not responsible for the organization or further promotion of these events, neither do we have a stake in their sales or popularity. Inclusion in "Events This Weekend" is Free. Contact – adsales (at) bellanaija.com on or before Wednesday every week if you will like your event to be included. Note that BN reserves the right to choose which events are featured. "Pay to attend" parties attract a fee.