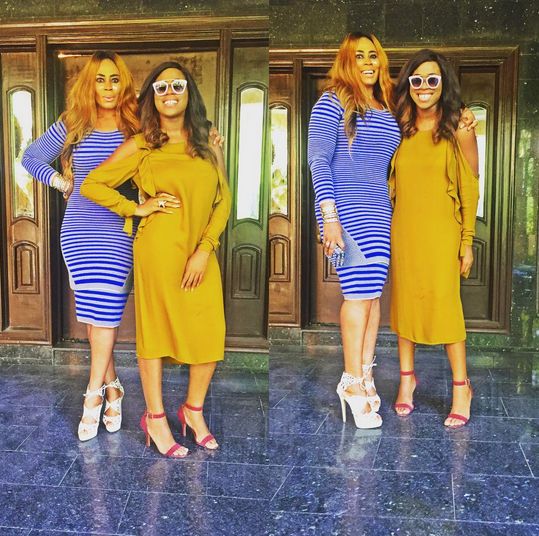 There's nothing like a fabulous mother-daughter duo!
Socialite & fierce fashionista, Nkiru Anumudu has always been someone we look forward to seeing on the red carpet. She rocks the hottest pieces fresh off the runways and has sealed her fabulosity status in our eyes. Following closely in her footsteps is her daughter Zina. A fashion writer and stylista, she has created a name for herself in Nigeria's buzzing fashion world.
Together, this mother and daughter make a fashionable pair, and we are loving it. They enjoy attending events together and always make sure to keep us in the loop with selfies #ForTheGram.
Being the only girl in the family (Zina has a twin brother, Zikky, and 2 other brothers) it's no wonder her and her mum are very close.
So, today, we are taking a look at the fab pair's uber-chic mother-daughter style, and sharing 10 photos that show they are a stylish pair.
***
1. This is one of our favourite photos of the pair. Zina looks very chic in an 'iro & buba' ensemble and heels, while her mum, Nkiru, looks bright in a gold dress, yellow shoes and a gold cherry head accessory.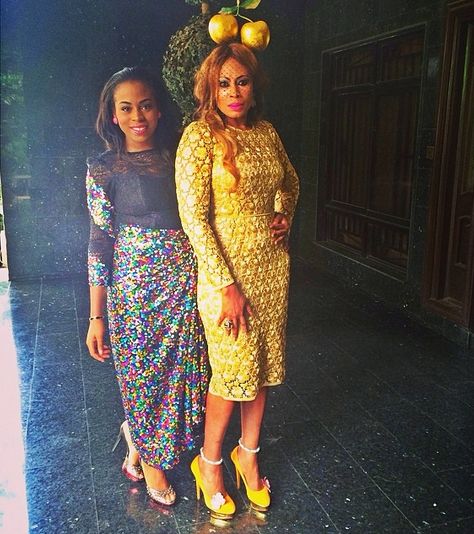 2. …And pose! Zina loves to rock fashionable pieces and got this statement jacket. Here she paired the jacket with a black dress, gold shoes and a pink clutch.
Nkiru however, took the more international route in Dolce & Gabbana, cinched at the waist with a large metal belt.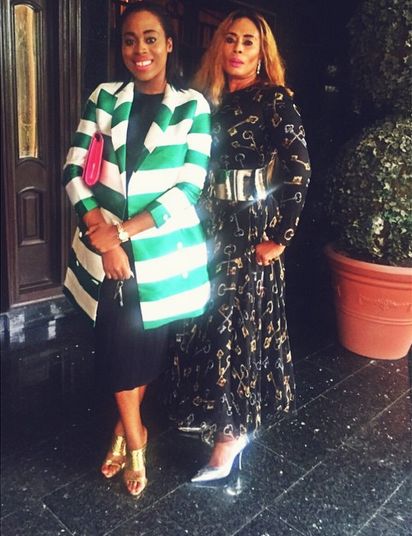 3. These ladies definitely love dresses. Here we see the young fashionista in a yellow Virgos Lounge dress, which she paired with a tan clutch and gold heels. And Nkiru is showing us her love for head pieces once again with a bold whimsical veil, paired with a red floral print dress.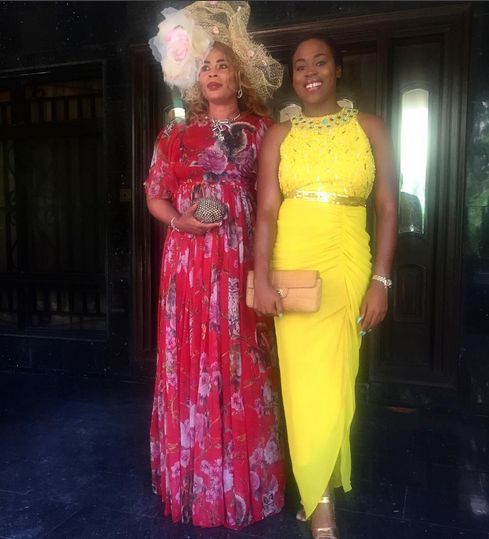 4. The Elite Model Look Nigeria 2015 red carpet had loads of fashionable celebs step out for  grand night. Amd of course, Zina and her mum were there.
Nkiru rocked a knee-length trench coat which featured a lingerie overlay and Zina dazzled in a red dress with lace sleeves and bodice.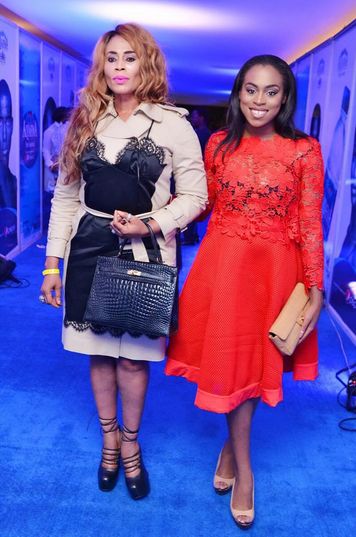 5. Look over here ladies! Both Zina and her mum took on the smart-casual look for this particular day. Zina, in a bright multicolored lace top and black pants, and Nkiru in a white shirt with ruffle details and a multicolored skirt.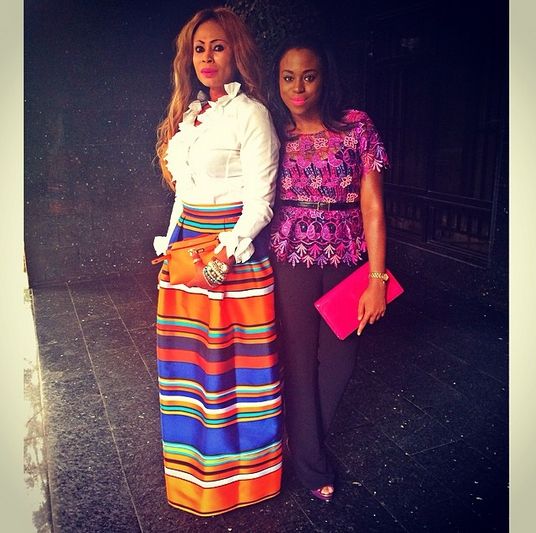 6. Kisses from me to you! We love this adorable photo of Nkiru and her daughter, and the ladies look stylish as always. Zina rocked a beautiful embellished dress in blue, and Nkriu went for a more demure colour for her outfit.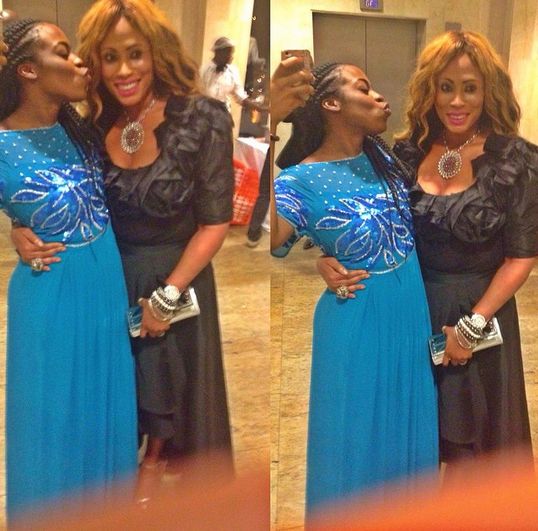 7. We tip our hats for this one.
Both ladies made a bold statement with their choice of hats for a daytime event. Zina looks very girly in her strapless dress, and Nkiru is quite svelte in a lace black dress and platform shoes.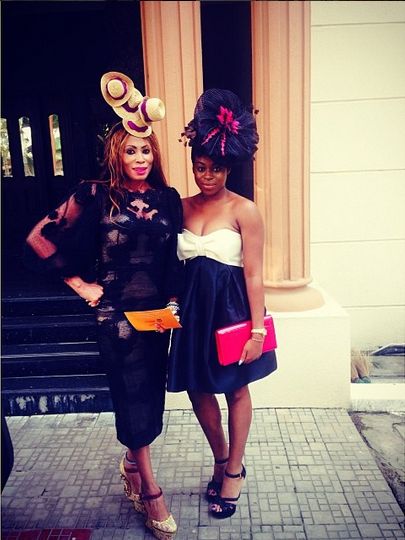 8. Nkiru and her daughter spent some time together at a fashionable event, looking very chic. We love Zina's laid back style which consisted of a blazer, a casual top and a basic skirt; and Nkiru looks pretty in a white, red and black dress with a matching clutch.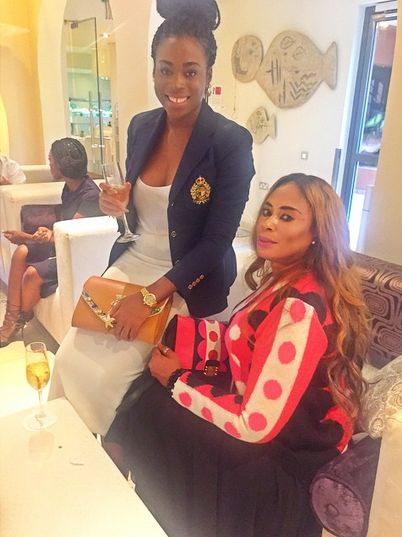 9. All black 'errthang'! The mother and daughter duo look chic in all-black and fab hats. We love that they both have pleated detailing and those hats are definitely conversation starters.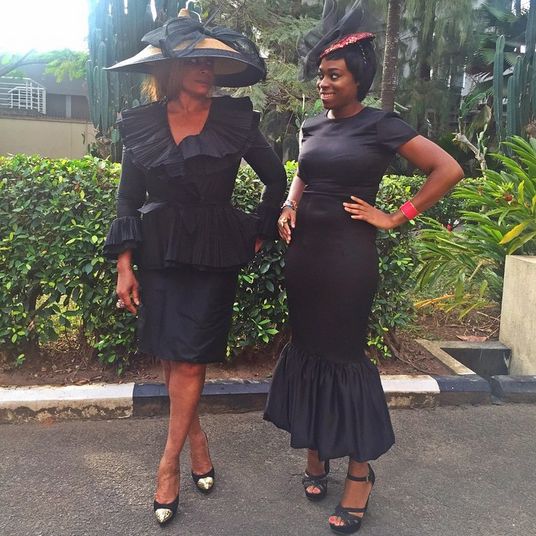 10. Daddy joined in for this one! The family, minus Zina's 3 brothers, look picture perfect as they posed for this photo.
Can we just say we would very much like to raid Nkiru's hat closet. 😉 Zina looks very cute and girly in an emerald green mini dress, and her dad looks sharp in a checkered grey suit and a bold red tie.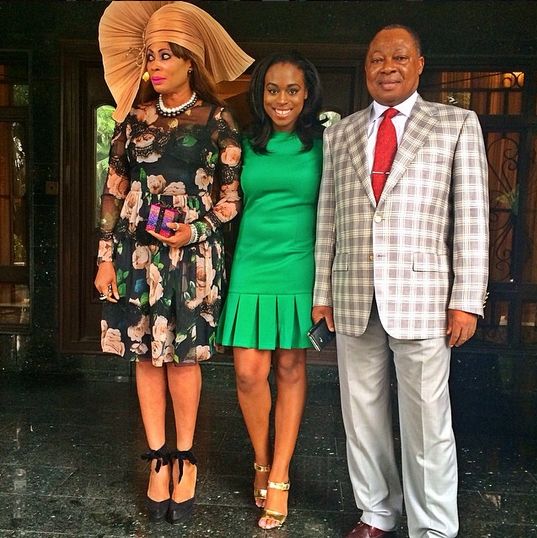 ***
We are definitely fans of their chic style and can't wait to see more from them! Which photo of the fab pair do you like most?
Photo Credit: @Ozinna (Instagram)