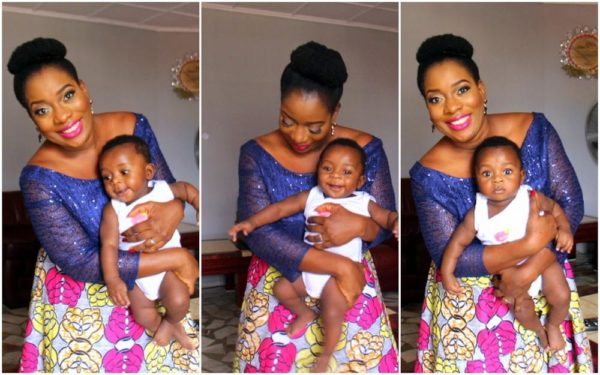 Blogger Sisi Yemmie shares the fun story of how she found out she was pregnant 2 months after her wedding…after commenters on Instagram had mentioned her nose had grown bigger and other signs.
In typical Naija parent style, grandparents banned pregnancy photos and videos from social media and then she also shared how she instinctively knew she was carrying a boy.
In her typical candid style, she also revealed her major pregnancy symptoms including major sleepiness, swollen nose and feet, food cravings, heartburn, skin discolouration and more. She says she looked "ugly" during her pregnancy…we disagree.
Sisi Yemmie also mentions pregnancy complications which thankfully did not progress, including a small fibroid and excess amniotic fluid.
The blogger was overdue and gave birth at 42 weeks…at that point, she had a huge baby bump!
In the end, she was induced and she describes the pain involved in that process. She continues and also gives insight into the giving birth in Nigeria experience including her painful contractions, her husband's support (he slept on the floor and in the car while she was in the hospital), scary moments when she was rushed in for an emergency Caesarean Section (CS) and the joyful moment her son was born.
Interesting Moments
In the midst of her labour, someone came to ask her what she wanted to eat – She told her "gerrarahere mehn"
Being left in the corridor after delivery and being found by a cleaner shivering
The "mean" nurses
Today, Yemisi and her husband Yomi are the proud parents of a healthy and cute son!
Check on it.

Photo Credit: Sisi Yemmie's Blog