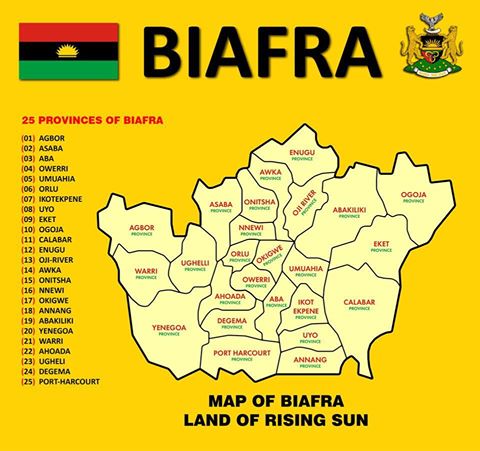 The agitation for Biafra is increasing, with the Movement for the Actualization of the Sovereign State of Biafra (MASSOB)/Indigenous People of Biafra (IPOB) leader, Ralph Uwazuruike saying he is ready to die for the cause.
As a result, state governors and ethnic group leaders are meeting to make their stances known on Biafra.
At the Conference of Ethnic Nationalities of the South-South at Uyo, Akwa Ibom state, this week, South-South leaders dissociated themselves, their ethnic groups and states from Biafra. Ethnicities represented include Ibibio, Efik, Anang, Ijaw, Itsekiri, Urhobo, Ikwerre, Oro and Isoko. They stated,
"We will not allow any inch of the land of the ethnic nationalities mentioned above and other lands of the South-South to be part of the ill-thought-out enterprise.

"We call for a halt to demonstrations for Biafra on our land henceforth as it touches on the collective sensibilities of our people and could provoke ethnic crisis.

"We are not only surprised but shocked that Igbos who returned to Nigeria after the fall of Biafra in January 15, 1970 with tales of woes and horrors can talk about Biafra."

They added: "It is in the interest of Igbos that Nigeria is protected as they have more investments outside their homeland."
Urhobo leaders specifically have also made it a point to denounce Biafra.
Governor Rochas Okorocha of Imo state, at a South East Governors Forum (SEGF) meeting at Government House Enugu on Monday, November 17, 2015, has also called on South-East governors to have an emergency meeting in a few days, on Sunday November 22 2015.
"Attendance at the emergency meeting will include all National Assembly members, ministers from the zone and other invited stakeholders from the zone."

The governor advised IPOB/MASSOB to continue to toe the line of peace "as this is the only way to ensure development of the zone."
Source: Vanguard