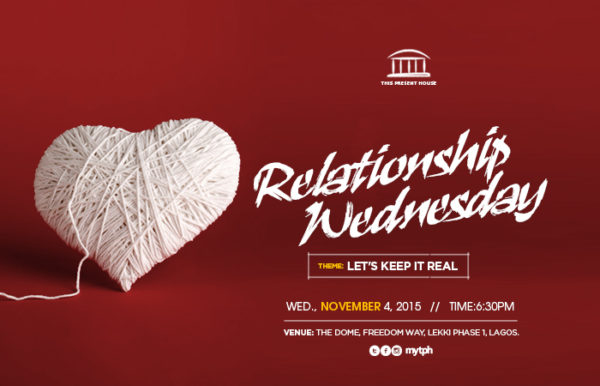 "Be honest, what's wrong with me?" "Why aren't the right people attracted to me?" "I can't take the pressure anymore… I don't want to settle down yet!" "She insists we stay on the Island when we get married but I can't afford it. What do I do?" "I'm tired of dating. Did God say we must date?" "So I can't take the job because I'll earn more money than him?" "We both get home late and tired from work, but I still have to cook?"
These are just a few of the questions we ask as we grapple everyday with being single or staying married. Whichever side of the conversation you find yourself, there's an answer from the heart of God waiting for you!
Join us at This Present House this Wednesday as we uncover the good, the bad and the ugly in relationships at an event themed Let's Keep It Real. It will also be an evening of music, spoken word and conversations on God's perspective on relationships. Don't miss it!
Date: Wednesday, November 4th, 2015
Venue: The Dome, This Present House, Freedom Way, Lekki Phase 1, Lagos
Time: 6:30 PM
You can watch the service live via www.thispresenthouse,org/watch-online.
_________________________________________________________________________________________________
Sponsored Content