First ladies converged at the annual Arise Women's Conference hosted by pastor Siji Iluyomade of the Redeemed Christian Church of God's City of David parish.
Wife of the Vice President of Nigeria Dolapo Osinbajo along with first lady of Lagos State Bolanle Ambode, Iara Oshiomhole of Edo State, Abimbola Fashola, wife of confirmed Ministerial nominee Babatunde Fashola, Abike Dabiri and many more prominent women were at the event.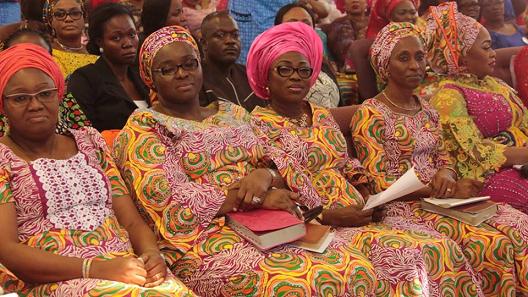 The 2015 Arise Women's Conference which took place at the City of David church focused on many of the pressing issues facing families in Nigeria today. According to Siji Iluyomade, "This year's conference addressed the current changes in our society, how they affect women and how women can overcome them".
The event was not about glitz, glam and first ladies.
There was a free medical talk/screening during the conference for Cervical Cancer screening, Blood Sugar level, Blood Pressure, Skin Care Consultation, Hepatitis, Tuberculosis, Meningitis and Free Dialysis Treatment. Attendance of the event was free with free shuttle buses from various locations around Lagos.