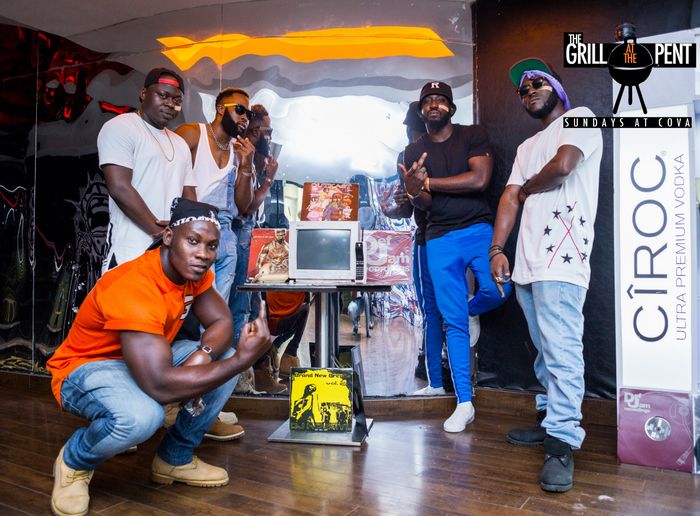 Timberland boots, baggy jeans, dungarees, curly 'fros, old records, bandannas, gramophones and more were just a few of the memorabilia that made up the theme at Grill At The Pent's Throwback edition.
Tagged "Nostalgia Ultra", the party had guests throw on their 80s & 90s themed outfits and accessories coupled with music from way back when from Biggy, Nas, 2Pac, Keith Sweat, Baba Fryo, Blackstreet, Jazzman Olofin, Faith Evans and more. On the turn tables were DJs Ruud & Skura with a special set by DJ Obi.
Guests had a blast! One of the guests, Bidemi, commented – "I have to confess this is the best GATP I've been to since inception. As an oldies person I long for days like this. From the records displayed downstairs to the music, it was truly an exciting trip down memory lane. We need stuffs like this, probably once in a month."
Check out the photos from the night below;
Powered by Ciroc ultra premium vodka, Grill at the Pent is brought to you by BankHead Entertainment.
Partners include Weyworld & Bang and Kosher | Media partners include BellaNaija, Ono Bello, 360Nobs, YNaija, Style Vitae, City People, HeadphonesandMicPR, MTV Base and Beat FM.
Photography: Moment 4 Life Photography
To find out more on GATP, Follow them on Instagram: @thegrillatdpent, @BankheadEntertainment or @CirocNigeria | Twitter: @thegrillatdpent, @BankheadEntertainment or @CirocNigeria | Search the Hashtags #GATP #CirocLifeNGR #BankheadParties
Drink and Celebrate Life Responsibly with Ciroc Ultra Premium Vodka
_________________________________________________________________________________________________
BellaNaija is a Media Partner with Grill At The Pent