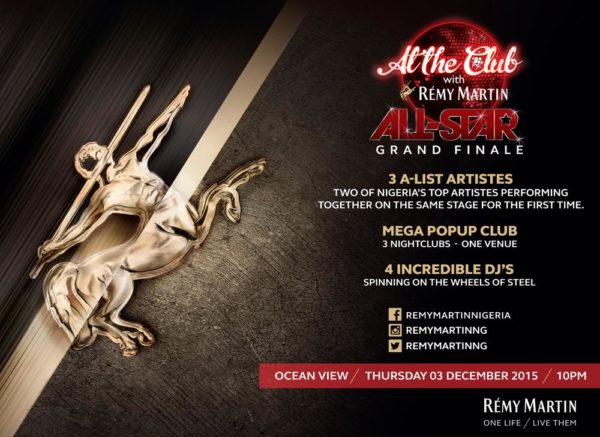 When you put the Baddest, King of Queens and the Starboy on one stage; what do you get?
Remy Martin threw what many have termed the biggest party in Nigeria to a crowd of over 1000 people in April, in case you missed it; the #AttheclubwithRemy Allstar Grand Finale is here to top the fun/celebrations/experience from the past edition.
On December 3rd, 2015 another interesting experience of having multiple clubs all under one roof with four DJs playing at the same time cannot be matched. To top all the exhilarating fun, three of the biggest Nigerian musicians will be performing all your favorite songs. Can you guess who?
At this same party, a danceoff will take place and the winner(s) will walk away with N2 Million and a trip to Abu Dhabi to see an international dance festival live.
Date: Thursday, December 3rd
Time: 10 PM
Venue: Ocean View, Victoria Island, Lagos
So keep your fingers crossed and to get all the updates on venue, invites and more follow on Facebook: RemyMartinNigeria | Twitter: @RemyMartinNG | Instagram: @RemyMartinNG
Remember you have one life, live them.
_________________________________________________________________________________________________
Sponsored Content