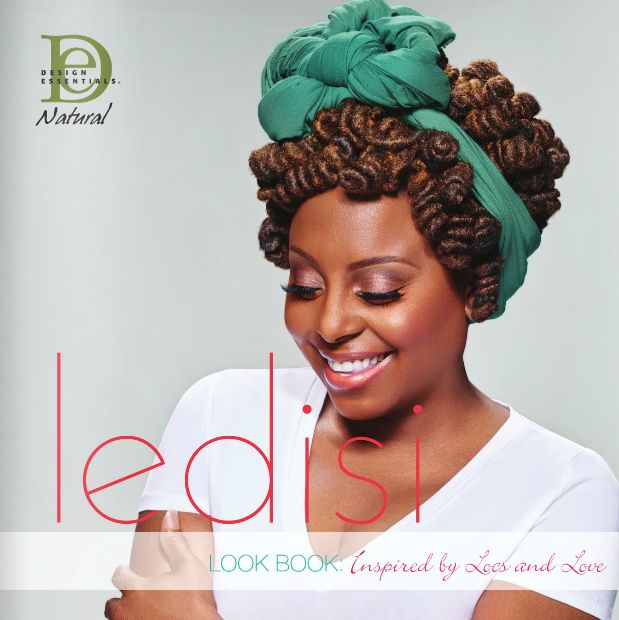 Are you loving Ledisi's locs? We are!
The American soul singer recently collaborated with Design Essentials Natural hair care line to showcase beautiful, eye-catching & creative hairstyles that can be achieved with locs, all in a fab lookbook.
The hairstyles created are by Ledisi's longtime hair stylist, Michelle London, using some of her favourite tools from the Design Essentials Natural line. Each style begins with a bantu knot, and then goes on to curl and frame her face to perfection.
Do you know what we love most about this lookbook? Apart from showing us fab hairstyles, it also tells you how to recreate them. Plus it has some great advise from the soulful singer on how to care for and love your locs.
We can't wait to share them with you.
Here are 5 tips she shared that we are definitely locking in our beauty box.
1. Protect locs at night by covering them in a silk bonnet or stocking.
2. Always dry your locs using a hooded dryer.
3. When re-twisting a hairstyle, always use the same technique and twist in the same direction for consistency.
4. Avoid over-twisting. Excessive tension can cause breakage and thinning.
5. Maintain a healthy scalp and hair by eating loads of fruits, vegetables and drinking lots of water.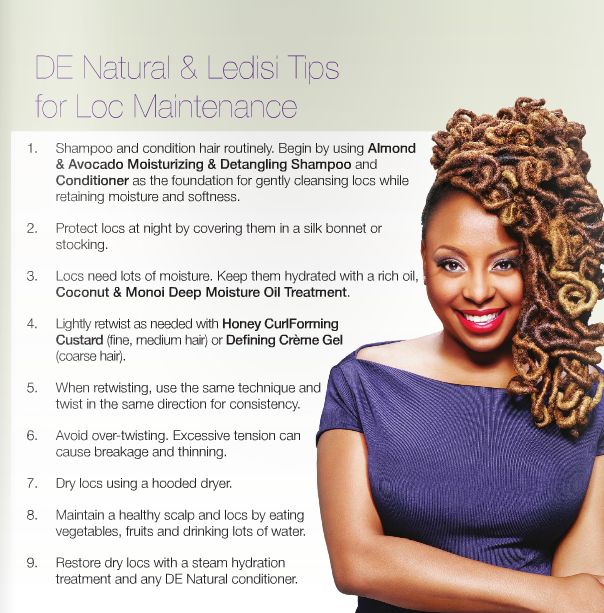 Hairstyles You Can Try!
1. Bantu Knots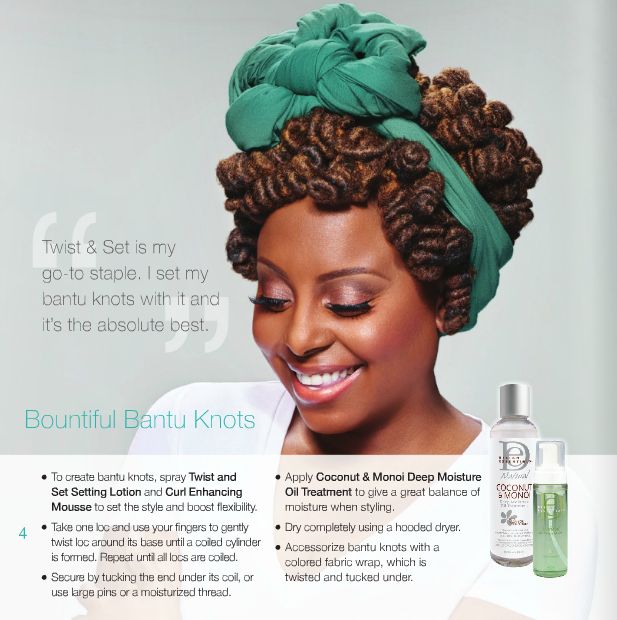 How To
– Spray your locs with a setting lotion, and curl enhancing mousse to set the style and boost flexibility.
– Take one loc and use your fingers to gently twist the loc around its base until a coiled cylinder is formed. Repeat until all locs are coiled.
–  Secure by tucking the end under its coil, or use large pins or a moisturized thread.
– Apply some oil to give great balance of moisture when styling.
– Dry completely using a hooded dryer.
– Accessorize to your desire.
2. Avante Garde Pompadour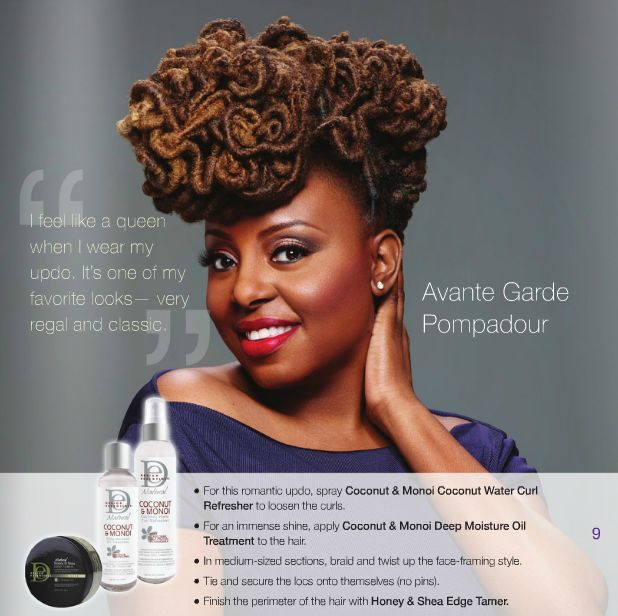 How To
– Spray your locs with some water to loosen the curls.
– Apply some moisturizer or oil treatment to the hair.
– In medium-sized sections, braid and twist up the face-framing style towards your forehead.
– Tie and secure the locs on themselves (no pins).
– Finish your look with some edge tamer or edge control.
3. Heavenly Locs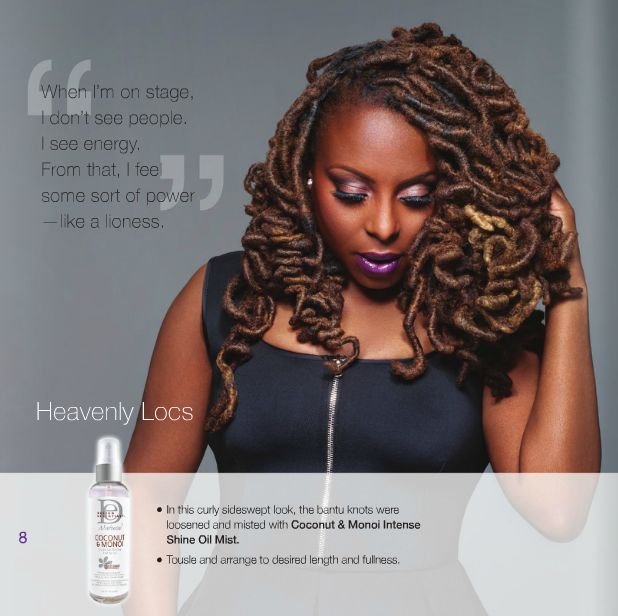 How To
– In this curly side-swept look, the bantu knots were loosened and misted with a shine oil mist.
– Toussle and arrange hair to desired length and fullness.
4. Side-swept Glamour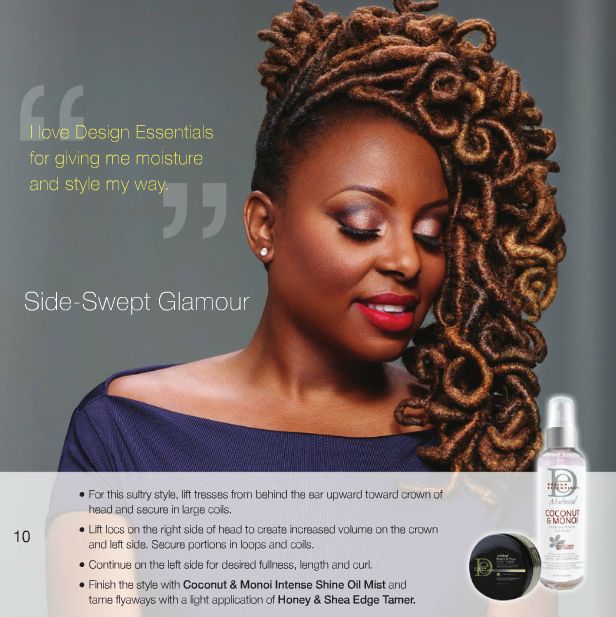 How To
– For this sultry style, lift tresses from behind the ear upward toward the crown of your head and secure in large coils.
– Lift locs on the right side of your head to create increased volume on the crown and left side. Secure portions in loops and coils.
– Continue on the left side for desired fullness, length and curl.
– Finish the style with some oil shine and tame flyaways with an edge tamer or edge control.
There's so much more from the loobook you can learn. Find out more by viewing it HERE. Find out more on the collaboration, and more on DesignEssentials.com/ledisi.
Photo Credit: Isuu.com/DesignEssentials/docs/Ledisi.lookbook