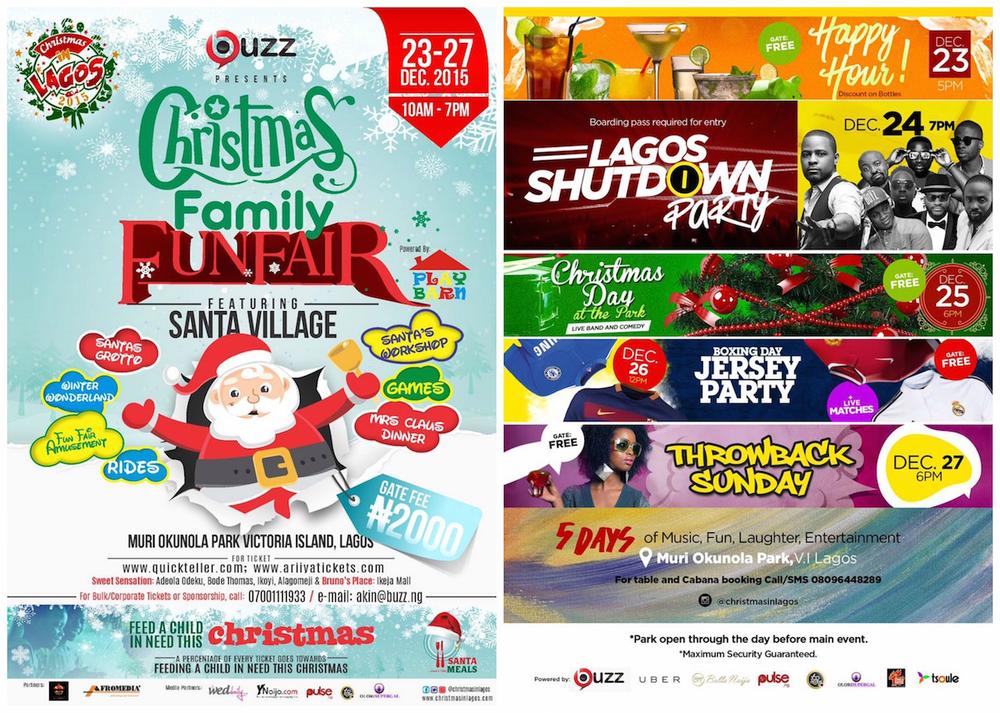 The Christmas fun has officially begun and the Muri Okunola Park, Victoria Island is the destination for all! From 10am – 6pm daily it will be daytime fun for the kids with Santa Village. At night, the venue will be transformed to a hotspot for the adults from 7pm till dawn where the hottest DJ's, live bands, comedians, and more will entertain the guests to the fullest!
Activities take place at the Muri Okunola Park in Victoria Island and begin today 23rd December 2015 and go on until Sunday 27th December 2015
There will be maximum security and loads of fun for the entire family.
Day Time Series: 10am to 6pm daily
Catch the Xmas fever and don't be left out. Total fun for the entire family, games for kids, photo booths, competitions and lots more. Be merry and let the kids come visit Santa, get gifts, play with awesome games and take pictures in our one-of-a-kind Santa village powered by Play Barn.
* Wide variety of food you won't want to leave.
Night Time Series: 7pm till …..
December 24th (Tomorrow) Lagos Shutdown Party
A premium party you don't want to miss. Get to party with the best Nigerian DJ's from Nigeria, US and UK. It's the Biggest Christmas Eve Party and you are guaranteed no dull moment. Table reservation highly advised.
Admission is FREE. It's going to be #Epic
December 25th (Friday) – Christmas Day at the Park
So you have had nice time during the day. Imagine cooling down to one of the best live bands in Nigeria (Veentage Band). Get ready to be on your feet for a while!
Admission is FREE. You can't miss it
December 26th (Saturday) – Boxing Day Jersey Party
It's premiership day, come represent your favorite team. Get to watch the games in a fun environment. You sure don't want to miss this day's party. A different kind of experience.
Admission is FREE. Don't be Told
December 27th (Sunday) – Throwback Sunday
There is no better way to round up than to take it way back to ….. You won't believe the amazing fun lined up for you in our throwback Sunday.
Admission is FREE. What are you waiting for?
Date: Wednesday December 23rd – Sunday December 27th, 2015
Venue: Muri Okunola Park (Law School Bustop) Victoria Island, Lagos
Follow the buzz on Social Media
Instagram: @christmasinlagos
Twitter: @christmasinlag
For more information, CLICK HERE
Be the first to know Text 'Buzz' to 20822 for a chance to win exclusive passes. SMS costs N10
For VIP table reservations please call 08096448289, 07001111933; Add BBM PIN 568EFE18 or email [email protected]
Afromedia is an Outdoor Sponsor of Christmas In Lagos.
____________________________________________________________________________________
Sponsored Content