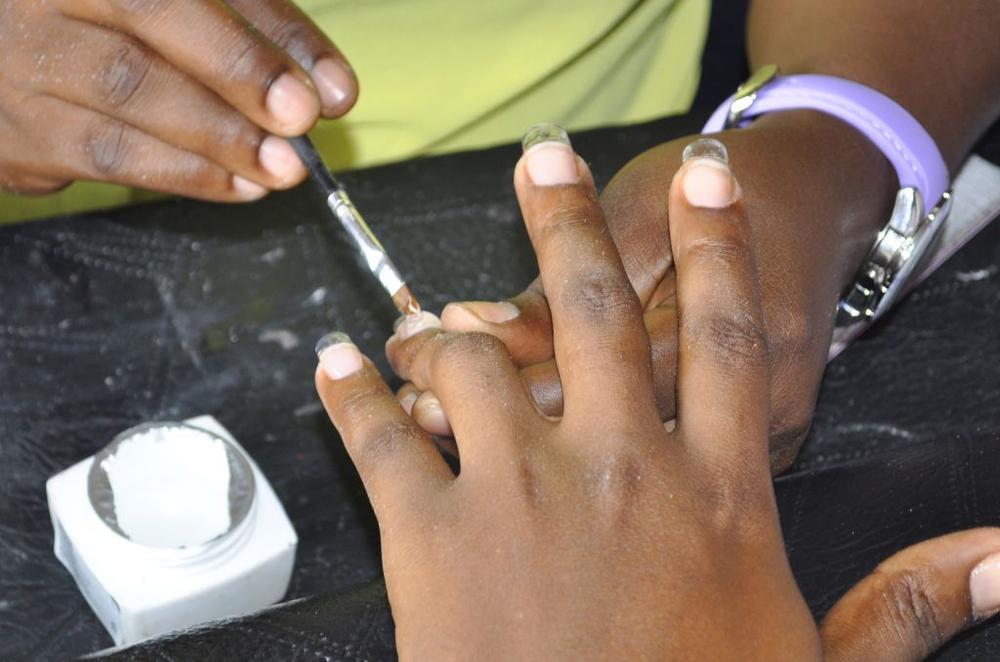 The stress that comes with constantly switching up your manicures can be overwhelming sometimes. Yeah sure, it's a treat to sit back and let someone else buffer, moisturize & pamper your nails for a few hours, but after a while, even the tastiest of treats can become bland.
So, when I had my first gel manicure I was over the moon. A polish that would last for a really long time came with promises that every one of my visits to the manicurists would be special. I became a gel polish fanatic.
But one night, while typing away, I noticed the skin under my nails had started to ache – and not in a "beauty is pain" type of way, and the skin had started to peel. As soon as I returned from my panic attack I decided to put some coconut oil in it – who knows, maybe the skin is dry and breaking. I added a few dabs, and before I knew it, the pain had stopped (coconut oil can do anything).
But this got me thinking – If I didn't feel any pain, would I have somehow known my skin was possibly dry and breaking? What else is happening to my nails that I don't know? Could these gel nails/polishes be slowly, but surely, destroying my nails? If regular acrylic nails usually do some damage – like peeling off layers of the nail's surface as they're taken off – then I wonder what these seemingly indestructible gel manicures would do.
I visited my good old friend, Google to get some answers. After my search, I not only cleared some doubts I had about gel polishes, but discovered some things I had no idea were happening to my nails.
Check them out;
1. Thinning of the nails
Gel manicures really take a toll on your nails. They experience thinning, weakening and sometimes infections due to the process of getting your nails done. Having them on for too long might make you miss the telling signs that your nails need some tender loving care, and in the end you're left with broken and badly damaged nails.
Ensure the gel nails are properly taken out without unnecessary damage to your nails. Also, ensure to treat the nails and leave some time in between before your next manicure.
2. Lack of Oxygen to the nails
Our nails need to transfer oxygen regularly. Having your nails blocked by the gel nails and polishes for a long period of time would lead to lack of oxygen flow and that can cause some serious problems for your tips, and the overall health of your fingers.
This may shorten the life span of your gel manicure, but after 2 weeks, take the gel polish out to give your nails some rest time.
3. Possible infections
After some time, your gel polish will begin to lit or peel off, and this creates the perfect opportunity for water to seep in and store. This might seem harmless at first, but don't forget water is the perfect breeding ground for a host of bacteria. You might not see it, but bacteria could start to live in your nail bed without your knowledge due to the solid nature of the gel mani.
Solution? As soon as you notice your gel polish lifting, go to the manicurist and get them taken out.
4. Cancer caused by UV rays
Experts argue that the UV light used in sealing the gel manicure could lead to cancer, but no study has proven that yet. But why take the chance.
According to Dermatologist – Dr. Chris Adigun, UV lights are not regulated and the strength of the light varies from manufacturer to manufacturer. Even though the amount of time spent under the light is relatively short, your manicure time adds up and this could potentially be dangerous to your health.
Just think about it – you don't get sun burn by staying outside for a few minutes, it accumulates over time.
5. Ageing of hands & dark spots
One thing that has been proven is the ageing of hands and dark spots. There have been reports on customers experiencing dryness/wrinkling and dark spots on their fingers and knuckles.
A great solution is to take your moisturizing hand lotion to the manicurist and apply generously. Also, be sure to prompt your manicurist to check on the progress of your gel sealing often.
Due to the effects of the UV lights, a lot of manufacturers have switched to LED lights. This is not cancer-inducing and will have less damaging effects. However, your gel polish would not last as long.
6. Exposure to Acetone
One major part of getting gel nails and polish is the removal process. Generally, they are removed by soaking the fingers in acetone which melts the gel polish enough to have them peeled off. However, exposing your nails and hands to this harsh chemical can be toxic to your health. Not only can it damage your nails, it can also make it's way into your bloodstream.
A solution to this is to ensure you heavily moisturize your hands, cuticles and nails after the soak. This will re-hydrate the nails and reduce damage to the nails. Also, ask the manicurist to check on your nails regularly, to reduce time spent with your hands in the acetone.
***
It is important to take a break from gel polishes. Dr. Adigun recommends that after your gel polish is taken off, take some time to care for, properly moisturize and give your nails some to time to heal and rest. This way when you take off your gel polish or regular polish, your nails will still be good as new.
I'm sure that's a whole lot to take in. Are you a gel polish lover? Share some of your personal experiences with the gel polish process.
Photo Credit: Dreamstime/Anet Noel Kouadio