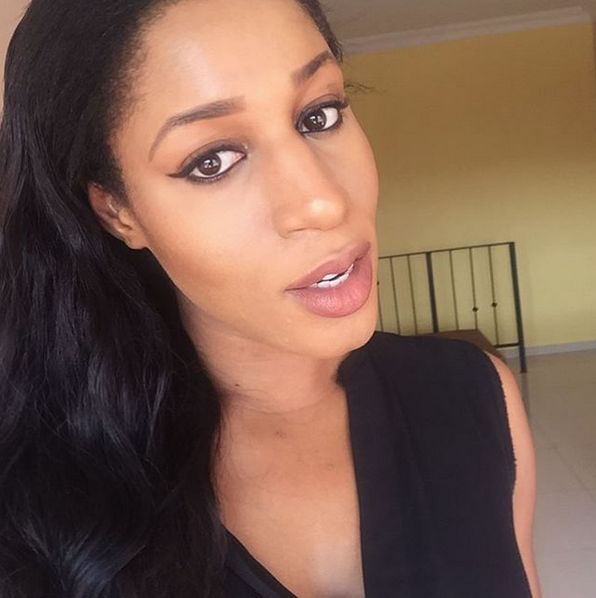 Hello beauty lovers. Let me just start off by saying I know I'm constantly teasing the good people coming back for Christmas to disturb us here in Nigeria, but honestly it's because I am so jealous that I haven't been an 'I Just Got Back' babe in 7 years! My accent now has small K-leg and I have mosquito bites all everywhere. So, It's all love!
Let's take a quick trip down memory lane to when I used to come back to Lagos from England for the holidays. December was, and still is, the highlight of my entire social calendar. I would shop so my entire wardrobe was on 'fleek', and I would book my hair & nail appointments for the very day I arrive in Lagos so everything would be on point. My skin loves Autumn/Winter, so it would be nice and smooth. I always looked great coming back to Nigeria. But for some reason, after I land and spend a few hours, I would invariably end up with blemishes on my face.
It took me a long while to figure out that flying had extremely negative effects on my skin. Because the re-circulated air in the cabins are moisture free, the air draws our moisture from everything it touches. Leaving me with bad skin reactions.
If you have dry skin, your skin becomes even drier and if you have oily skin, your skin becomes even oilier (oily skin glands overreact to dehydration by producing more sebum than necessary.) In the end this makes your complexion look dull, old and could lead to breakouts which may not clear up in 2 weeks when the holidays are through.
But the devil is a liar! I have some tips and tricks to help you arrive at Murtala Mohammed International Airport with your precious skin relatively protected and looking great.
***
1) Take your makeup off
There's a reason why celebrities wear hats and huge sunglasses at the airport – because they aren't wearing any makeup. Even the ones that run to the bathroom as soon as they board to take everything off. Like I mentioned earlier, because your skin is dehydrated and stressed, leaving makeup in your pores is a terrible idea, especially when your flight lasts for over 6 hours. It makes your skin a breeding ground for bacteria if you have oily skin, and if you have dry skin, it makes your skin age faster.
However, I was always too self conscious to go bare faced to the airport because I would run into at least 4 people I knew there – and I wanted to look cute. I quickly learned, that if I must stunt on them at the airport with a face full of makeup, then I have to take it all off right before take off. If there happened to be a fine boy on the flight, I would put all my makeup back on before landing, just in case I "accidentally purposefully" run into him at baggage claim. Thankfully all those struggle days are over. Now, I just use a little tinted moisturizer on my face, some Vaseline on my lips and keep it moving.
2) Fly with your toiletries
Buy travel sized bottles of your beauty products in your regimen, or buy one of those cute travel sets with the tiny bottles and pots (Muji has a really great set), and decant what you will need for the flight.
I carry my regular cleanser, toner, moisturizer, serum and eye cream with me on every long haul flight. If I am flying during the day, I take my sunscreen too because I will be much closer to the sun, and will therefore need protection from UV Rays. No one ever thinks about this but using sunscreen is very important.
3) Generously apply serum and moisturizer
I use a moisture boosting serum called Hydraluron by Indeed Labs and it's fantastic for oily skin like mine. It is however important to note that you can use any serum of your choice as long as it's hydrating, and you apply it generously. If you use facial oils, then that should work fine as well.
I also use a heavier dose of moisturizer to keep my skin nourished throughout the flight. If you have normal/dry skin, when you notice it's starting to dry out, just add another layer of moisturizer. I have really oily skin, so when it starts getting shiny, I just use blotting paper, then add a thin layer of moisturizer on my face.
It is also important that you not forget your lips. I find that my lips dry out fairly quickly on flights, so I reapply as often as needed. I'm a Vaseline (the one with cocoa butter) kind of girl, but I also use EOS lip balm.
4) Constantly use hand sanitizer
Planes are a playground for bacteria, so I make sure I use hand sanitizers to avoid putting any bad particles etc on my skin. This isn't just a skincare tip actually, lots of people catch colds on the plane. Don't spend your first few days in 'Naij' trying to recover from being ill. Keep your hands as clean as possible.
5) Hydrate
This is a tough one. Drink all the water that you are offered. I usually buy a 1.5 litre bottle of water at the airport to drink alongside the water I'm given during the flight. I know we all hate using the airplane toilets. But the benefits of staying hydrated far outweigh any unsanitary looking toilet. The skin is the last organ of the body to receive any hydration when you drink. So if you don't drink enough, your skin suffers.
***
And that's it! Hope this was helpful, and I wish everyone flying in a safe journey and a fabulous Christmas with family and friends. Don't forget to share your tips for flying back home with perfect skin.