All the Amazing Performances! Asa, Bez, Adekunle Gold & More at "Songs & Stories with Cobhams"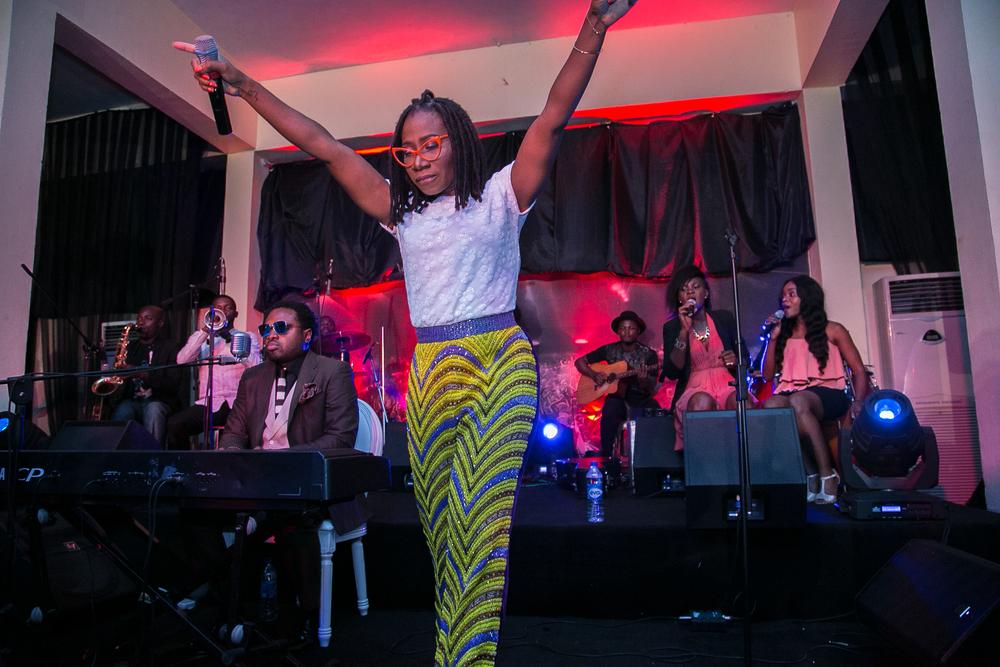 The 3rd series of the live music experience, "Songs & Stories with Cobhams" took place this past weekend on the evening of January 16 2016.
Super talented singer, songwriter, and musician; Cobhams Asuquo, again thrilled concert guests to an amazing night of live music at the serene Clear Essence California Spa & Wellness Resort in Ikoyi. The set was designed by Ayiri Oladunmoye of Oaken Events. Sound engineering was provided by Sola Raji.
The audience were an integral part of the show, as Cobhams shared his inspiration with them and the stories behind his original songs and covers.
The first featured guest act of the night was the new soul heartthrob, Adekunle Gold. Adekunle Gold performed his perennial hit, "Sade" accompanied by the Cobhams Asuquo directed live band. Next, Cobhams introduced notable comedienne, Chioma "Chigul" Omeruah, to the microphone. After making the audience laugh with her musing, she deftly broke into a big band, "jazzified" version of her very popular composition "Don't Be A Weist".
Simi, was next up to the microphone, but not before Cobhams told the audience how the first time he met, produced, and recorded with Simi, she was just 15 years old. Simi performed a medley of "Tiff" and "Jamb Question".
Cobhams Asuquo Music Production (CAMP) artiste and super star rocker, Bez, was next up on the roster of guest performers. Bez's performance lived up to every bit of the consummate afrosoul rock star that we have come know and love.
The surprise of the night was when Cobhams introduced his friend and collaborator, Asa, as the headline performance of the night. After Cobhams' and Asa's expressions of mutual admiration and respect for each other, Asa proceeded to take the audience literally to "church". She opened her set with the soon to be classic "Eyo", off of her third studio album. Then came sweet arrangements of audience favorites "Fire On The Mountain" and "Jailer".
Cobhams then introduced his phenomenal and gifted bandmates and closed the show with his hit single "Ordinary People".
See all the photos below.