Another Exciting SuperStory Series is here! Get the Scoop on 'The Other Side' with Nobert Young, Henrietta Kosoko & More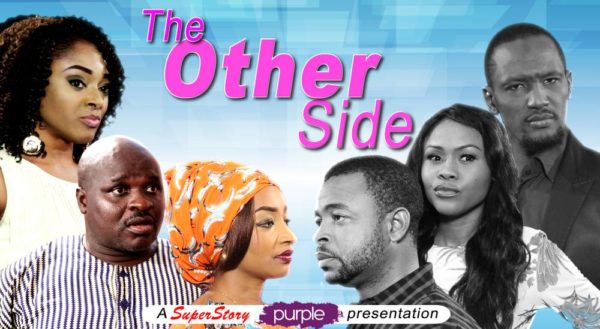 How excited are you to hear that in the first month of 2016 we will be getting a fresh new season of SuperStory?
Wale Adenuga Productions (WAP) has announced that the new season of its multiple-award-winning SuperStory TV Drama Series, titled The Other Side, will be kick off on Thursday, January 28, 2016.
According to the Producers, "This new season of SuperStory is a special collaboration with Purple, the lifestyle brand executing the 50/50 campaign which addresses existing stereotypes of both men and women that encourage negative behaviour and attitude towards each other. The campaign gives its audience an opportunity to take a thoughtful look at them again, and re-evaluate the information and limiting consequences of these stereotypes – verbal and physical abuse, discrimination and restricted access to opportunities."
The Other Side is the story of a couple's relationship, where the wife's professional accomplishments overshadow her husband's, thus bruising his ego and prompting resentful and misconstrued responses that lead to dismal consequences. Unfortunately, the situation is made worse by poor counsel from his peers largely informed by societal misconceptions about man-woman relationships, and stereotypes of each partner's demeanour and role in it.
These episodes of SUPERSTORY feature brilliant performances by talented artistes, from different parts of Nigeria, including Rahama Sadau, Sani Danja, Liz Deegha, Saheed Mohammed, Tamara Eteimo, Norbert Young, Henrietta Kosoko, Jide Alabi, Hakeem Rahman, Scarlet Shotade, Dayo Davies, Victor Edogun, Nurudeen Ibrahim Sokoto, Tunde Alabi, Akunna Nworgu, Kola Olaiya, Moc Madu and others.
Superstory can be watched on NTA Network; Thursdays 8:00 – 9:00pm  , AIT Network; Thursdays 9:00 – 10:00pm and WAPTV; Thursdays 8:00 – 9:00pm.
Watch the exciting trailer below:
Meet the cast below.