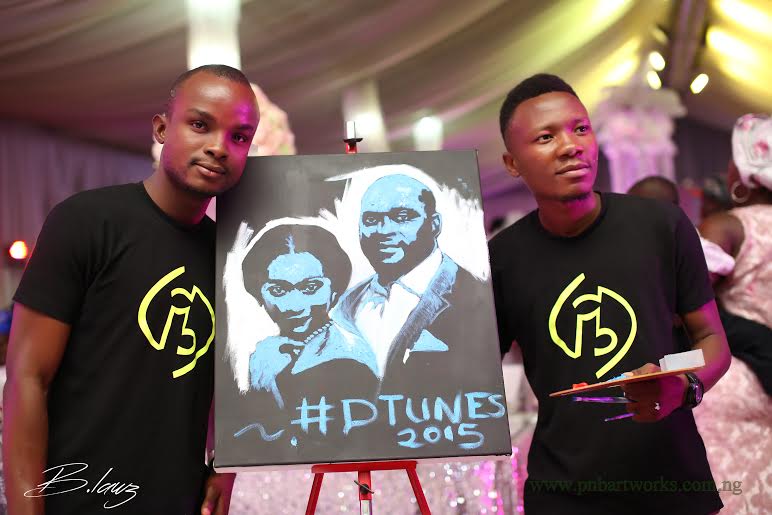 We were called upon as the couple took to the centre stage for their first dance. We had only 15 minutes to do a live painting of the couple and they weren't going to stay still for us.
But we didn't need them to. Our only race was against time.
When Tolu, our Co-founder and project manager , told Dr Dunnie that we could do a live painting of her and her fiancé at her wedding reception, she was immediately smitten by the romantic nature of it all. After convincing her hubby, she gave us the go-ahead to start preparing.
Fast forward several weeks after, to the wedding reception and the couple's first dance. We started painting. Time really did seem to fly, as we raced to beat our best time. Initially, people weren't sure about what we were doing, but as the minutes went by and as the forms started taking shape, we heard gasps from the crowd. We were done in 13 minutes.
And the bride's reaction was priceless.
They are Pencils n Brushes Artworks, an art and design start-up based in Lagos, Nigeria. We create Speed Paintings, Polychrome Paintings, Pencil Art and Graphic Design concepts for occasions and events.
Visit www.pnbartworks.com.ng to know more about them. To see their speed painting videos, check out their Youtube channel: Pencils n Brushes Artworks.
For bookings, please call Tolu on 08172584727 or 08062476527 | Follow them on Instagram: @PnBartworks | Follow them on Twitter handle: @PnBartworks | Find them on their Facebook page: PencilsnBrushesArtworks
Let's help make your events even more spectacular! #PNBart
Photo Credit: AkinTayoTimi
_________________________________________________________________________
Sponsored Content