This past Sunday (January 3rd) was Fade Ogunro's last day at Beat 99.9FM and she is already moving fast with new projects. She announced a couple of weeks ago that she'd be leaving her long-time gig at Beat FM to focus more on production.
Click here if you missed her announcement.
First things first for Fade though, the self-proclaimed "Mediapreneur" and Head of Production at Film Factory Productions has launched her official website.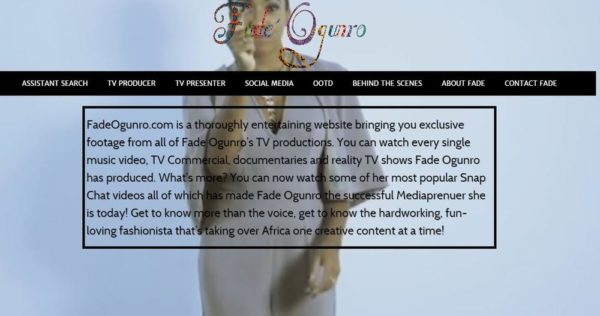 According to her, "FadeOgunro.com is a thoroughly entertaining website bringing you exclusive footage from all of Fade Ogunro's TV productions. You can watch every single music video, TV Commercial, documentaries and reality TV shows Fade Ogunro has produced. What's more? You can now watch some of her most popular Snap Chat videos all of which has made Fade Ogunro the successful Mediaprenuer she is today! Get to know more than the voice, get to know the hardworking, fun-loving fashionista that's taking over Africa one creative content at a time!"
On the website you can get the scoop on her latest works including music videos, TV commercials, hosting gigs and more.
She talks about her mission as well as being a part of the #BuyAfrican Initiative.