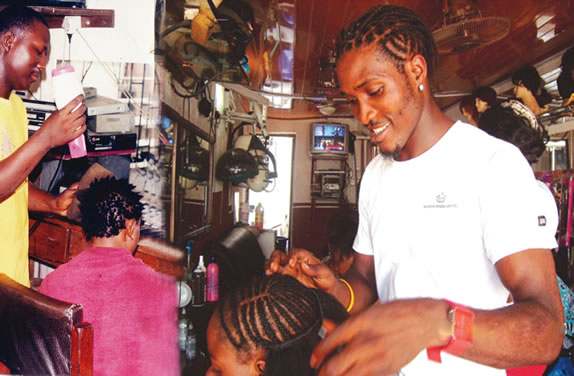 Have you ever wondered why male hair stylists seem to be getting better than female stylists? Don't get me wrong, women still have it locked down. But it seems the men are slowly but surely dominating the beauty world. We may be in a world where what women can do, men can do better.
Take a look at the seemingly congested world of makeup – some of the best in the business are men. We have Bayo Haastruph, Dave Sucre, Jide of St.Ola etc. Not to mention every time I ask a female where they got their hair done, they start with – "there's this guy in…".
The last time I went to a salon in Yaba to get my nails done, I met no less than 5 women waiting in line to have the male nail technician attend to them. Even though there were 2 idle female nail technicians trying to beckon to his clients. I, in all honesty, was about to walk away to come back another day, when I saw the masterpiece he was creating on a customer's hands. No one told me before I sat my butt down and asked who was last in line.
I like to think of myself as patient, but even I know better than to waste 2 hours waiting in line for some service, especially when there are 2 seemingly befitting attendants waiting to attend to me. So what's the big deal?
Why were all these women waiting for this one guy? He wasn't that attractive so it wasn't because the women were drawn to him. And his co-workers must be good at their job if not they wouldn't be working there. So what made all these customers want to let him do their nails instead of the ladies?
I asked a friend of mine, Bisola***, who is a regular at the salon what she thought and she gave me some great insight. According to her, women take the job for granted now. We've been doing it for so long that we've lost the passion, and dedication it requires. "Let's not forget the fact that some of these ladies are just so unprofessional. They're watching Telemundo and want to know if Raquel really died or is a ghost; are gisting away like they're the ones paying you; and sometimes get jealous when they see you with nice things".
Those are really good points – I mean, I've heard of customers and hair stylists getting into brawls because one called the other "an ugly girl who is feeling big because of iPhone 6". I wasn't there, but let's just say nails were broken and extensions pulled out.
But on a more serious note. When I mulled this over in my mind, I started to think of so many reasons why the guys seem to be ruling the beauty world. So, I narrowed down the ideas, speculations and thoughts of a few people into these 5 below. Check them out and let me know if you agree.
***
1. The Growing Success Rate of the Beauty Industry
My first case is the 'Pure Water' mentality.
Over the past couple of years, the beauty industry has grown significantly. And everyone is taking notice – even the men. With such a high success rate for hair stylists, makeup artists, nail technicians and the likes, it was only a matter of time before EVERYONE decided to start a beauty business.
A friend of mine thinks the men are coming in and starting their own beauty brands because the world is slowly becoming aware of their abilities and contribution to the world of beauty.
2. Opposites Attract
Another idea I got was based on the subject of opposite sex.
Take for example the hair stylist at your neighborhood salon looks like Idris Elba. I imagine their queues would stretch to the roadsides and highways. Women would flock from all over just get a head full of Idris' fingers.
But would all that matter if they weren't good at their job? Would you overlook common sense, logic, wasted time, energy & money just to have a good looking hair stylist attempt to fix your hair?
3. Gender Role Shift
Bisola*** also added the shift in gender roles. "In the past the equation was; Woman = homemaker, mother, wife etc. Man = provider. But today, we have men who have become full-time house husbands and are comfortable with their wives bringing home the cheques."
Do you think the shift in gender roles has also spread to the beauty world? The roles and tasks traditionally occupied by men are now being owned by women and vice versa?
4. Women Are No Longer Professional
This particular point got me laughing. According to one of my gal pals, some female hairstylists just don't go well with other women. Sure, they will get your hair done, but that will be after they are done watching Telemundo, gossiping about the customer that fought last week and how some guy is toasting them.
She also brought up the issue of jealousy just like Bisola***. She likened it to that weird moment you walk past a girl on the road and she checks you out from head to toe. It's the same thing except you're in her chair and she's helping you get all glammed up for something she's not invited to.
"Men on the other hand are relatively new to the industry and have a stake to claim. They want to show that they can do what women can, and be even better at it. Plus they have no time for gossip or Telemundo. So while the women are focused on other things apart from your hair, the men are asking you what you want done." "And let's not even get started on female emotions…"
5. The Hunt for More Challenging Roles
Another great point I came across is how the profession of beauty is becoming less challenging for women. I recently ran into an old classmate of mine who had started her own beauty brand. She has apparently shut down operations because, and I quote, she "hates the fact that people think all she knows is beauty. I'm going for my Masters soon…maybe something in media or Public Relations."
Are women tired of being put in traditional roles like tailoring, hair dressing, catering etc? Is the fact that they're leaving a void in the beauty world leaving more space for men to occupy? Are men better because they're not just as emotional as women.
***
Hey, I'm just spit-balling here. If you disagree with any of the points, or have some ideas of your own, share them with me.
Photo Credit: CynthiasBay.com