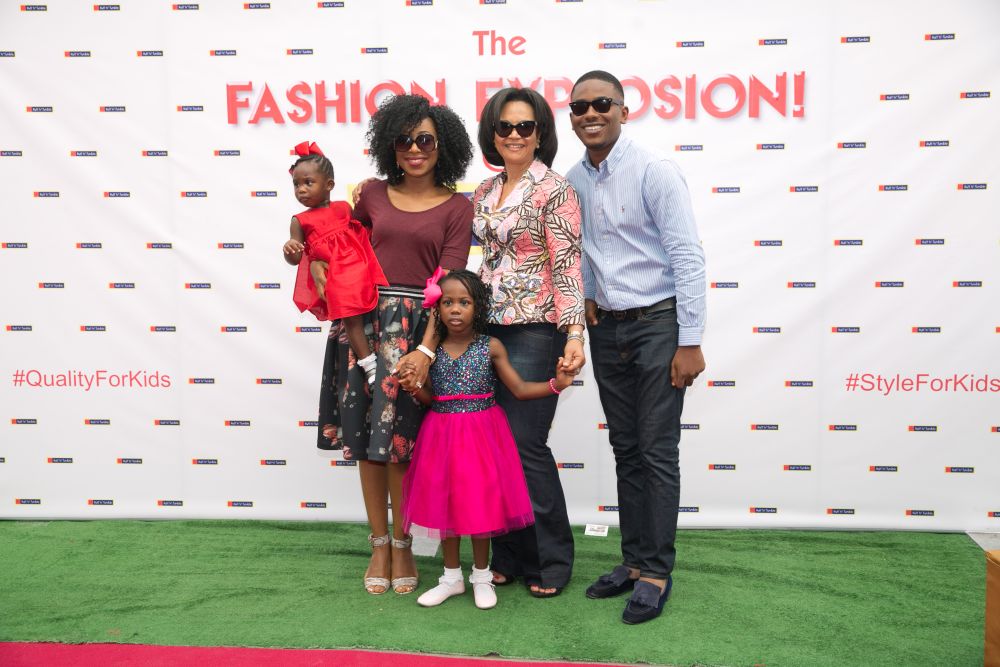 On Sunday 6th December 2015, over 80 people attended Ruff 'n' Tumble's Exclusive Red Carpet & Shopping event at the Ruff 'n' Tumble Flagship store in GRA, Ikeja, Lagos. There was so much excitement in the air as yummy parents, excited grandparents and cool kids arrived to witness the fabulous and fun event.
As promised, Ruff 'n' Tumble brought kids and fashion together to create a 'Fashion Explosion'! Kids came all dressed in their favorite Ruff 'n' Tumble's and graced the red carpet in style and swag. The guests were totally astonished as Ruff 'n' Tumble's trendsetters confidently interviewed parents and kids on the red carpet, as well as Nigeria's most loved celebrity mum, Dakore Akande. All guests enjoyed an exclusive Christmas shopping from Ruff 'n' Tumble's Christmas collection and kids received a gift bag with a pencil case, colored fun markers, jotters, shoe and hand care products.
The event was covered by Nigeria's talented photographer, Kelechi Amadi-Obi and was indeed an exciting and amazing way to start the festive season. It was an awesome celebration for kids and adults! Here are some fun pictures from the event.
Watch highlights from the event below;

See photos from the event.
More fun from the red carpet & inside the store!
You might have missed Ruff 'n' Tumble's awesome event, however, we would not want you to miss their current Shop and Win promo! Their fabulous prizes are 100,000 Ruff 'n' Tumble Clothing Vouchers, Beats by Dre Headphones and Android Tablets. To participate, shop at any Ruff 'n' Tumble store.
Ruff 'n' Tumble store locations:
– Flagship Store
Address: 7, Isaac John GRA, GRA Ikeja, Lagos | Phone: +234(0)8169844936 | Opening Hours: Mon-Sat: 8:30AM – 6:30PM
– Ikeja City Mall, Alausa
Address: Shop L47, Ikeja City Mall, Alausa Ikeja, Lagos | Phone: +234(0)7080706611 | Opening Hours: Mon-Sat: 10:00AM – 8:00PM, Sundays: 10:00AM – 7:00PM
– Surulere
Address: Adeniran Ogunsanya Shopping Mall | Phone: +234(0)8028116198 | Opening Hours: Mon-Sat: 10AM – 8PM, Sundays: 11AM – 6PM
– Lekki Palms Mall
Address:Palms Shopping Mall, Lekki Lagos | Phone: +234(0)8088796694 | Opening Hours: Mon-Sat: 8:30AM – 8PM, Sundays: 11:30AM – 8PM
– Centro Mall
Address: Shop 11/12 Centro Mall, Admiralty Way Lekki Phase 1 Lagos | Phone: +234(0)7081186909 | Opening Hours: Mon-Sat: 10AM – 8PM, Sundays: 12PM – 8PM
– Circle Mall
Address: Jakande Roundabout, Osapa, Lekki, Lagos | Phone: +234(0)7081186909 | Opening Hours: Mon-Sat: 10AM – 8PM, Sundays: 12PM – 8PM
– Apapa
Address: 13, Park Lane, Apapa, Lagos | Phone: +234(0)8120276476 | Opening Hours: Mon-Sat: 10AM – 8PM, Sundays: 12PM – 8PM
– FESTAC
Address: Shop 31, Festival Mall, Beside Golden Tulip Hotel, Amuwo-Odofin, Lagos | Phone: +234(0)7046332070 | Opening Hours: Mon-Sat: 10AM – 8PM, Sundays: 12PM – 6PM
– Abuja 1
Address: Ceddi Plaza, Tafawa Balewa Way, Abuja | Phone: +234(0)8051161416 | Opening Hours: Mon-Sat: 10AM – 8PM, Sundays: 1PM – 6PM
– Abuja 2
Address: Grand Tower Mall Apo, Abuja | Phone: +234(0)8027426723 | Opening Hours: Mon-Sat: 10AM – 8PM, Sundays: 1PM – 7PM
– Abuja 3
Address: Jabi Lake Mall, Abuja | Phone: 08024613263 | Opening Hours: Mon-Sat: 10AM – 8PM, Sundays: 1PM – 7PM
– Port Harcourt 1
Address: Genesis Center GRA Phase 2 Port Harcourt | Phone: +234(0)8020514663 | Opening Hours: Mon-Sat: 10AM – 8PM, Sundays: 11PM – 6PM
– Port Harcourt 2
Address: PH Mall Plot 1/2 Nnamdi Azikwe Road, Liberation Drive by Government House, Old GRA | Phone: +234(0)9022203783 | Opening Hours: Mon-Sat: 10AM – 8PM, Sundays: 11AM – 7PM
– Ibadan Palms Mall
Address: Palms Mall, Ring Road, Opposite High Court, Ibadan | Phone: +234(0)9022203784 | Opening Hours: Mon-Sat: 10AM – 8PM, Sundays: 12:00pm – 6PM
– Kano Store
Address: Ado Bayero Mall, Kano | Phone: +234(0)9020542605 | Opening Hours: Mon-Sat: 10AM – 8PM, Sundays: 11AM – 7PM
Contact: Send an -e-mail: [email protected] | Call customer care: 08024613263 | Find on Facebook: www.facebook.com/ruffntumblekids | Follow on Instagram: @ruffntumblekids | Follow on Twitter: @ruffntumblekids