Hi BNers,
The weekend is almost here and as usual, here's an update of the great events lined up for this weekend!
***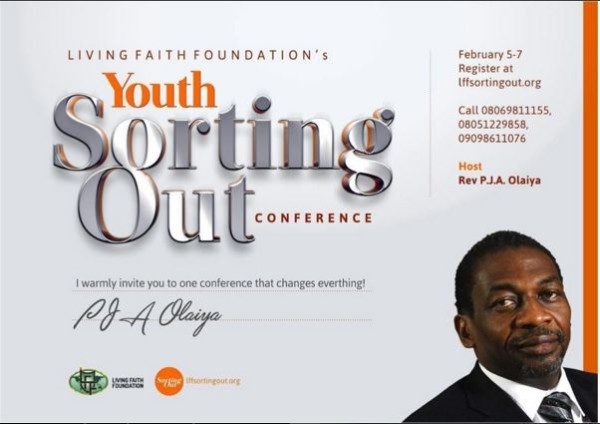 Youth's "Sorting Out" Conference
Sorting Out is a unique deliverance ministry organized by Rev. Joe Olaiya, one of the foremost authorities in this area. With over 30 years of deliverance ministry experience and a track record of being led by the Spirit of God, Rev. Joe is able to bring his unique insights to bear and provide targeted prayer and ministration to help you out of your difficulties.
Date: Friday, February 5th, 2016
Time: 10 AM
Contact: 08069811155 | 08051229858 | 09098611076
---
After Dark with DJ Xclusive
Join DJ Xclusive this weekend for a super fun night.
Date: Friday, February 5th, 2016
Time: 11 PM
Venue: Hard Rock Café, Water Corporation Drive, Landmark Village, Oniru, Lagos
---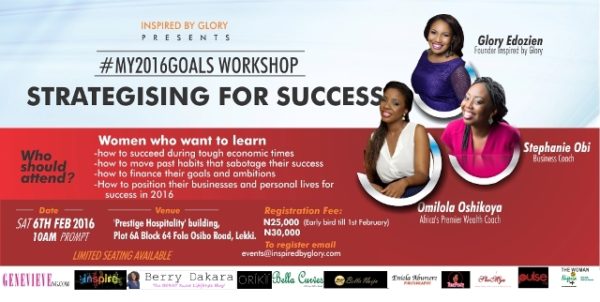 #My2016Goals
We are beyond excited to present to you the first edition to our 2016 workshop line up – #My2016Goals Strategizing for Success.
Date: Saturday, February 6th, 2016
Time: 10 AM
Venue: Prestige Hospitality Building. Plot 6a Block 64 Fola Osibo. Lekki Phase 1
Fee: N30,000
Contact: [email protected]
---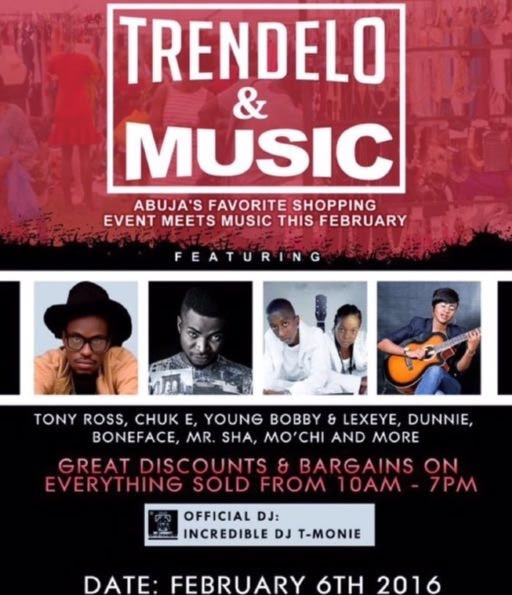 Trendelo Shopping Event
Get discounts and bargains on everything sold at Trendelo.
Date: Saturday, February 6th, 2015
Time: 11 AM
Venue: City Park, Wuse 2, Abuja
---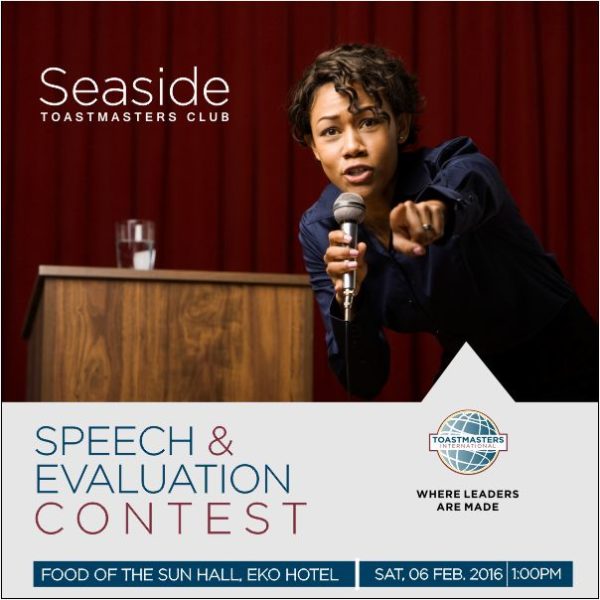 Seaside Toastmasters Speech and Evaluation Contest
This Saturday members of Seaside Toastmasters will not just be contesting to possibly represent Seaside at the World Championship of Public Speaking but seek to become better speakers/evaluators. Toastmasters International is a world leader in communication and leadership development, with more than 313,000 members in 14,650 clubs from 126 countries.
Date: Saturday, February 6th, 2016
Time: 1 PM
Venue: Food of the Sun, Eko Hotel & Suites, Plot 1415 Ademola Adetokunbo Street, Lagos
Contact: 07062498175 | 08101331028 | [email protected]
---
Konnect Moda
Introducing a new and exciting platform to bring the MENTE DE MODA vendors together under a serene environment which promotes networking and sharing ideas at the KONNECT MODA pre-exhibition cocktail party. The first of it's kind in encouraging young and growing SME owners to connect through their various business ideals. It is for the vendors to experience the essence of building a truly innovative live retail family in Africa.
Date: Saturday, February 6th, 2016
Time: 2 PM
Venue: The Lounge, 30 Adetokunbo Ademola Street. Victoria Island
---
GLA Youth Fellowship Ignite
Ignite is the youth fellowship of Guiding Light Assembly for ages 20-40, located in Parkview Estate, Ikoyi.
Date: Saturday, February 6th, 2016
Time: 4 PM
Venue: Guiding Light Assembly, Layi Ajayi Bembe Street, Parkview Estate, Ikoyi
---
Maison Be Bethany – Cupid Love Sales
Everyone secretly loves a bit of romance on Valentines Day, YES! …Including that man who claims he doesn't believe in the day. So if it's a little gesture or an all out gift to show your love, Maison Be Bethany has you covered.
Date: Sunday, February 7th, 2016
Time: 12 PM
Venue: Fahrenheit Loft, 312 Akin Ogunlewe Street off Ligali Ayorinde, Victoria Island, Lagos
---
Mente de Moda : Cupid's Bazaar
This February the Bang&Kosher Company brings to you the first installment of the hit exhibition series: MENTE DE MODA for the year 2016. Mente De Moda is the place where buyers and sellers meet. Come shop for the Valentine season and choose from a variety of eclectic gifts.
Date: Sunday, February 7th, 2016
Time: 12 PM
Venue: BICS Garden, B20 Wole Olateju Street, off Admiralty Way, Lekki Phase 1
Contact: 07080131488 | 08089750366
---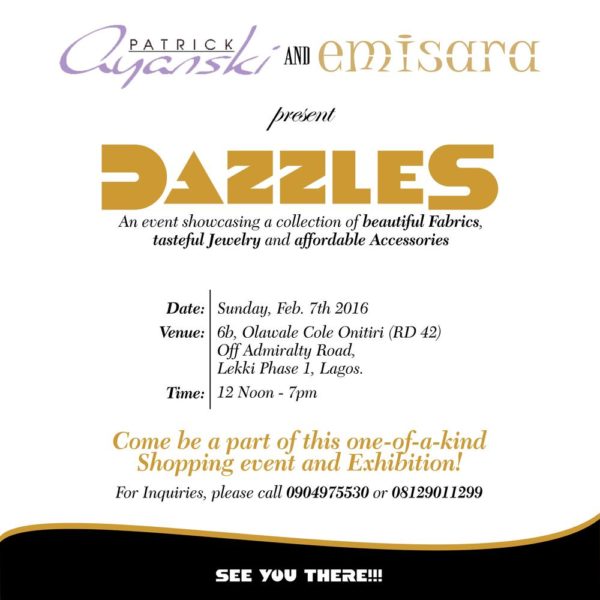 Dazzles
Dazzles is a shopping event/exhibition organized by Emisara (A Jewelry/ Accessory/Clutch Bag/Belt) Nigerian line and Patrick Ayanski (A renowned fabric Nigerian line) where pieces of the latest collection from both brands will be sold. It promises to be fun, interactive, memorable and a day filled with shopping bargains for all in attendance!
Date: Sunday, February 7th, 2016
Time: 12 PM
Venue: 6b Olawale Cole Onitiri, off Admiralty Road, Lekki 1, Lagos
---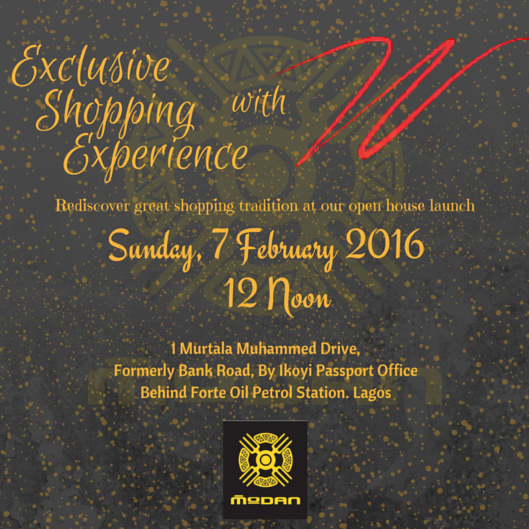 Mo'dan Exclusive Designer Open House Launch
Enjoy an exclusive shopping experience this weekend.
Date: Sunday, February 7th, 2016
Time: 12 PM
Venue: 1 Murtala Muhammed Drive, Formerly Bank Road, Lagos
---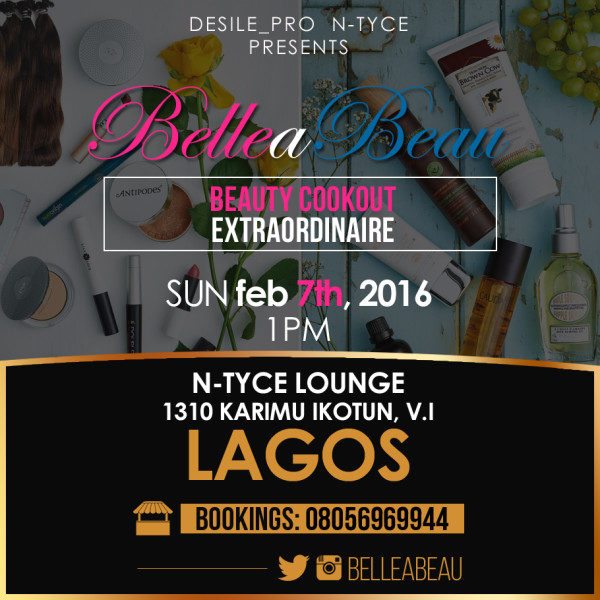 BelleaBeau Beauty Cookout Extraordinaire
Are you a beauty enthusiast? Do you love exhibition and cookouts? Are you a manufacturer, wholesaler, distributor or retailer of beauty/health/wellness products? If yes, then this event is for you!
Date: Sunday, February 7th, 2016
Time: 1 PM
Venue: Ntyce, 1310 Karimu Kotun, Victoria Island, Lagos
Contact: 08056969944 | 09084726424 | [email protected]
---
Kick Out Cancer – Charity Football Event
Teknon Football Club and Sebeccly Cancer Care are hosting #KickOutCancer. This is a one-day charity event to raise awareness of all types of cancer, carry out breast cancer screening and raise money to support cancer patients.
Date: Sunday, February 7th, 2016
Time: 4 PM
Venue: University of Lagos Sports Centre
Contact: 08023694436 | 08036630001
__________________________________________________________________________________________
BellaNaija.com is not responsible for the organization or further promotion of these events, neither do we have a stake in their sales or popularity. Inclusion in "Events This Weekend" is Free. Contact – adsales (at) bellanaija.com on or before Wednesday every week if you will like your event to be included. Note that BN reserves the right to choose which events are featured. "Pay to attend" parties attract a fee.