Hi BNers,
As the weekend approaches, here's you weekly update on the events happening around you!
***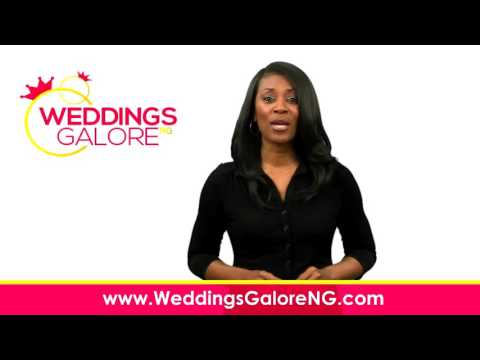 Weddings Galore NG 4th Wedding Exhibition and Fair
Weddings Galore NG has unveiled its latest Wedding Exhibition and Fair; it's very first in the year 2016. It is a one-of-a kind event tailored to fit the needs of brides, grooms and event planners.
Date: Saturday, February 20, 2016
Time: 2 PM
Venue: Hawthorn Suites Hotel by the Wyndham. 1 Uke Street, Garki Area 11 Abuja
---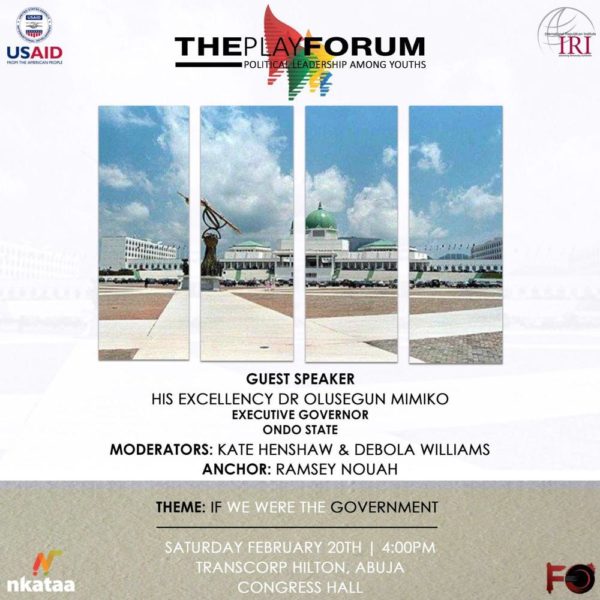 Political Leadership Among Youths (P.L.A.Y.) Forum
The Political Leadership Among Youths (P.L.A.Y.) Forum is a body consisting of influential and elite youth in the Nigerian society set up to promote and inculcate youth to engage in matters of the nation.
Date: Saturday, February 20, 2016
Time: 4 PM
Venue: Transcorp Hilton Hotel Congress Hall
---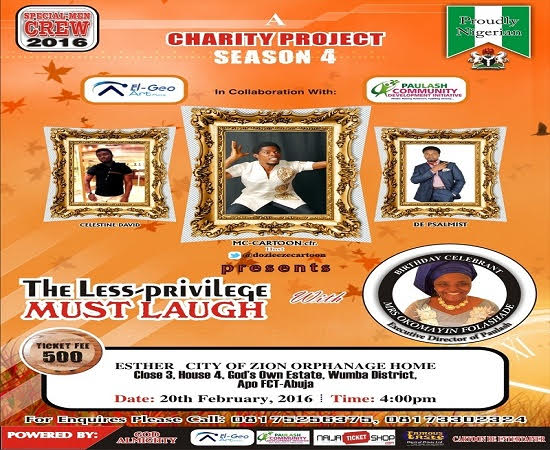 A Charity Project Season 4
The less-privilege must laugh mission is a pet project of one of Nigeria's stand-up comedy, rising stars; MC – CARTOON, based in Abuja. He is an act who went into a covenant with God to meet the needs of orphanage homes in Nigeria through his gift.
Date: Saturday, February 20, 2016
Time: 4 PM
Venue: Esther City of Zion Orphanage Home, Apo Abuja
Ticket: N500
---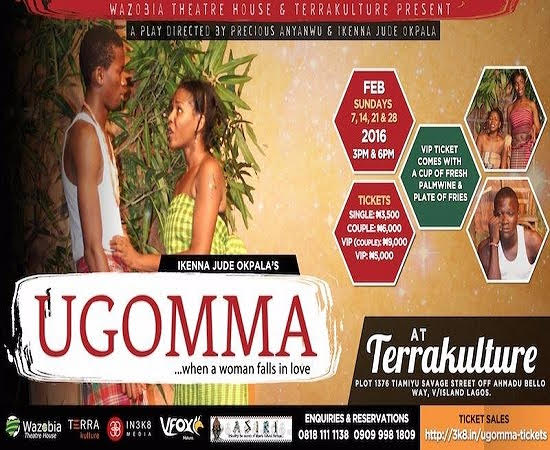 Ugomma | Stage Play
Another master piece from the writer of Alejo and Dear Country. Love they say is a game that two can play and both win, but Ugomma is stuck in-between a man whose destiny has been merged with hers from birth, and another whose sonorous voice brings her joy and a sense of being loved; Ugomma is married to Ezeibe, but in love with Ochudo.
Date: Sunday, February 21, 2016
Time: 3 PM & 6 PM
Venue: Terra Kulture, Victoria Island, Lagos
Ticket: Regular – N3,500 | VIP – N5,000
---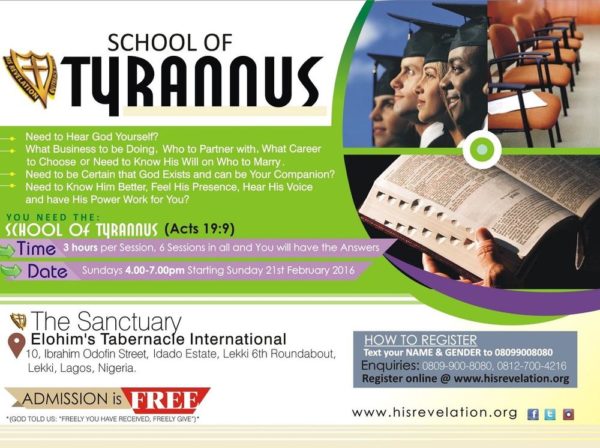 School of Tyrannus Sunday Sessions
Would you like to hear God yourself? Would you like to know what business to venture into? What career to choose or who to marry in line with God's will? Then School Of Tyrannus is for you! There are 5 sessions on Sundays starting this weekend.
Date: Sunday, February 21, 2016
Time: 4 PM
Venue: The Sanctuary, Elohim's Tabernacle International, 10 Idado estate, Lekki 6th roundabout, Lekki, Lagos
Contact: 08099008080 | www.hisrevelation.org
---
Daniel Olurin Foundation Dinner
The Daniel Olurin Foundation #Endfoodpoverty is set to launch with an intimate exclusive dinner courtesy The DML EXPERIENCE. The aim is to discuss how to end food poverty in Lagos and Nigeria in the littlest ways.
Date: Sunday, February 21, 2016
Time: 4 PM
Venue: 67,Akanni Ajiran road Agungi Lekki Epe Expressway
---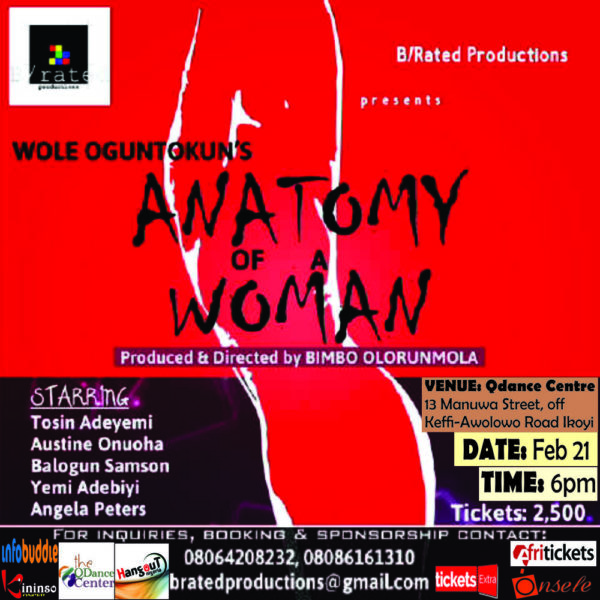 Anatomy of Woman | Play
The question of what a Woman really wants in life is one that has continued to confound men and even women over the ages.  Is it money, Love, happiness? Maybe a Mercedes G-Wagon, a mansion in Lekki 1, a family, a doting husband or to head a multinational corporation? Is it just one of these things or does she want all of it? So, what does a Woman really want? Get the answer to this age-old question and discover the secrets of the fairer sex as you enjoy Wole Oguntokun's Anatomy of a Woman. Produced and directed by Bimbo Olorunmola, featuring Austine Onuoha, Balogun Samson, Tosin Adeyemi, Yemi Adebiyi and Angela Peters.
Date: Sunday, February 21, 2016
Time: 6 PM
Venue: The Qdance Centre, 13 Manuwa street off Keffi-Awolowo Road, Ikoyi, Lagos
Ticket: N2,500
Contact: 08086161310 | 08064208232 | [email protected]
---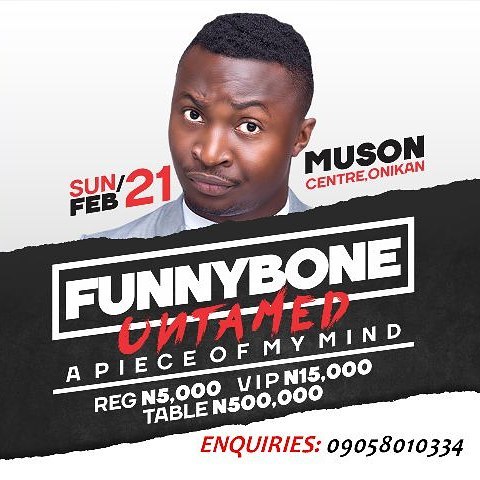 Funnybone Untamed
One of Nigeria's funniest young comedians Stanley Chibunna aka Funnybone is set to stage the inaugural edition of his eagerly awaited comedy show 'Funnybone Untamed'
Date: Sunday, February 21, 2016
Time: 6 PM
Venue: MUSON Centre, Onikan, Lagos
Ticket: Regular – N5,000 | VIP – N15,000 | Table – N500,000
Contact: 09058010334
---
British Council Lagos Theatre Festival
The six day Film Festival is an assembly of bold Local and International productions that will portray a purposeful quest for achieving a higher self.
Date: Tuesday, February 23 – Sunday, February 28, 2016
Venue: Freedom Park, National Theatre, Agip Recital Hall Muson Centre, British Council, UNILAG, Bogobiri, TerraKulture, Ayo Bankole Centre and Mindscapes Children Museum
Contact: 08146777006
______________________________________________________________________
BellaNaija.com is not responsible for the organization or further promotion of these events, neither do we have a stake in their sales or popularity. Inclusion in "Events This Weekend" is Free. Contact – adsales (at) bellanaija.com on or before Wednesday every week if you will like your event to be included. Note that BN reserves the right to choose which events are featured. "Pay to attend" parties attract a fee.