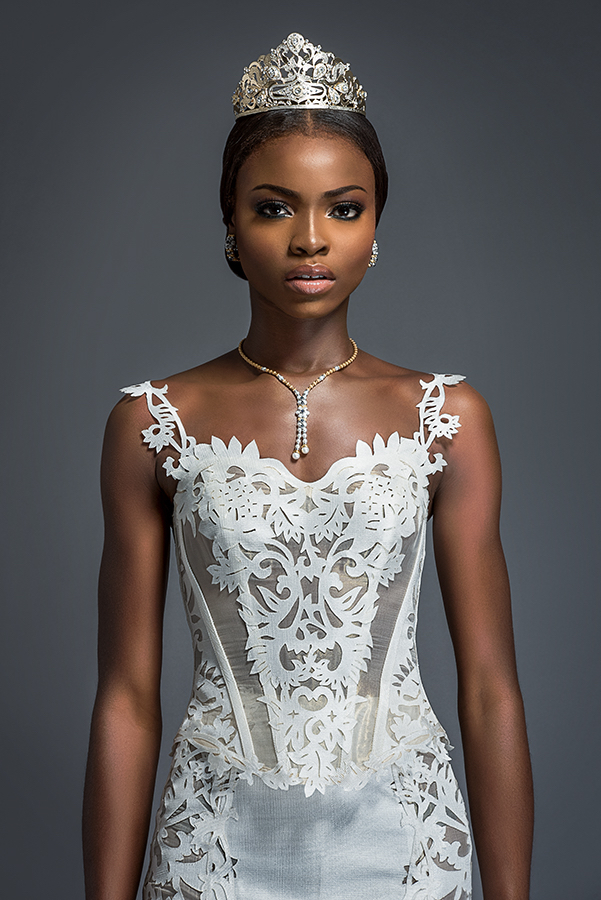 2016 marks a new era for House of Deola (the brand was formerly known as 'Deola Sagoe') with the launch of its wedding collection – Komole Kandids Series 1! At its core it is classically Nigerian, with its use of local fabrics.
BellaNaija Weddings asks the award-winning virtuoso Deola Ade Ojo a few questions about her inspiration behind the collection, and her personal love for weddings.
The Komole Kandids Series 1, in the Komole range for the House of Deola, presents an assemblage of designs for bridal wear drawing upon the mood and romance evoked by royalty and royal weddings through the ages. Deola says.
I imagine a Komole bride. She is independent and in charge, but still demure and gentle like the current Duchess of Cambridge Kate Middleton… She honors everyone that looks at her with her way and that wow Komole creation! …She is the new light in all their lives!"
Over 12 years of research and development are ingrained into the Komole range (the original collection was launched in 2012), the result of which is a profoundly refreshing take on Aso-Oke and the look of the modern bride.
The Komole textile form addresses the same ideological desires that led to the development of lace in Europe in centuries past. Today lace has its parallel, in many ways it's usurper, in this House of Deola signature style of Aso-Oke fabric – a fabric at the heart of a nation's identity and consciousness.
There is no need anymore to have Aso-Oke and a Lace outfit as two answers to an occasion's fashion demands… we have combined both into one and by so doing transcended, making the new creation even better than the sum of its parts. The new fabric motifs and the fashions that we have formed them into elevate the wearer to princess level, while still keeping her culturally grounded – I believe that this is what true class and elegance is about, shining in the form of a glow rather than a tinselly shine"
Deola Ade Ojo
The Komole range and Komole signature motifs have taken "occasion outfits" to a new fashion apex with unparalleled painstaking craftsmanship and attention to detail. The colour palette is a continuum from pastels to jewel tones, with iridescent sheen arising from silk 'shot-through' Aso-Oke weaves. Silhouettes flatter into a demure hourglass shape with floor length dresses that stagger the onlooker.
The Komole Kandids collection also heralds a shift for the House of Deola family of brands, as the fashion house enters a new level of dialogue with its audience and fans through social media platforms.
As Easter's end beckons and the accompanying wedding season begins, the House of Deola promises a second series of Komole Kandids to be launched on the 6th of March.
Here's the first series, with 10 designs.
***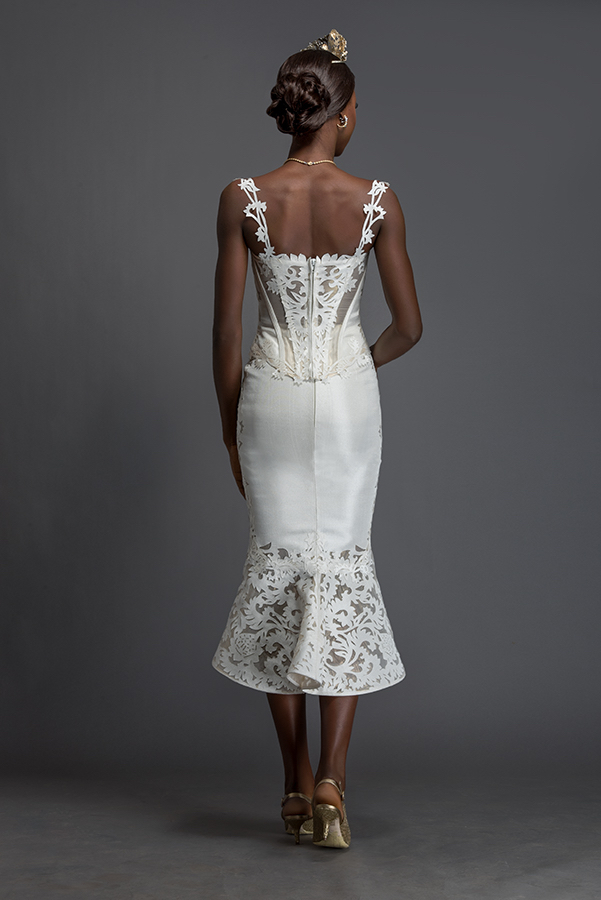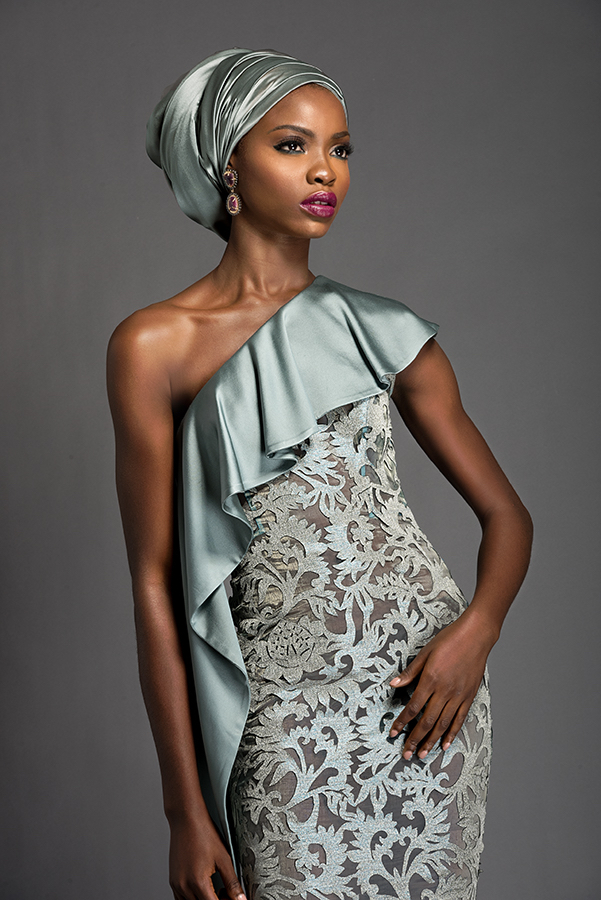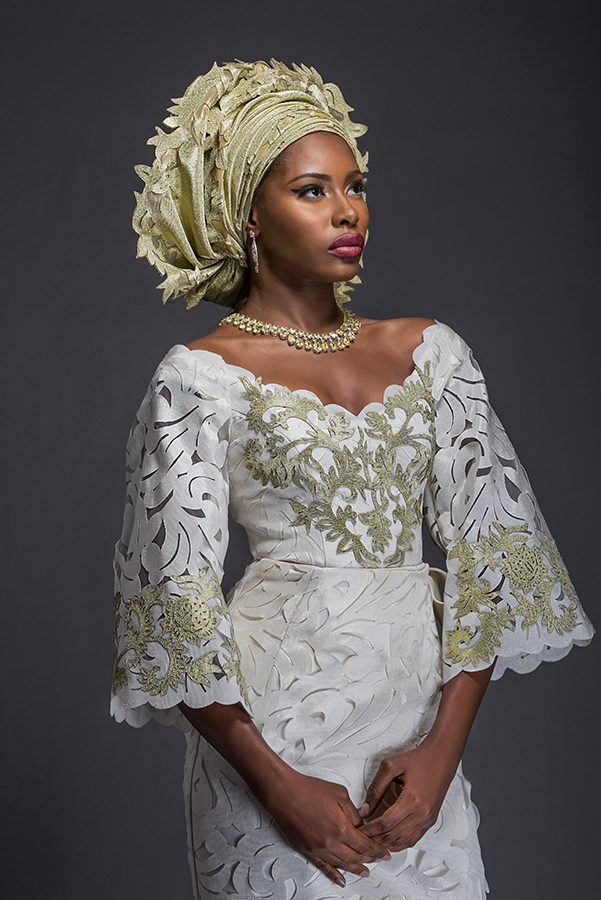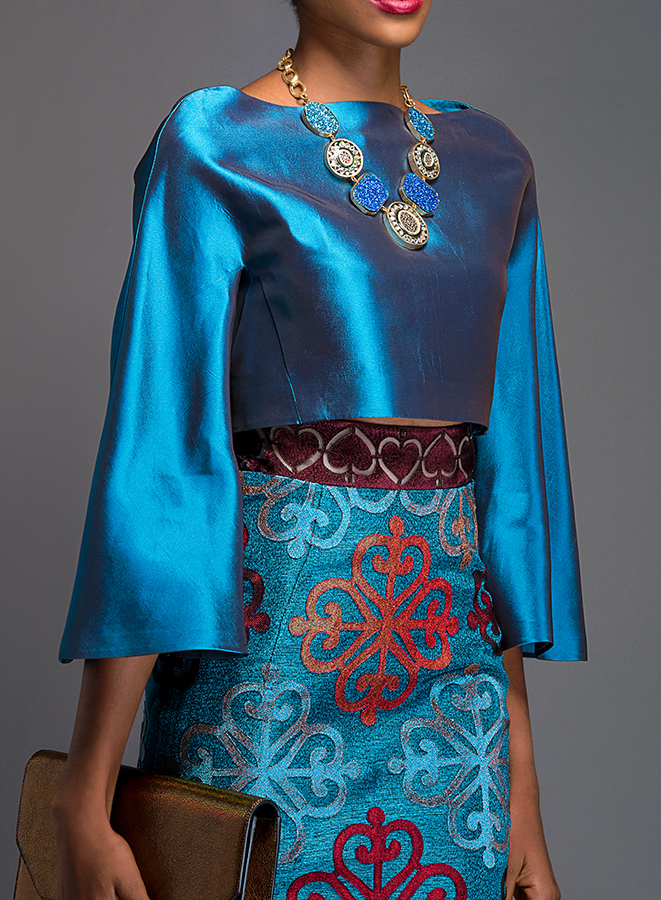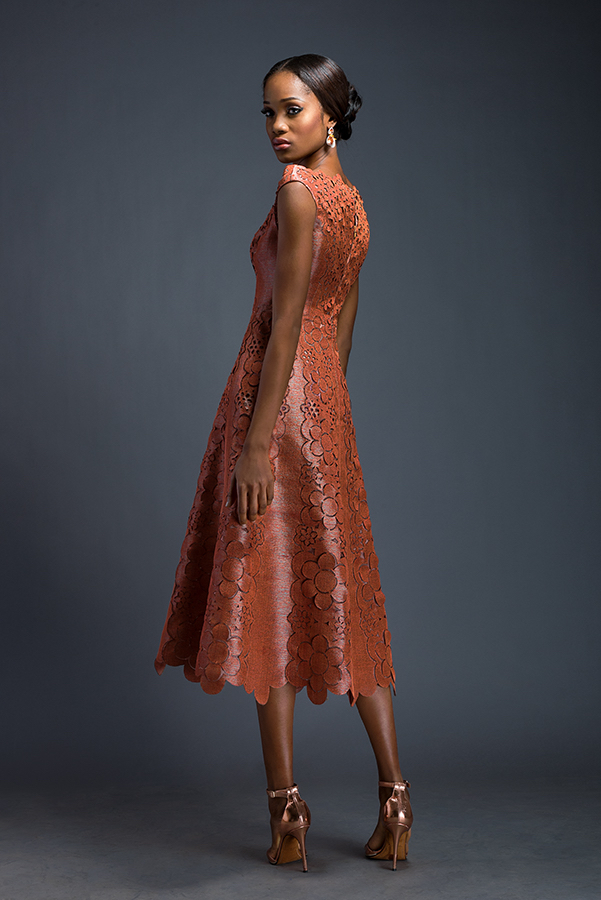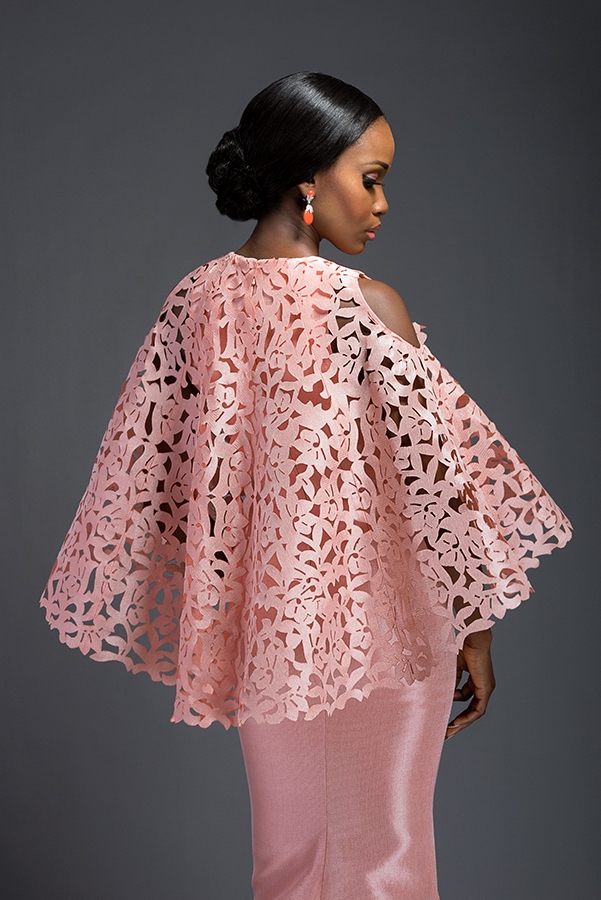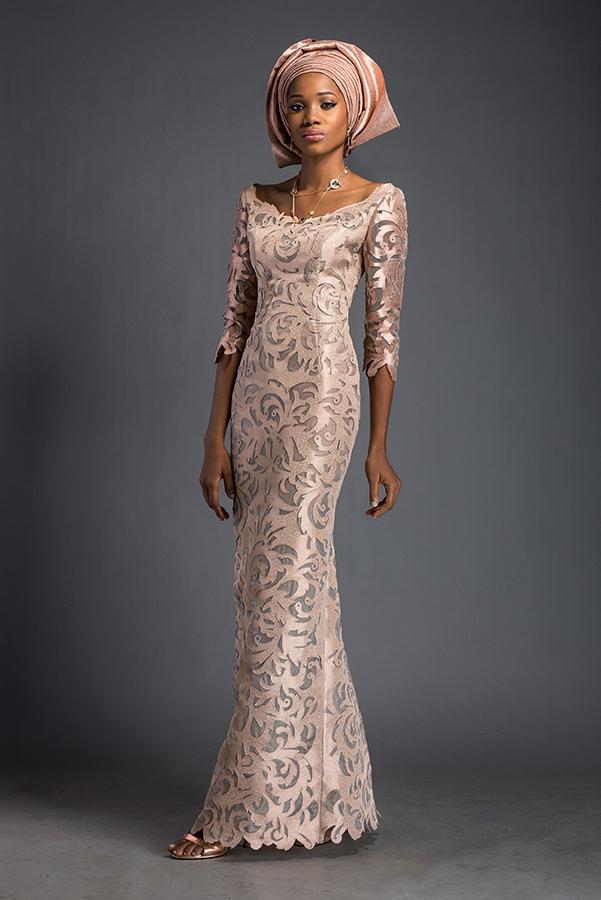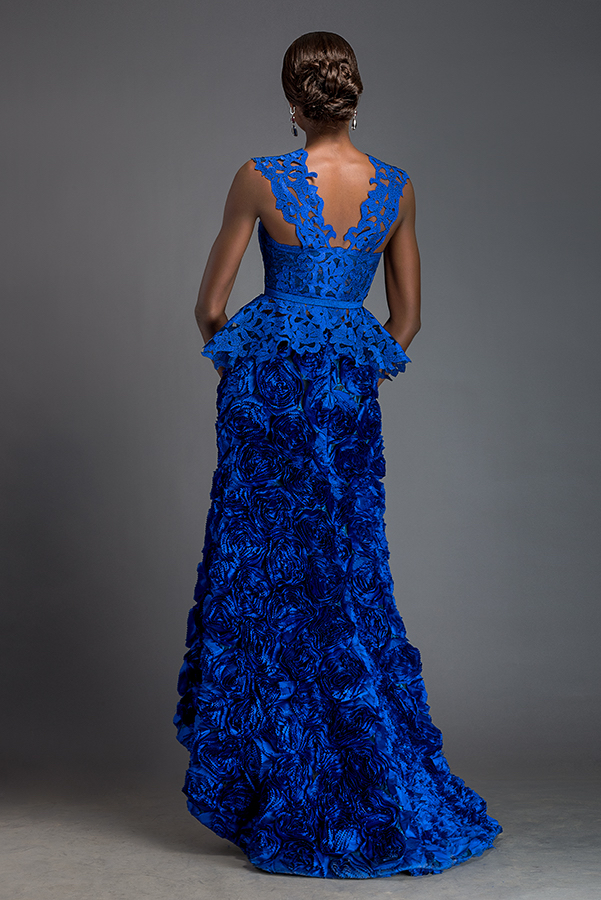 We asked Deola four questions – from her love for weddings to using Nigerian fabrics, to the innovative fabric (and style), Komole.
1. What do you like about weddings? 
Deola Ade Ojo: Who doesn't like a good wedding?! It is a fuss filled day, or couple of days, to be sure, but it is to be enjoyed, and the brides and grooms have the attention of the world fixed on them. It is a major high point in the life of any woman.
The planning; the togetherness; the moments to be remembered for a lifetime, captured in photos, these days enshrined on social media; all of this is and should be beautiful.
I just imagine a Komole Kandids bride. She is independent and in charge, but still demure and gentle. She honors everyone that looks at her with her way and that wow Komole creation! I see her in my head, with her eyes never quite rising to meet anyone's gaze directly save her betrothed… and everyone from groom to the mother in law, to aunties and uncles, just wish to pet her and welcome her, as they themselves realize that she is the new light in all their lives!
On The Collection
2. Komole is a textile innovation as well as a fashion style – can you give us your thoughts on how Nigerian innovations like this can be placed onto the world stage?
Deola: We just need grounded pride – not arrogance. We need the world's feedback on our innovations. Governmental bodes both local and Federal are lagging behind in realizing what our returns could be.
You can't play on the world stage without the right back up and the right agenda. Even though Komole is my innovation, I do not mind it being branded as a national export product – with my permission of course!
3. The details in the dresses are fascinating can you tell us a bit about the detailing in this Komole collection. For instance, the motifs have names.
Deola: It started off with one and now God knows how many we have, but we release them according to their connection to a time or simply when the mood grabs me. I'm a girl at heart so I like feminine motifs. I do like to explore though so sometimes what I land on, people initially think "what are you doing!" but when it is all resolved they see what had drawn me in that particular direction.
Komole designs are our innovated answer to lace fabrics. As major consumers of this fabric style, it's only right that we develop our own. But like I said, I didn't go into this with purely commerce in mind, it was never about me producing a cheaper or locally made lace copycat fabric. Never that! I decided to start with the fabrics' ideology and develop from there using Aso Oke.
And that is why what we have made is original African in every sense. I hope the powers that be will get behind this so that we can begin exporting soon. The applications are too numerous to mention.
4. Lastly, What inspired you this time round, creating this Komole collection?
What woman did you have in mind and where do you see her wearing your designs?
Deola: My inspiration flows from the desire to get people to buy Nigerian all the way… and I'm always interested in what that means right now – today.
I believe in the contemporary African, who, whilst being a modern cosmopolitanite, appreciates her or his African culture, look and heritage. I want our products, our fashion, to surpass international standards, so I always strive to innovate and refresh; to make African products that appeal to anyone no matter the race or location.
That's the emotional driving force behind what I'm doing with Komole…
(You know) there is a bizarre riddle on everybody's mind. A complex, difficult to solve, matter, which is in fact actually very simple: The way to the better lives we seek is to give our economy the boost it needs by making, buying and exporting locally created products and services.
Especially, in fashion terms, we love products from France, Italy, etc. For instance French lace – who is going to stop our ladies wearing lace? They love the way it makes them feel, and then we call it "the highest quality" this or that and that adds to the feeling of grandeur. I just got tired off seemingly always calling something from somewhere else: "the highest quality".
I could see local things here and there that to me were "the highest quality" – true some cases needed development, or refinement, but ironically the best results often arise when you just polish and present that which you see naturally occurring around you. Ok I will concede that one must have the talent of being able to see and imagine what something raw could be turned into…
It borders on a kind of self-hate when only things from elsewhere are considered the best quality – and I gave up hating a long time ago. I keep my energy on a positive slant; fast-forward a few years and we have collections like Komole.
Let me tell you something strange, Komole is for me, like a farmer surveying their land or estate. Every nook and cranny is a blessing to them, and the way the land looks at sunset is different from the way it looks at dawn, similarly I find new treasures in Aso-Oke all the time. I'm like that farmer and I'm proud of my land gon gon!
Komole – which means to dance- is occasion wear. By now, we must have realized that Nigerians throw the best "occasions" anywhere – the world is beginning to suspect this is true! We just know how to gba dun, you know, enjoy with our friends and family in that kind of setting. So, since we give the "highest quality" occasions it is only right that we have the highest quality clothes to go with that.
But this time round I really didn't care, I took the level of craftsmanship so high. Some people would ask me why I was putting so much into one garment, and now I don't even have to explain anymore because it is plain to see. Seriously, whether created by me or not, who would dare to say that this Komole look is not beautiful. These ladies look regal!
In fact, I want to dress some Japanese and Swedish brides in Komole Iro and Buba and watch the jaws of their audiences drop! This is a celebration of Woman, pure and simple… On that wedding day you want your beau to have a silly grin on his face throughout, because you, and your family, are just tooo fine!
***
Credits
Fabrics and Designs: House of Deola
Photography: Kelechi Amadi Obi
Models: Few Models | Beth Model Management
Hair: Ugo of Make Me
Makeup: Bimpe Onakoya
Shoes: Polo Avenue
Creative Direction & Styling: Teni Sagoe
Jewelry: Aanushkil Jewellery
Bags: Vintage bags from the late Elizabeth Wuraola Ojo's closet