Olajumoke Orisaguna was interviewed by CNN, detailing her sensational breakthrough from bread hawker to model, and beyond – they called it a classic case of being at the 'right place at the right time'.
They caught Jumoke on the set of her first ever fashion photo shoot for April by Kunbi – click here to see the photos.
Jumoke said through tears, 
"I never expected this would ever happen to me," "My friends have told me they saw me on the TV and they are really happy. My parents cannot believe their own child can become such a success. They are all so happy."
CNN reports, she 'has been given a scholarship to complete her education, and a bank has offered to pay for schooling for her two children, aged five and one, until university age.'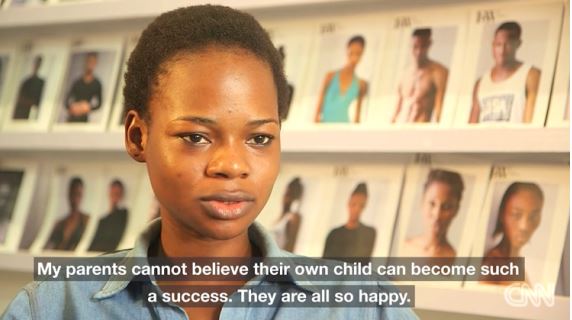 On what she thinks made the story go viral, TY Bello said,
"Everyone connected with the story because everybody has dreams."

"This is a very tough time in my country… Everyone is looking for that magical break… I think this is definitely divine because the way people have connected with it is just phenomenal. It's a phenomenal story."
Watch!